Father of Three Decorates Thousands of Lunch Bags With Dad Jokes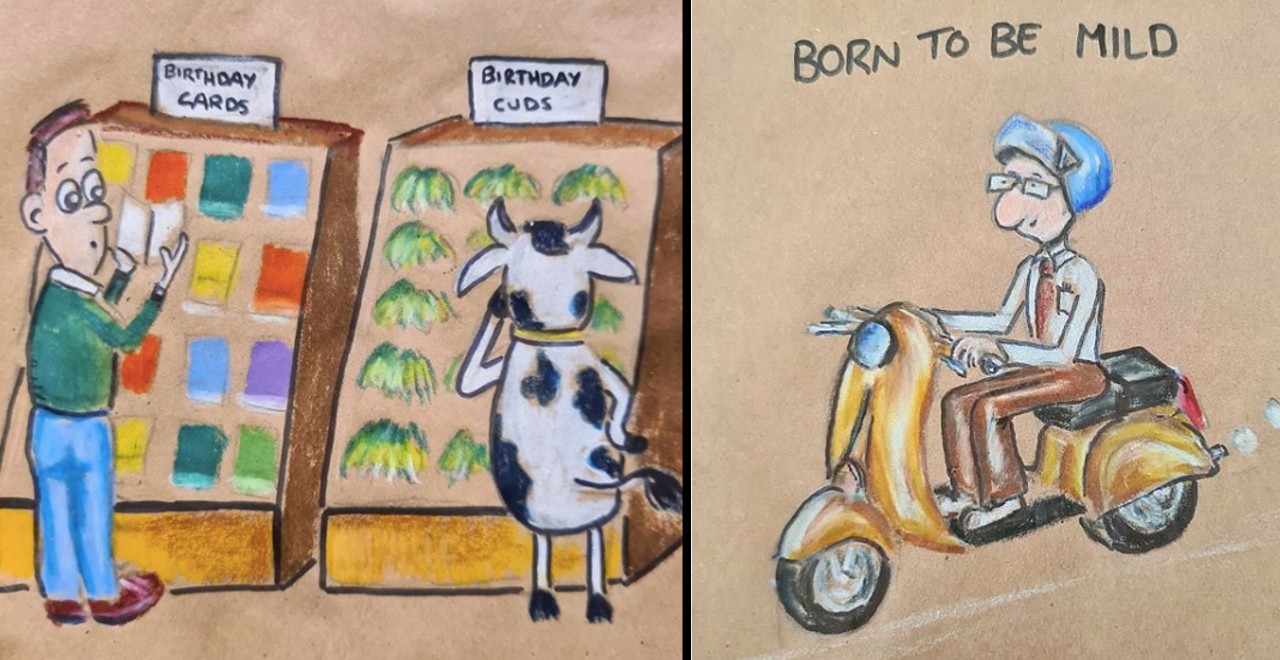 Dave Blumenthal, a 44-year-old father of three knows how to make lunch memorable for his daughters. It's not what's inside the paper lunch bags that make his daughters' school lunches special, but oddly enough, it's what's on the outside that counts. Though he has no formal training, Blumenthal is an artist – an artist that combines his love for his daughters with his never-ending supply of dad jokes. For over 8 years, Dave Blumenthal has been turning his daughters' lunch bags into hilarious works of art.
It all started with a sandwich when Dave and his wife's first daughter went off to school. "We had a newborn in the house at the time so my wife tried to make our first born feel special by cutting some shapes in her school lunch sandwiches," Dave explained.
Dave soon took over the sandwich-cutting duty, carving the bread into shapes of cartoon characters and letters of the alphabet much to the delight of his daughter and her classmates. Once the bread-carving became too time-consuming, Dave decided to draw directly on the bags themselves – and he hasn't stopped since.
View this post on Instagram
The bag reveal became a highly-anticipated moment in the school day for both teachers and students, sparking conversations, and even helping Dave's oldest daughter overcome her shyness. Despite their success in the classroom, Dave didn't have any intention of expanding his lunch bag project. That is, until his daughter's teacher convinced him to share his hilarious jokes with the world. Shortly after, Sandwich Bag Dad was born.
View this post on Instagram
"I am honestly still amazed that my humble little bag drawings have attracted so much attention," Dave marveled. "I seriously never expected to gain any followers – other than my family – when I first started posting. My kids still shake their head that there are so many people who voluntarily choose 'the sandwichbagdad experience.'"
View this post on Instagram
It's immediately evident why Dave's sandwich bags have attracted almost 7,000 Instagram followers – between the unique take on dad jokes, the impressive art, and the fact that he does it all for his kids, it's a truly wholesome undertaking. Though some people find it hard to believe, these entertaining sandwich bags do indeed fulfill their intended purpose.
View this post on Instagram
Dave explained, "The bags are absolutely and positively genuine lunch bags which my kids take to school! All my posts are just the 'before' pics. While some end up being hung up on their classroom walls, the vast majority end up coming home crumbled and very much worse for wear after holding a sandwich in them for a few hours. Most end up being tossed into the recycling!"
Though Dave is often encouraged to expand his "sandwichbagdad" empire, he has no plans to do so at this point in time. "At the moment, I'm just happy making people smile and knowing my dadjoke superpowers are being used for good not evil!"
View this post on Instagram
For a concentrated dose of dad jokes, follow him on Instagram.