Make-A-Wish Fulfills 10-Yr-Old's Dream to be a Crime Fighting Robot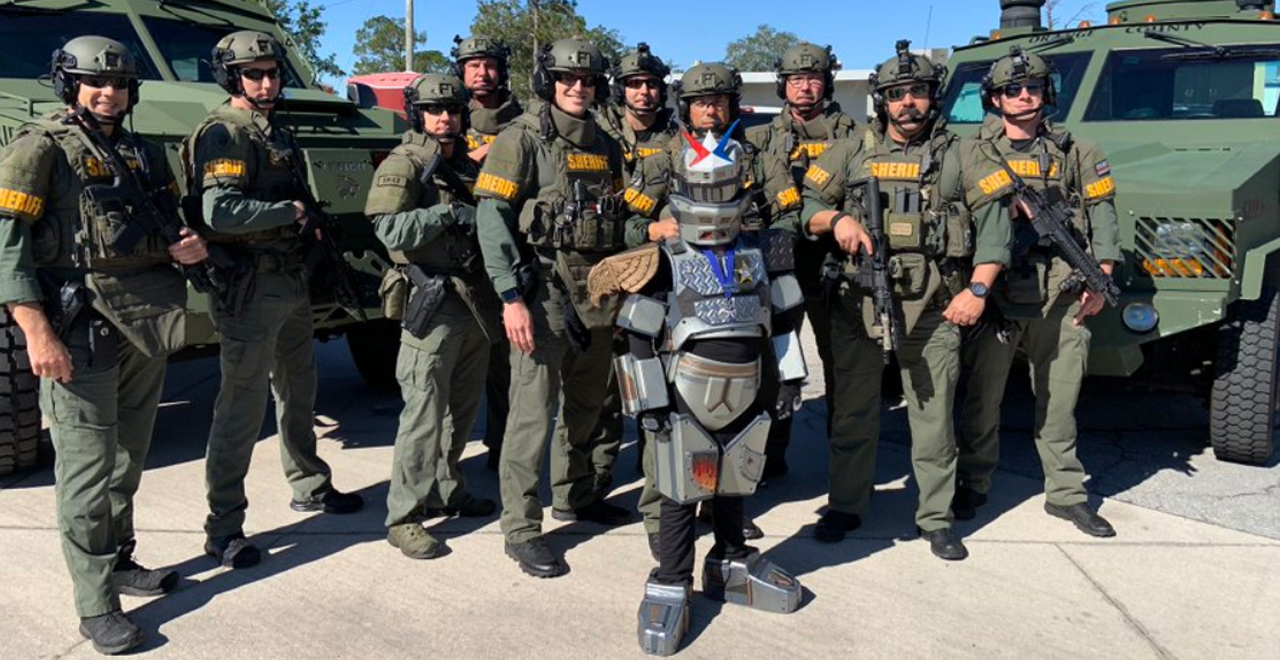 A 10-year-old boy named Gaige recently became Orange County's latest secret weapon in crime-fighting. And just how effective is a boy-turned-crime fighting robot? On his first day on the job, RoboGaige stopped a bank robbery, responded to a fire and rescued a citizen from a collapsing building. Not a bad orientation.
Gaige was diagnosed with neoplasms (an abnormal tissue growth frequently indicating the presence of cancer) when he was born, partnered with the Make-A-Wish Foundation in Florida to spend a day being transformed into a robotic crime fighter.
Gaige Pike, 10, from Sikes Elementary has a serious heart condition, and a wish to save someone … as a robot superhero. @MakeAWishCNFL partnered with @OrangeCoSheriff to make it happen. https://t.co/kqtIMwrJDy 🤖♥️ pic.twitter.com/ygssqACwH4

— Polk County Public Schools (@PolkSchoolsNews) February 27, 2020
Have you heard of ROBOGaige? He's the newest member of the OCSO team- fighting crime for the Orange County Community! Our SWAT team is proud to be able to help make RoboGaiges dream come true pic.twitter.com/qR6y593spf

— Orange County Sheriff's Office (@OrangeCoSheriff) February 27, 2020
He told the foundation he loved science and robots and that he wanted to be a robot superhero. The Orange County Sheriff's Office was glad to have him on the team.
After swearing-in, he aided a SWAT team in taking down a "bank robber." He then helped respond to a fire and even saved a victim from potential doom. All in a day's work for "RoboGaige."
Look at #ROBOGaige and all his badges. He already stopped a bank robbery this morning. What else is in store for ROBOGaige? Stay tuned! pic.twitter.com/McDGmEKu5i

— Orange County Sheriff's Office (@OrangeCoSheriff) February 27, 2020
#RoboGaige is saving the day! pic.twitter.com/1FUEZQRl9s

— Orange County Sheriff's Office (@OrangeCoSheriff) February 27, 2020
"Before he couldn't participate in being a kid, he couldn't run around and play and do anything like this at all," his mom told a local news station.
The day of crime-fighting took the cooperation of dozens of people and hundreds of volunteers. And at the end of the day, they were all there to cheer on the new "superhero." He was even personally thanked by the mayor.
"I really just wanted to save people," Gaige said.
It was a long day of catching bad guys, putting out fires and saving people from collapsed buildings. #ROBOGaige saved the day – and brightened the day for so many! @SheriffMina @MakeAWishCNFL @MakeAWish @OCFireRescue @OrlandoFireDept @OCFLMayor pic.twitter.com/aOWrAwsO05

— Orange County Sheriff's Office (@OrangeCoSheriff) February 27, 2020