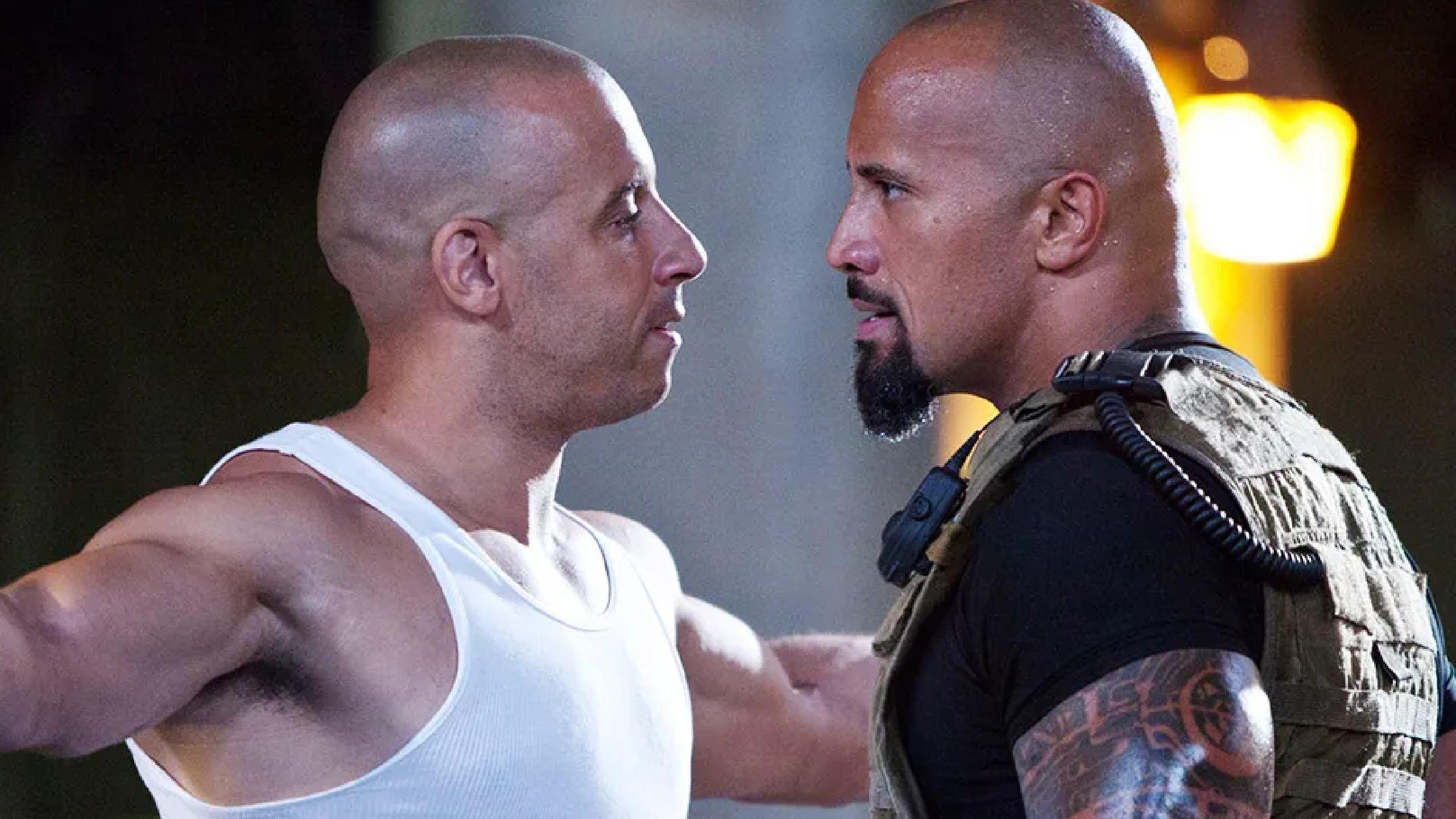 Credit: Universal
During promotion for F9, Vin Diesel basically took credit for The Rock's performance in Fast 5. And when asked about the comments, Dwayne Johnson laughed them off, and said he wishes all of them well with the rest of the Fast and Furious movies, 'that they'll be doing without me.' The Rock is officially out of the Fast Family.
The Rock turns his back on family, wishes Vin Diesel luck in future Fast & Furious endeavors https://t.co/AqGUY93mMC pic.twitter.com/ytyf2h843N

— The A.V. Club (@TheAVClub) July 21, 2021
So, to break it down, Johnson made a cryptic IG post after his last Fast movie about how some of his costars were stand-up professionals and some were "candyasses." Everyone knows he was talking about Vin. Still, nothing is more important than family to Diesel, so surely he took it in stride?
No, he did not. He said last month he was responsible for the wrestling great's acting performance in Fast Five, saying "That took a lot of work, we had to get there, and sometimes, at that time, I could give a lot of tough love."
When asked about it, Johnson said when he saw Diesel's remarks, he "laughed and laughed hard." He said everyone had a laugh at that.
The Rock responds to Vin Diesel's claim that he used 'tough love' to get Dwayne to act better in Fast & Furious

"I laughed and I laughed hard. I think everyone had a laugh at that"

(via @THR) pic.twitter.com/UI6dQAFjE6

— Culture Crave 🍿 (@CultureCrave) July 21, 2021
"And I'll leave it at that. And that I've wished them well," he said, before acknowledging he wouldn't do another Fast and Furious movie. Blunt added a barb, saying in a mocking voice that "Thank God he was there" to help Johnson.
The Rock was great in those movies, though, Hobbs was cool. It IS a bummer that the franchise will end with this weird feud kind of hanging over it, instead of having it end with the most outrageous, biggest bang ever (time travel?).
But, you gotta know if you come for The Rock, the biggest movie star in show business, it's not gonna end well for you. Diesel benefits a LOT more from Johnson than Johnson does from the Fast and Furious movies.