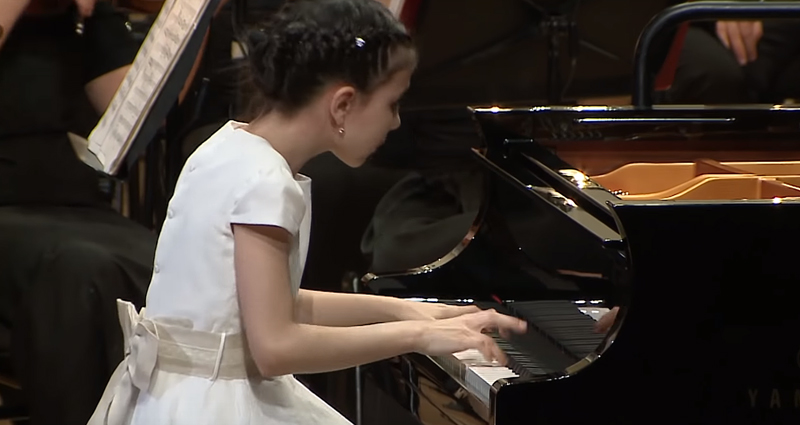 Credit: YouTube/Medici.tv
Every parent secretly hopes their kid is a prodigy. Ideally, they'd be a prodigy in a lucrative field, where their skill at throwing a ball will land them a major league contract, or their ability to code helps them create a tech startup that changes the world.
Sometimes, though, just beholding their pure talent is reward enough. Most of the time, just watching your kid use a fork correctly, or take off his own jacket, is awe-inspiring. But when they really have a gift? Your parental pride must burst.
Sometimes, the gift they display is so insane, it actually gives you chills.
That's what's happening to people who see Alexandra Dovgan play the piano. The 10-year-old Russian girl has been tickling the ivories since she was five, and she's already proven herself a virtuoso, stunning crowds and winning competitions with her incredible agile and quick fingers. She plays the piano faster, and more flawlessly, than I've ever done anything.
She has been winning awards for years – her first came just two years after she started playing!
She had the opportunity to put her prodigious talent on display in her home country when Moscow hosted the 2nd International Grand Piano Competition for Young Pianists. Alexandra chose to play Mendelssohn's "Piano Concerto No. 1 in G minor, Op. 25" and, well, I'll let her fingers do the talking.
That three-minute clip is just a small snippet from Alexandra's twenty-minute performance (watch the full concert) but it's clear that the little girl has an enormous talent for the piano. Clear enough that she left the competition with the grand prize.
Now if you'll excuse me, I have to go tell my toddler to stop stomping his feet on the xylophone he got for Christmas.