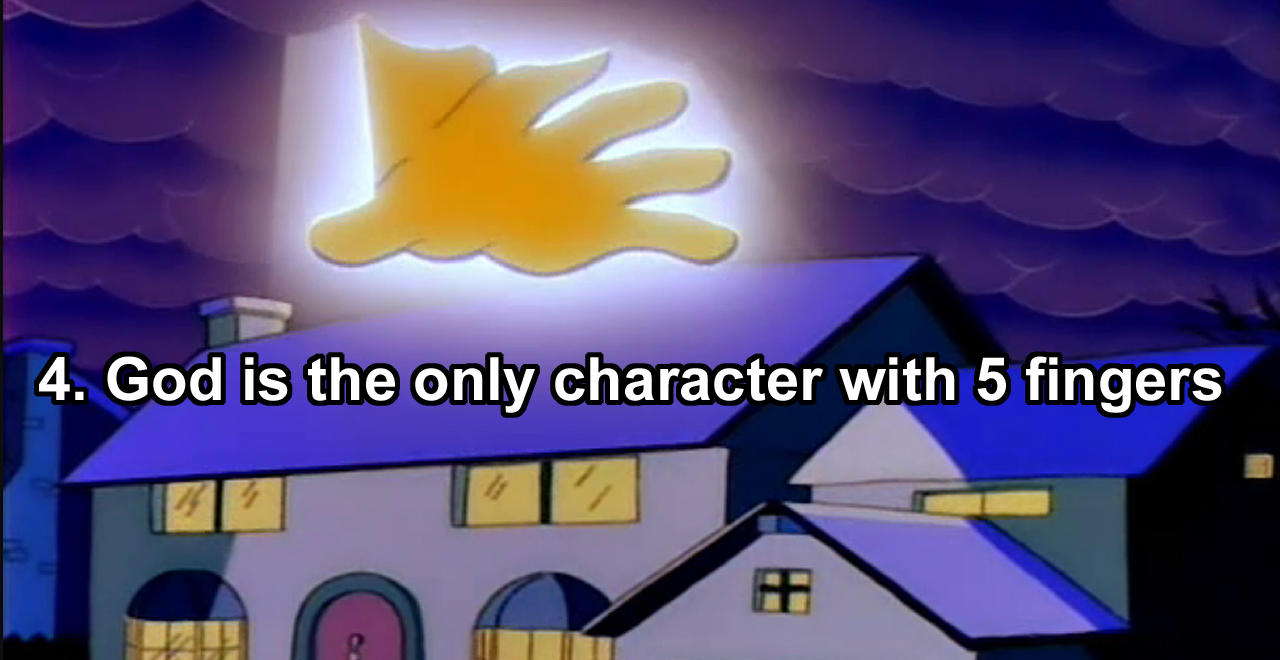 Credit: 20th Century Fox
It's hard to believe that The Simpsons just turned 30. Having persevered through scrunchies, MySpace, AND Kermit memes, America's favorite nuclear family holds the distinction as the longest-running scripted show in history. Eat those shorts and bunga those cows, because we've got 15 things you may not know about this iconic cartoon.
1. Maggie's price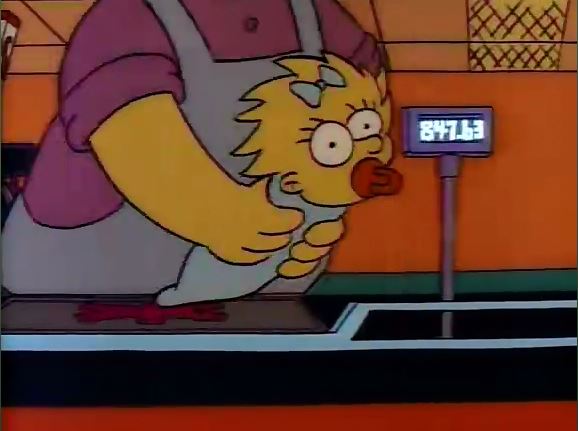 When Maggie is scanned in the opening credits by a litigiously inattentive cashier, she rings up as $847.63. In 1989, when the sequence was created, this was how much it cost per month to raise a baby. Wow. 1989 was cheap. No wonder Taylor Swift devoted an album to it.
2. Bart's locker combination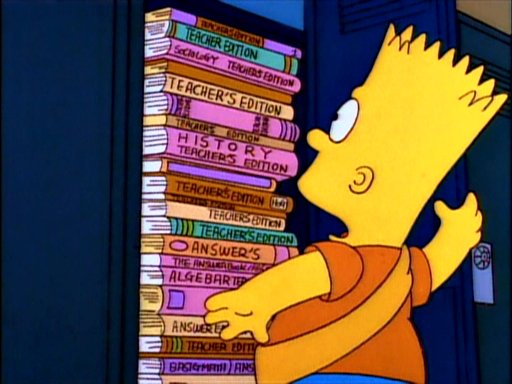 It's 36-24-36. You may have heard these numbers in "Brick House" by the Commodores. Or "Dirty Deeds Done Dirt Cheap" by AC/DC. Maybe "Baby Got Back" by Sir Mix-a-Lot. It means what you think it does.
3. Some characters are named after streets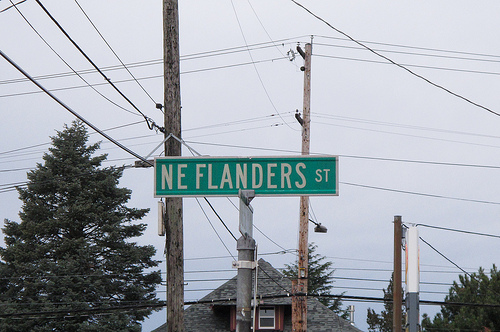 Like Burnside Street, near Montgomery Park. And Lovejoy Street. And Van Houten Avenue. And Comic Book Guy Boulevard. Okay, we made that last one up.
4. God is the only character with five fingers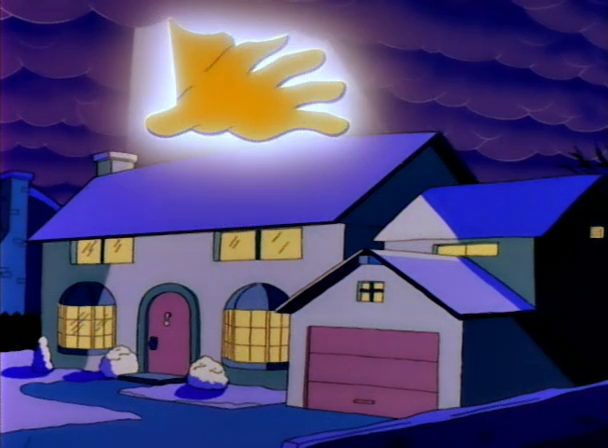 What a tragedy. The only guy with a middle finger and he's probably never used it.
5. There's a reason Homer and Krusty look alike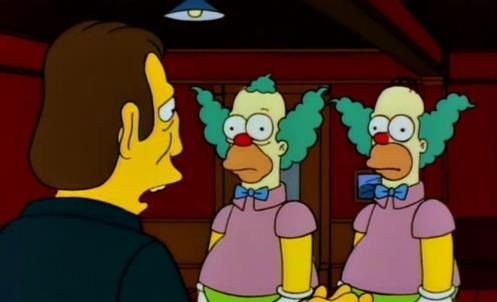 Originally, Krusty was supposed to just be Homer in makeup trying to win the affection of his clown-worshipping son. Thankfully that plotline was scrapped because no Krusty means no Sideshow Bob, and no Sideshow Bob means no this.
6. Conan O'Brien once wrote for the show
According to The Simpsons: An Uncensored, Unauthorized History, on Conan's first day a bird flew the window and died on the office floor. All the writers thought it was an omen. Conan went on to write "Marge vs. The Monorail," which is widely regarded as a top 5 episode.
7. The voice of Homer, Dan Castellaneta, was this guy in the audience at the Knicks game in Space Jam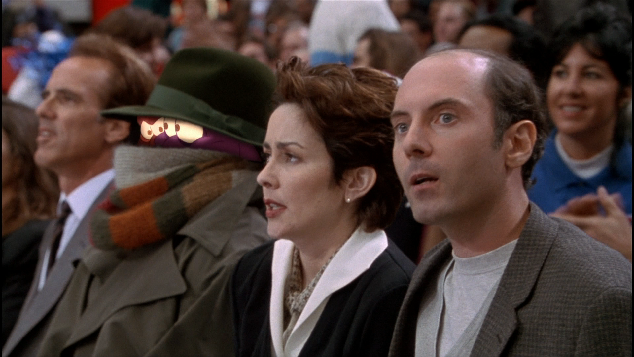 Probably more of a Space Jam fact but hey look! That's Debra from Everybody Loves Raymond! Wow. Homer Simpson and Debra Barone. Just imagine the fights.
8. "Kamp Krusty" was supposed to be a movie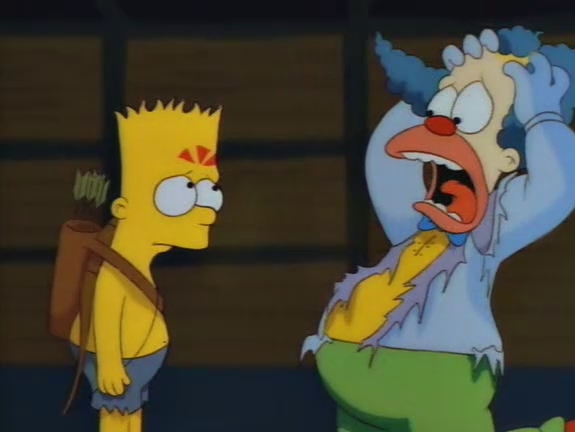 After the season 4 premiere was finished, producer James L. Brooks floated using its plot for a feature-length Kamp Krusty film. It was immediately dismissed as a bad idea and a Simpsons movie wouldn't happen for another 15 years.
That's right. You forgot this happened.
9. The McBain movie is real
Every now and then in The Simpsons, you'll catch a glimpse of Rainier Wolfcastle's portrayal of McBain, an amalgamation of action heroes played by Bruce Willis and Arnold Schwarzenegger. But did you know if you piece those clips together you get a cohesive little action flick? Watch for yourself!
10. One episode was too sweet for promos
Season 7 tearjerker "Mother Simpson" ends on a truly touching note with Homer bidding farewell to his estranged mother, Mona. He then sits alone atop his car, watching the stars as credits roll. When the episode initially aired, the producers insisted that no FOX promos be shown over this, as it would spoil the mood. Good call.
11. No Doubt had a silent, uncredited cameo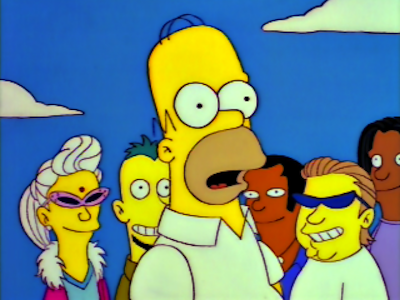 In the episode "Homerpalooza," Homer goes on tour with Hullabalooza music festival, along with Cypress Hill, Smashing Pumpkins, and Sonic Youth. But did you know that Gwen Stefani's brother, Eric, was an animator on the show at the time? That's why he drew her band into the background.
12. At the time of this writing, there are 672 episodes
To put that into perspective, there were only 192 episodes of Full House. The Simpsons is three Full Houses with a Hey Arnold left over.
13. Hank Scorpio was supposed to return in The Simpsons Movie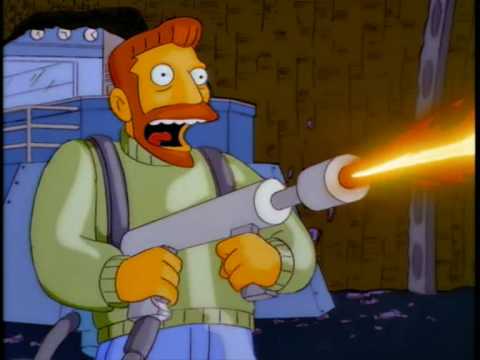 Man. Remember Hank Scorpio, Homer's impossibly cool boss at Globex from season 8's "You Only Move Twice"? Remember all those quotable lines he had? Remember that badass flamethrower he wielded at the end? Wouldn't you love to see him again? He was slated to be in the Simpsons Movie.
Yeah, well, too bad.
14. Bart's name is an anagram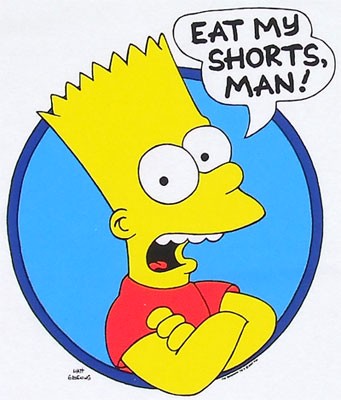 Of the word BRAT. Because of the misbehaving.
15. Couch gags are used to pad episodes

If an episode comes up a little short in length, that time is usually made up for in the opening title's couch gag. It's like narrowing your paper margins to make an essay seem longer, but with television.
Check out our previous list of crazy Facts You Don't Know About Die Hard.