Here's a fun fact: In Austria, you can literally swim in pools of beer.
Wait, let me qualify that.
You can't just go to any random Austrian's backyard and expect to find an inground pool filled with Fohrenburger Premium Weizen. That seems unlikely. No, you have to know a place. Well, guess what. I know a place! Even better, I'll tell you where it is.
Before I reveal it, though, let's take a few minutes to "swim" in laughter (the beer of emotions), and enjoy these 16 funny tweets about the world's best beverage.
1  Science is never wrong
Scientists say men who drink beer daily reduce their risk of heart attack. As for livers, scientists said "fuck livers" and then high-fived.

— Chase Mitchell (@ChaseMit) March 28, 2012
2  Typical weekend
its the weekend baby. youknow what that means. its time to drink precisely one beer and call 911

— wint (@dril) November 1, 2013
3  Conversation is an artform 
[visiting family]

1st beer: Civil conversation about work

5th: Heated talk on politics

12th: Shouting match about the best ninja turtle

— James Breakwell, Exploding Unicorn (@XplodingUnicorn) September 30, 2016
4  Embrace the mystery
ME: ugh how did I get so drunk last night
*flashback to me drinking a lot of beer for hours*
ME: I guess we'll never know

— the garbage shit boy (@davedittell) August 19, 2016
5  Show a little restraint, party boy
Time to get crazy *drinks one beer* time for bed

— Spencer (@13spencer) April 7, 2016
6  Just lob it over
hate when people say don't give bread to ducks cuz its bad for them. Beer is bad for me but I'd love people to randomly throw it at my house

— Fred Delicious (@Fred_Delicious) February 28, 2016
7  Remember this helpful rhyme
Liquor before beer, in the clear. Wine before whiskey before beer before whiskey before rum before beer, I'm an idiot.

— Jen Lewis (@thisjenlewis) April 27, 2013
8  Defer to the authorities, when necessary
Bartender: What can I do you for?
Me: *whispering so my date doesn't hear* What is a "beer"?

— ugly vince (do not touch) (@mortimermaiden) November 14, 2017
9  Never forget
Today is the 2 year anniversary of me chipping my front tooth on a beer bottle to impress a guy who it turns out already had a girlfriend.

— Sophia Benoit (@1followernodad) June 9, 2017
10  Include the whole family
https://twitter.com/trojansauce/status/853269603891412995
11  I'm no nutritionist, but this sounds like a solid diet plan
Drinking vodka instead of beer to cut back on calories which is good since I'll probably eat 3 mcchickens and a mcflurry when I'm done

— Ash (an female) ⚪️ (@adult_mom) May 5, 2017
12  This is a pun. Sorry
Our local beer maker went out of business- there had been trouble brewing for a while

— Steven W Skinner (@SkinnerSteven) June 27, 2017
13  This, too, is a pun. Sorry, again
i slipped on some spilled beer and ended up in the hops piddle

— FRO VO (@fro_vo) August 8, 2014
14  Keep a song in your heart
"no rapping tonight"
why?
"you rap about patrick swayze everytime, it's embarrassing"
ok
[after one beer]
uh oh y'all it's gettin kinda hazy

— brent (@murrman5) January 14, 2015
15  Humans
are
the smartest animals…right?
FLIGHT ATTENDANT: Could you operate the emergency exit door if needed?
ME (once tried to unscrew a pry off beer cap for 20 min.): Sure.

— Ray (@SirEviscerate) December 12, 2016
16  The prophecy has been fulfilled
[Inventing beer]
I wanna drink bread
"What?"
Make it look like pee
"Uh ok"
& get drunk off it
"Wtf"
& if you make it it's all you talk about

— Just Some Guy | Black Lives Matter (@Home_Halfway) September 1, 2015
Hey, that was fun, right?! Alright, you've earned the big reveal.
The Schloss Starkenberger Brewery in Tarrentz, Austria, is home to the world's first beer swimming pools. For the price of about $300 for a two-hour session, this could be you: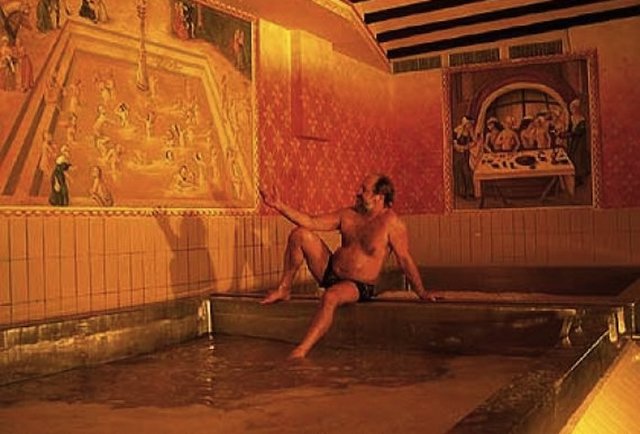 Now go swim in that beer!