16-Yr-Old Becomes First Female to Win High School Wrestling Title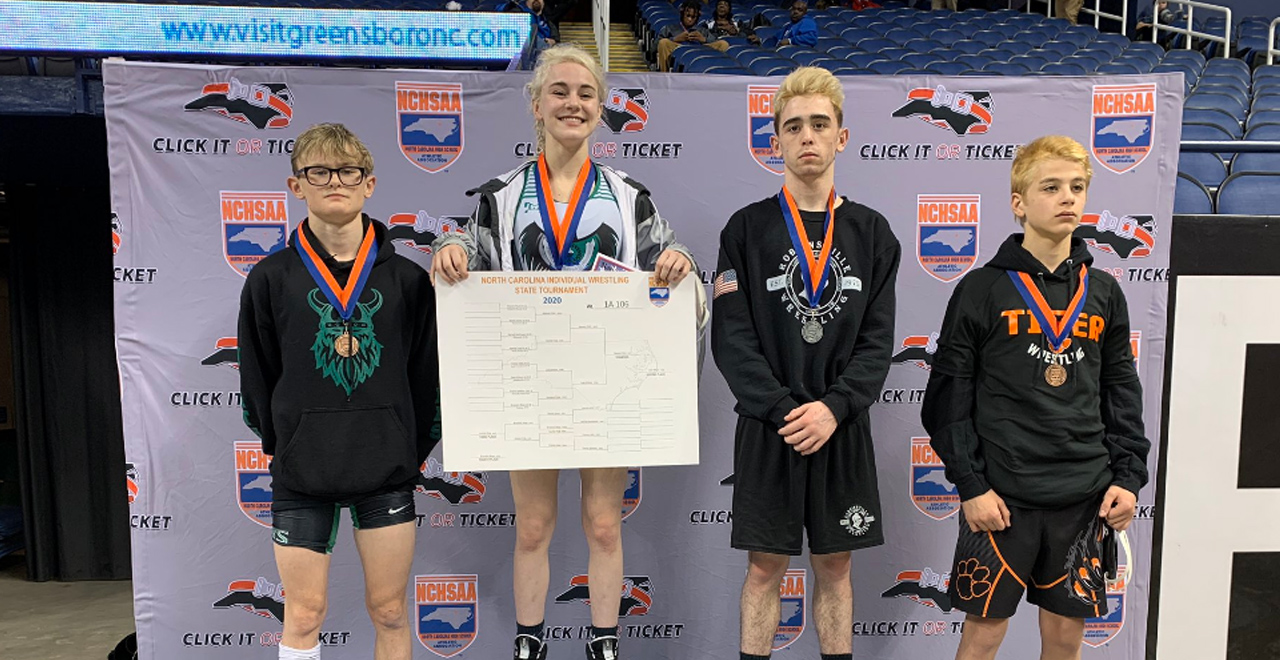 It goes without saying that wrestling is almost an exclusively male sport in high schools across the country. Occasionally, a team (usually at a smaller school) may feature a girl or two, but there's rarely enough interest for them to field their own team. And there wouldn't be enough teams to be recognized by most state athletic associations, which is why girls that want to wrestle have to compete against boys.
It's an inspiring path to take, even if it's one that rarely ends in victory. One girl in North Carolina though is changing some of those perceptions, as she recently became the state's first female high school wrestling champion.
1️⃣st Female Wrestler to WIN an Individual Wrestling State Championship

1️⃣0️⃣6️⃣lbs Heaven Fitch @UwharrieCharter! #NCHSAAWRES pic.twitter.com/K7qvZPlDFh

— NCHSAA (@NCHSAA) February 23, 2020
16-year-old Heaven Fitch made history by winning the state title in the 106-pound weight class, a year after becoming the first female in state history to place at the state championships.
"There hasn't been anyone like her in North Carolina," her coach told the BBC. "She's the most talented kid I have ever coached.
"Heaven's an exceptional wrestler and she's making history. It's an outstanding achievement – she's just that good."
Fitch isn't much of an underdog story either, despite competing in a male-dominated sport. She's one of only three females to qualify for state, cruised to a win in her championship match and amassed a record of 54-4 on the season.
Heaven Fitch is not a girl wrestler. She is simply a dominant wrestler who happens to be a girl. She took home the "Most Outstanding Wrestler" award and told a local news station she was honored to set the path for other female wrestlers.
Let's HEAR IT for HEAVEN FITCH! The 1st female ever to win a North Carolina State Wrestling Championship! Heaven won the 106 lb state title with an 11-3 major decision. The Junior was 54-4 on the season and won OW! Way to go Heaven, you're out of this world! 💪🏻 #WrestleLikeAGirl pic.twitter.com/U7i8K2e2BJ

— Pat Mineo (@MrPatMineo) February 26, 2020

"To think that others look up to me is kind of crazy," she said.
View this post on Instagram