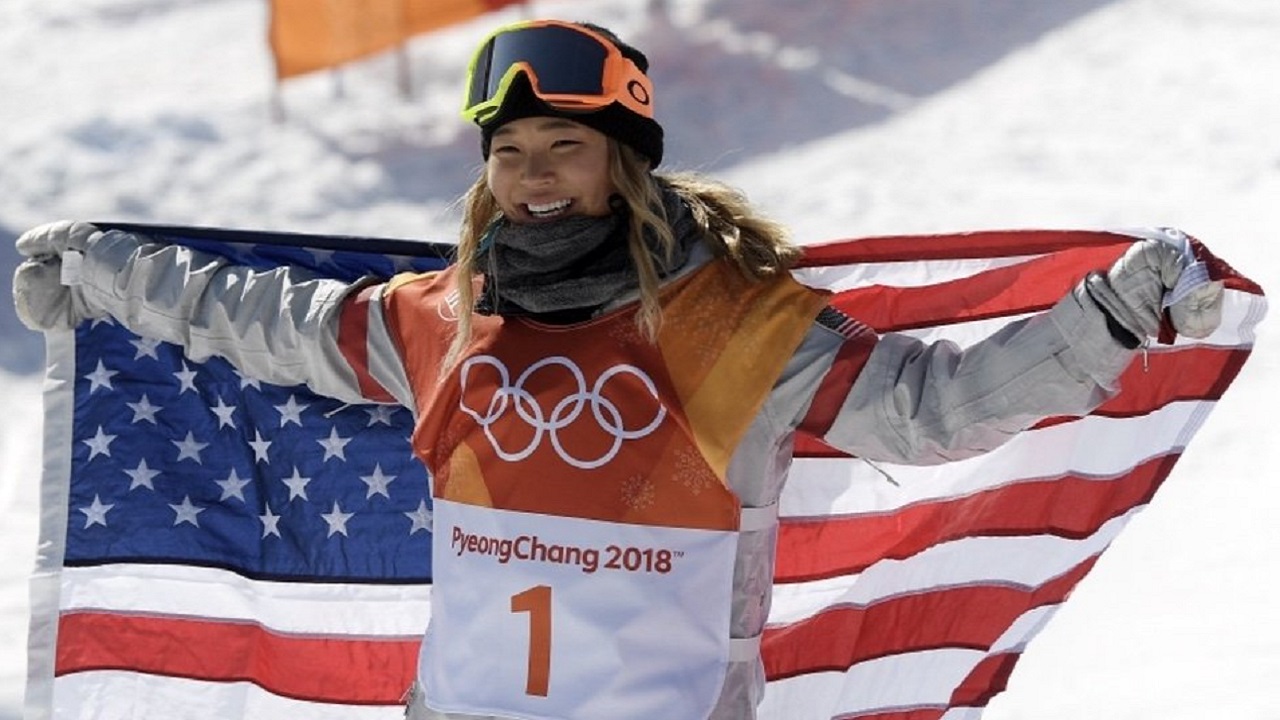 Credit: Twitter/Chloe Kim
She qualified but was too young for the 2014 Olympics
When I was 17, I was too lazy to get out of bed before noon. Chloe Kim is 17 and she just won a gold medal at the 2018 Winter Olympics in Pyeonyang, in her first ever attempt. At 17, I could barely make cereal in one attempt.
Kim is one of the early stories of the Olympics, as the daughter of Korean immigrants is one of those rare cases to deliver on the massive pre-Games hype. She has been ruling the women's snowboard circuit for years now, and actually would have qualified for the 2014 Olympics in Sochi, except for the fact that she was only 13.
Four years later, she's only 17, but as she proved last night, that's plenty old enough to crush the competition.
GOLD for Chloe Kim! The 17-year-old has done it for Team USA in the women's snowboard halfpipe! #BestOfUS #WinterOlympics https://t.co/D65Nuoyydu pic.twitter.com/PtMvQ45SLh

— #TokyoOlympics (@NBCOlympics) February 13, 2018
Kim's event, which took place Tuesday morning (which means it was broadcast live on NBC on Monday night), is the women's halfpipe, and after besting her competition by a solid four points in the qualifying runs, she delivered again in the finals. She got the score she needed in her very first run, as her 93.75 stood up through the end, all the way until her final run, a victory lap in which she scored a whopping 98.25.
You just did that thing. 93.75 worth of it. Wow. Chloe Kim sitting in 1st after 1st run. Chloe makes it look like she is floating. #PyeongChang2018 https://t.co/kXH7crTjnZ

— Julie Foudy (@JulieFoudy) February 13, 2018
None of this is a surprise to anyone who follows snowboarding. According to CNN, Kim is only the second person (Shaun White) to ever record a perfect 100 score in competition, which she achieved at the US Snowboarding Grand Prix in 2016 after landing back-to-back 1080 degree spins. When she was 15.
In 2016, when she was 15, Chloe Kim became the first female snowboarder in history to land back-to-back 1080 degree spins in competition, giving her a perfect score of 100, a feat only otherwise achieved by Shaun White. via @CNN https://t.co/BaXE0QzS6p

— Michiko Kakutani (@michikokakutani) February 13, 2018
Oh yeah, did I mention she also hit back-to-back 1080s during last night's victory lap?
On her victory lap, Chloe Kim lands back-to-back 1080s and the judges reward her with a 98.25. Coronation complete.

— Rachel Axon (@RachelAxon) February 13, 2018
Cheering Kim on were her parents who, like pretty much every parent of every Olympian, made plenty of sacrifices to help their kid achieve her dream.
Jong Jim Kim emigrated to America from South Korea in 1982 and introduced his daughter to the mountains at age 4. At 6 years old she was already competing in juniors, and when she turned 10, he quit his job so he could dedicated himself to her development. Soon he was waking her early and driving her hours to train and compete.
You'd better believe he was rooting her on.
You wanna make me cry? Show me this picture of Chloe Kim's dad right before she hits the half-pipe. Yea, that'll do it. pic.twitter.com/IilYKUz8xr

— Rebecca (@BeckksSG) February 13, 2018
None of these accomplishments, nor the huge international stage, seem to faze the high school senior, who was inexplicably tweeting about being "hangry" DURING competition.
Wish I finished my breakfast sandwich but my stubborn self decided not to and now I'm getting hangry

— Chloe Kim (@ChloeKim) February 13, 2018
Twitter could not handle Chloe's cool, replying to her mid-competition with awe and incredulity.
Are you even nervous?

— Bradley (@itz_bradley) February 13, 2018
HOW ARE YOU TYPING ARENT YOUR FINGERS COLD

— kim (@kimberlyellex) February 13, 2018
There is one thing that fazes young Chloe Kim, and that is winning the gold.
I hate crying but I'll give myself a pass for this one. Thank you everyone for the love! Stoked to bring home the gold pic.twitter.com/vxApf1lxbI

— Chloe Kim (@ChloeKim) February 13, 2018
Now can someone please get her something to eat?
Someone please give @chloekimsnow a breakfast sandwich now please! 🇺🇸

— Seung Min Kim (@seungminkim) February 13, 2018