17-Yr-Old US Amateur Golfer Got to Semi-Finals With His Dad as His Caddie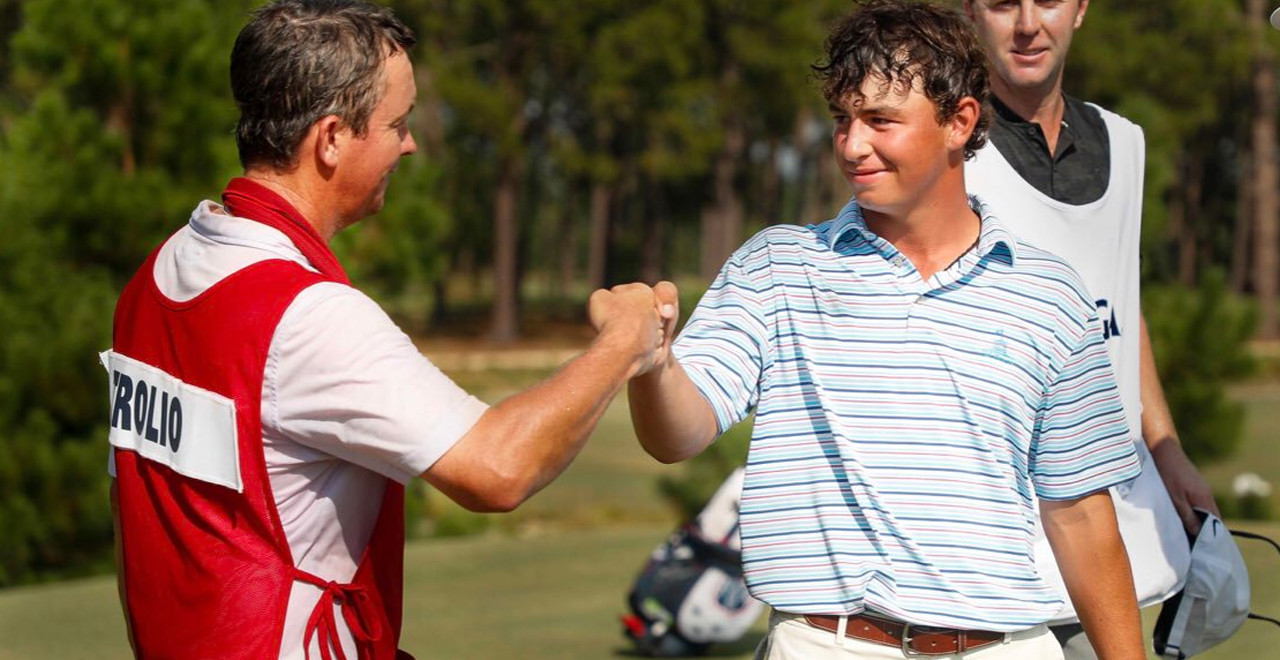 Everyone knows the integral role Tiger Woods's father played in his development and eventual ascent as a record-breaking golf phenom. The old man introduced his son to the game and was over his shoulder the entire step of the way, training him to become the all-time great he is now. They had a very close relationship, with Earl Woods serving as Tiger's coach and biggest fan.
But I'm not sure he was ever his son's caddie.
Golfer Cohen Trolio is a 17-year-old junior at Oak Hill Academy in Mississippi, and like Woods, he's close with his father too. On the golf course and off.
Cohen's dad VJ is the golf pro at Old Waverly Golf Course and has been teaching his son the game for years. In August, V.J. not only helped Cohen reach the semi-finals of the U.S. Amateur in Pinehurst, North Carolina. Not only was it quite an accomplishment for a golfer so young to make it so far, but it was also extra special because Cohen's dad manned his bag for him at the tournament.
Congratulations to Cohen Trolio, Oak Hill Academy Jr. who today won his quarterfinal match in the most prestigious amateur tournament in the world, the US Amateur. He is now the youngest player in 25 years to make the semis!!! Pictured below (L-R) his dad V.J. and Cohen. pic.twitter.com/I0JWshvgRp

— MAIS (@msais) August 17, 2019
"It was a cool experience," Cohen told The Dispatch. "It was cool having Dad on the bag."
Of course, it can't always be easy to work with your dad, especially as a teenager.
"We try our best to define the lines when you're a coach and when you're a dad, and we leave coach and student, that relationship, outside our front door and always try to make sure we're dad and son when we walk in that door," VJ said.
It helps that Cohen's mom, Allison, is in his corner, taking the high schooler to all of his tournaments. It also helps that she doesn't play golf herself.
"Thank goodness," VJ said. "That's the reason she's level-headed and she can help us."
Having the support of his family is clearly essential to Cohen's success, but soon he'll be on his own, golfing at LSU under coach Chuck Winstead with his dad's blessing.
"It doesn't matter to me where they go," VJ said. "They just better love the coach."
It sounds like Cohen already does. "He's an awesome coach, one of the best out there for sure," Cohen said. "The atmosphere around the team is cool. I'm good friends with a lot of kids who are coming in, so it's exciting."
But he knows there's a long road ahead.
"I just turned 17, so I got a good ways to go," Cohen said. "And I hopefully have plenty of chances to play in The Masters. And if not, then we'll see what happens, but I'm not too disappointed about it."
Here's hoping if he does make it to Augusta, his dad goes with him.