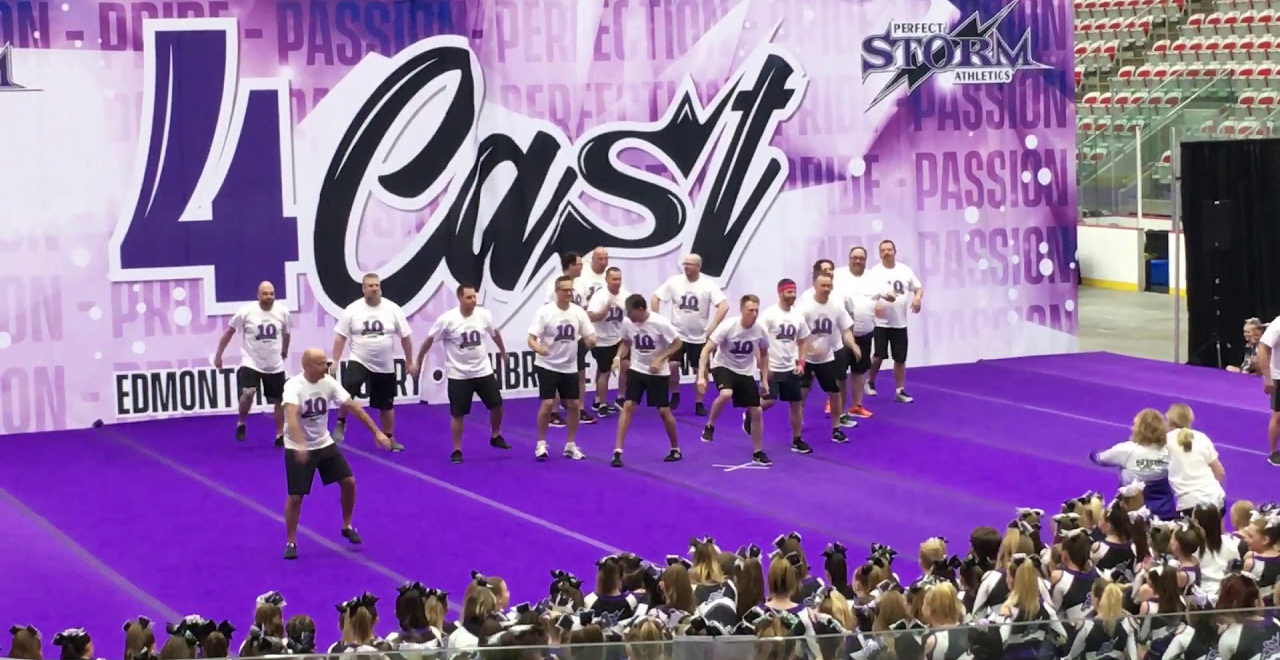 Credit: YouTube/caasious
Usually, when kids are in extracurricular activities, parents spend most of their time serving as chaperones. Especially when it comes to dads whose daughters are cheerleaders. The best those dads can do is support their girls, cheer them on, and drive them to and from practice and competitions.
But one group of dads in Canada took things a bit further than that.
18 dads in Edmonton who have spent years watching their girls compete with Perfect Storm Athletics decided they wanted to do more than just spectate. They wanted to participate.
So together, in secret, those 18 dads worked with Perfect Storm trainers to create a cheerleading routine. Then they surprised their daughters by performing the entire thing on stage at 4Cast, an event in Calgary in which all of Alberta's Perfect Storm teams competed.
"Two teenage daughters talking to their dad is not number one on the list of things that is cool to do. So this was a great way to get engaged with them," Trevor Robertson, whose two teenage daughters compete with Perfect Storm, told Global News.
The dads had three practice sessions to put together and perfect their 3-minute routine.
"Now when they walk into the gym, they understand how hard their kids work. They have a whole new respect for their kids," Dianne Greenough, owner of Perfect Storm Athletics, said.
They called themselves "the weathermen" and they were far from your typical cheerleading crew.
"We have guys from professional athletes to business owners to people working in the trades. The sizes, the shapes, the heights was so unique. They were just such a special unique group."
"We didn't want to go out there and embarrass ourselves," said Marc Kennedy, a former Olympian with two kids in Perfect Storm. "We wanted to go out there and show our kids that we could work hard and put something together."
They certainly did that, and surely impressed their kids along the way.
"The bottom line is they love their kids. They wanted to do this for their kids. They were ready to be coached," Greenough said.
Watch the routine: