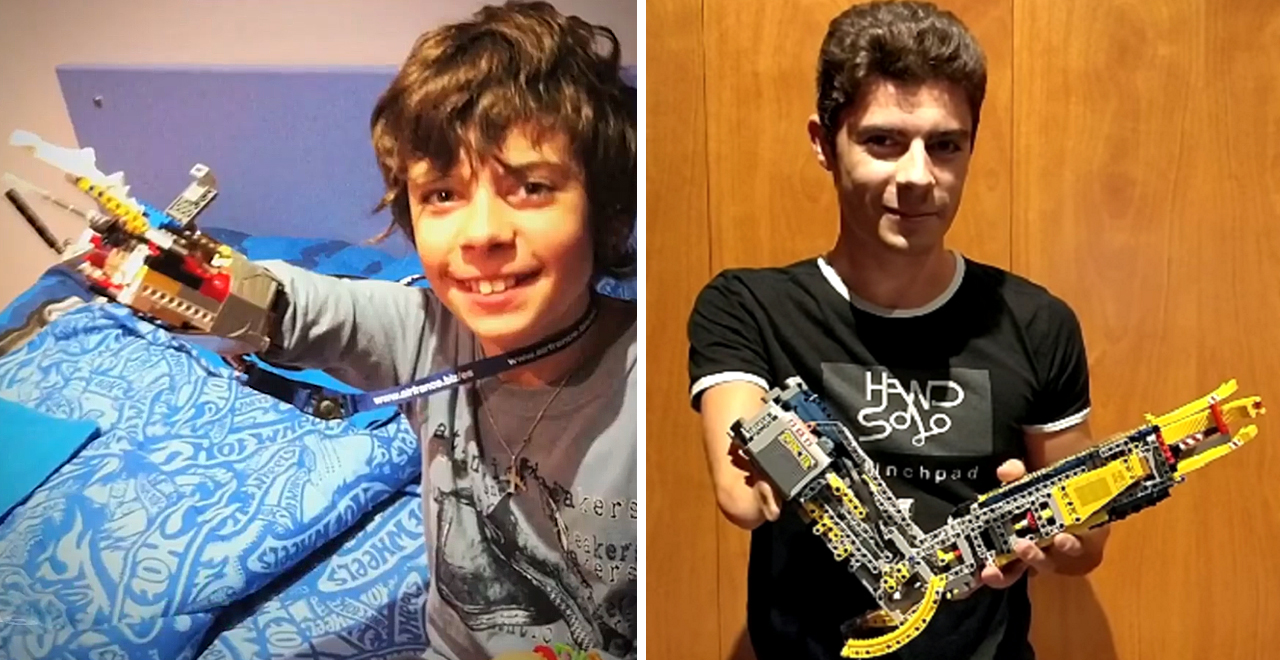 Credit: YouTube/Hand Solo
Over the past few years, there have been countless stories of someone using a 3-D printer to create a prosthetic limb for their child or for themselves, often adorned with superhero insignia and other cool customizations.
But one young kid who's missing an arm just created one of the coolest prosthetic arms yet, and he did it without a 3-D printer.
He did it with LEGO pieces.
It goes without saying that growing up without one of your limbs can be a challenge for a variety of reasons. But David Aguilar has been finding solutions for that challenge since he was very young, and they've often involved the classic childhood building blocks.
At age 9, he used his ingenuity and a discarded LEGO helicopter to create his first prosthetic limb. He has since made four more to replace the right forearm he was born without, due to a birth defect caused by Poland Syndrome. Each arm has a bendable elbow joint and a grabber.
He names each LEGO arm, which takes hours to build, the same way Tony Stark names his new Iron Man suits – MK1, MK2, etc. – and shares his process on his YouTube channel, Hand Solo. He clearly has a good sense of humor, which came in handy as a child struggling to fit in.
"As a child, I was very nervous to be in front of other guys, because I was different," David said in a video on the BrightVibes Facebook page. "But that didn't stop me from believing in my dreams."
Nowadays his inventiveness has helped him gain attention from the media, and his dream is to use his skills to create more affordable prostheses for other people who need them.
Watch the video: