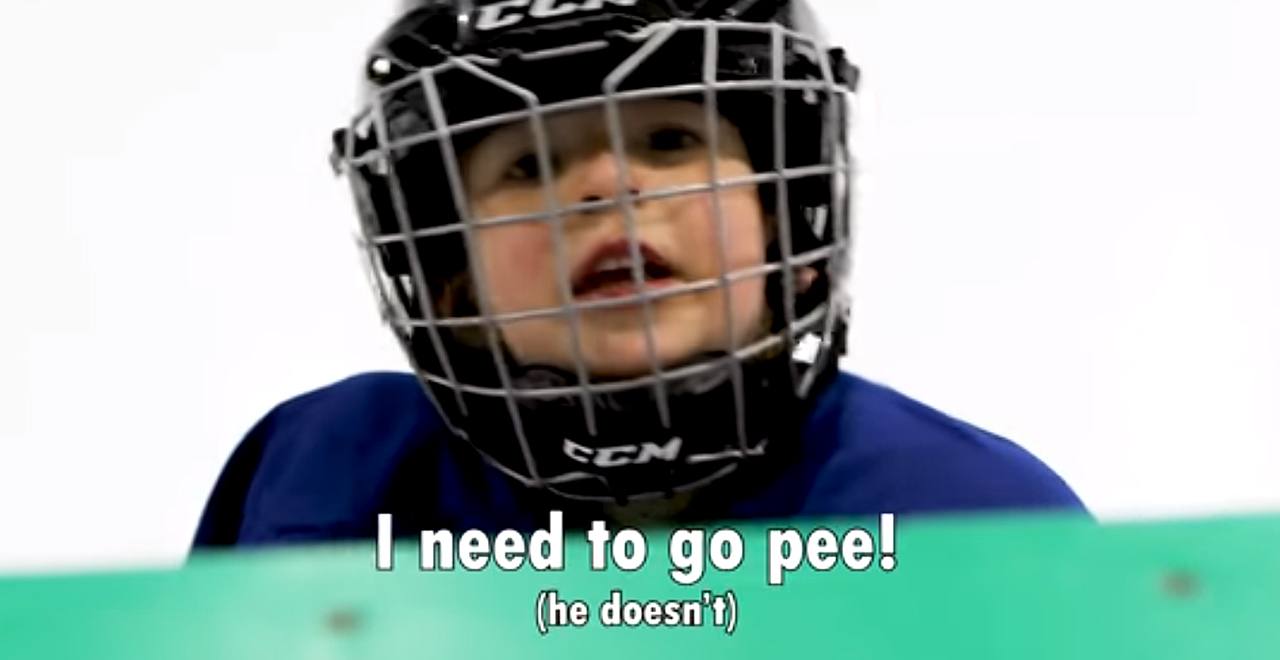 Credit: Twitter/howtohockey
Little kids are cute. There's no doubt about it. In fact, their cuteness is often their primary redeeming quality, especially when you're in the middle of the terrible twos or threenagehood. That cuteness lets them get away with a lot, at least for a few years. And any parent who has ever signed their kid up for youth sports knows this.
If you want your kid to enjoy and be good at sports, getting them started early is important. But it also means that those first few years are going to be tough. Because when it comes to three, four, and five-year-olds, the term "organized sports" is an oxymoron. There is nothing organized about a little league team full of kindergartners, and if you think Lebron travels a lot, you should go watch a youth basketball game.
But the important part is getting the kids out there, even if they don't quite know how to play a game, or understand the rules. One hockey dad put a microphone on his four-year-old son during hockey practice, because whatever that kid was doing, it wasn't exactly hockey, and his dad wanted a little insight. He shared the resulting video on YouTube and if you've ever watched your own kid doing pirouettes in the outfield in the middle of a baseball game, it's as hilarious, and adorable, as you'd expect.
The little boy's name is Mason, and his dad is a hockey coach. His Twitter bio states that he's "sharing my love of hockey online with videos that teach, entertain, motivate and inspire" and the short clip he shared of his son definitely entertains. The tweet has over 109,000 likes and nearly 30,000 retweets, allowing people all over the world to watch Mason skate aimlessly around the ice ("He's lost," the captions state) and request a nap.
I mic'd up my 4 year old at Timbits Hockey so I could finally understand what the heck he was doing out there. It was…. Interesting @TimHortons @NHL pic.twitter.com/t3LiHWpbt9

— Coach Jeremy (@howtohockey) February 22, 2019
Mason's dad also shared a longer version of the video on YouTube where it's reached over 5 million views on YouTube. His son is incredibly cute, and clueless, as he rolls on the ice, asks to go to "BaDonald's" after the game, and exclaims "Happy Halloween!" in the middle of February. I'm mostly impressed the 4-year-old is able to stay upright on his skates!