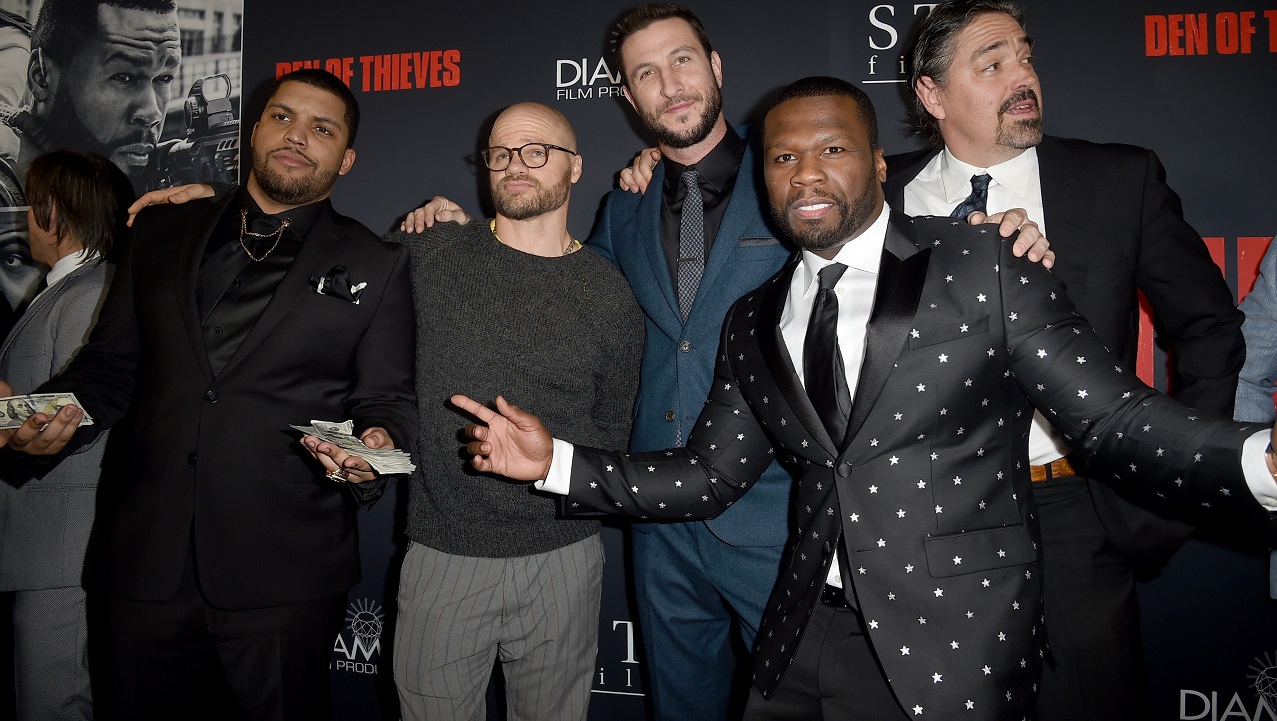 Credit: Kevin Winter/Getty Images
Some guys who've been shot 9 times have all the luck
Bitcoin and other cybercurrencies are all the rage these days, despite the fact that no one can actually tell you how they work or what they're worth, never mind accept them as legal tender. Not even 50 Cent, who, by pure fluke, became a cryptocurrency millionaire.
The rapper got honest about the happy accident on Instagram when he posted (now deleted) screenshots of a TMZ report claiming he'd accepted bitcoin as payment for one of his albums, and added the caption, "I'm so proud of me." Complete with shrug and bag of money emojis.
It's like finding a ten-dollar bill in those jeans you haven't worn in six months, only it was $8 million and now you're crying.
Business Insider shared the story about how the rapper accepted bitcoin as payment for his "Animal Ambition" album back in 2014, when no one was talking about cryptocurrency at all. He received 700 Bitcoin, valued – in 2014 – at $662/coin, and then, according to the rapper's own comments on his IG account, he forgot about it.
"Ima keep it real, I forgot I did that shit lol."
The currency has since exploded and is now being traded at more than $11,000 per coin, according to BI, netting the actor in the neighborhood of $8 million. Provided he unloads the digital currency sometime soon, as he has yet to do so.
The rapper and actor, currently starring in the cops and robbers heist flick Den of Thieves, has proven himself a savvy investor in the past, having become a minority stakeholder for Vitamin Water, earning himself a cool $100 million when it was bought nearly a decade ago.
The internet is having fun with the rapper's accidental fortune, with some suggestion the rapper rebrand himself:
50 Cent should rename to 0.000046 BTC#Crypto #Bitcoin

— Zain Manji (@ZainManji) January 24, 2018
Now renamed 50 Coin, he was formerly known as 50 Cent!

— Rick C. (@tweetingbrit) January 25, 2018
While others are hoping they've forgotten something similar…
Rapper 50 cent accidentally made $8 million in bitcoin after accepting bitcoin as a form of payment for one of his albums in 2014.
PSA: if you ever paid me in bitcoin now is the time to tell me.

— Mandy Aracena (@TheMandyAracena) January 25, 2018
For one of us, accidentally making a mint off Bitcoin we didn't even remember we had would be cause for celebrating like it's our birthday. But for a guy who's been shot 9 times, had huge success as a rap artist, starred in his own biopic, and gotten rich off bottled water, it's just another day.
https://twitter.com/jackiekberry/status/956516178746163201