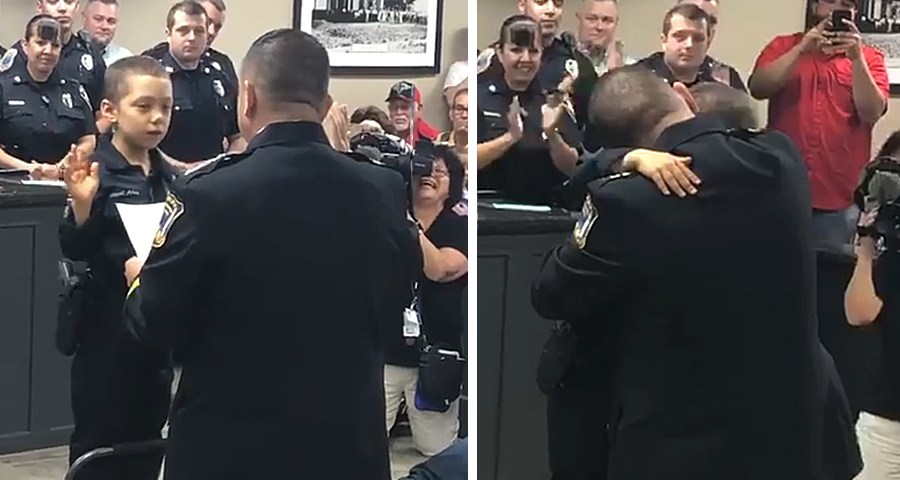 Credit: Facebook/Freeport Police Dept
Many little kids dream of growing up to be police officers and firefighters. Most of them probably don't end up going that route, life is funny that way. But that doesn't mean the dream wasn't real back when they were tiny tots.
One little girl who dreams of being a cop had her wish granted recently, because, tragically, life won't allow her to achieve her dream when she's older. So her local police station stepped in to make sure it happened now.
6-year-old Abigail Arias has a Wilms tumor, which is a type of kidney cancer, and after two years spent battling the disease, she and her family look to be out of options. The steps they've taken to fight her cancer haven't worked, and now her family is hoping for a miracle and letting their little girl enjoy whatever time she has left.
"They basically said it's time to enjoy some life," Abigail's mom, Ilene Arias, told CNN affiliate KTRK. "Extremely tough. We cried for a few weeks."
The police station in Freeport, Texas, where Abigail lives, is helping her do just that. Last week, they swore Abigail in as an honorary police officer in front of a crowd of officers, first responders, local business leaders and others in the Freeport community.
The photo from the swearing-in ceremony, posted on the Freeport Police Department's Facebook page with a caption about Abigail's dream of being a cop, has nearly a thousand shares and over 2000 likes.
Abigail had told the police chief, Raymond Garivey Jr., about her dream of being a police officer back in December, at the police department's annual "Pancakes with Santa" event.
"Her terrific smile and will to keep fighting 'the bad guys' inside of her — I wanted to make her dream come true," Garivey told CNN. "You have to meet her to really understand what a great and inspiring young lady she is."
Watch video of the ceremony below: