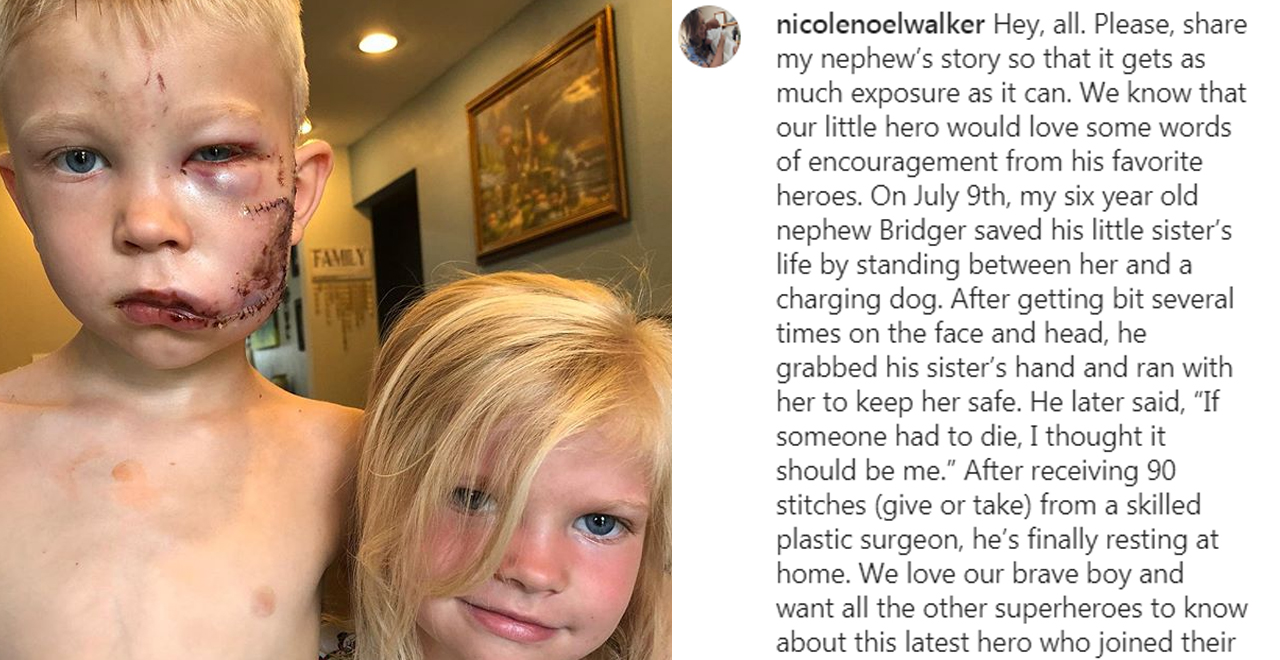 Credit: Instagram/nicolenoelwalker
The word 'hero' gets thrown around a lot these days, sometimes carelessly. This is not one of those times. A six-year-old from Wyoming pulled some straight-up hero moves when he selflessly protected his little sister from a charging dog. His aunt shared the story in an Instagram post, and apparently six-year-old Bridger stepped in front of his sister and was bitten several times in the face and head. He then grabbed her hand and ran with her to safety.
He later told his aunt "if someone had to die, I thought it should be me." I mean, that's some serious hero calculus that a child should never have to consider. But in a moment of crisis, the little man stepped up in a way even some grown men may not and helped save his sister's life. And he didn't escape unscathed in his sacrifice, either, as he required more than 90 stitches on his face and head for his wounds.
"We love our brave boy and want all the other superheroes to know about the latest hero who joined their ranks," said his aunt, tagging some of his favorite "superhero" actors.
In an update, his aunt said his wounds are looking better and he's in great spirits. She also said he's loving some of the comments people have left on her IG post, which has since gone viral. And she said the family has 'no resentment' to the family that owns the dog, and that they had been nothing but kind. She also mentioned that Bridger loves rocks, so she encouraged people who wanted to send good wishes to send in cool pictures of rocks they've found.
Thousands of comments have poured in with well wishes for the little hero, including several from celebrities. The Hulk himself, actor Mark Ruffalo, sent along his good wishes and praise, writing in his comment:
"People who put the well beings of others in front of themselves are the most heroic and thoughtful people I know. I truly respect and admire your courage and your heart. Real courage isn't dominating people or fighting against people or walking around like a tough guy. Real courage is knowing what is right to do and doing it even when it might end up hurting you somehow. You are more of man than many, many I have seen or known."