Man Honors 67th Wedding Anniversary Outside Quarantined Wife's Window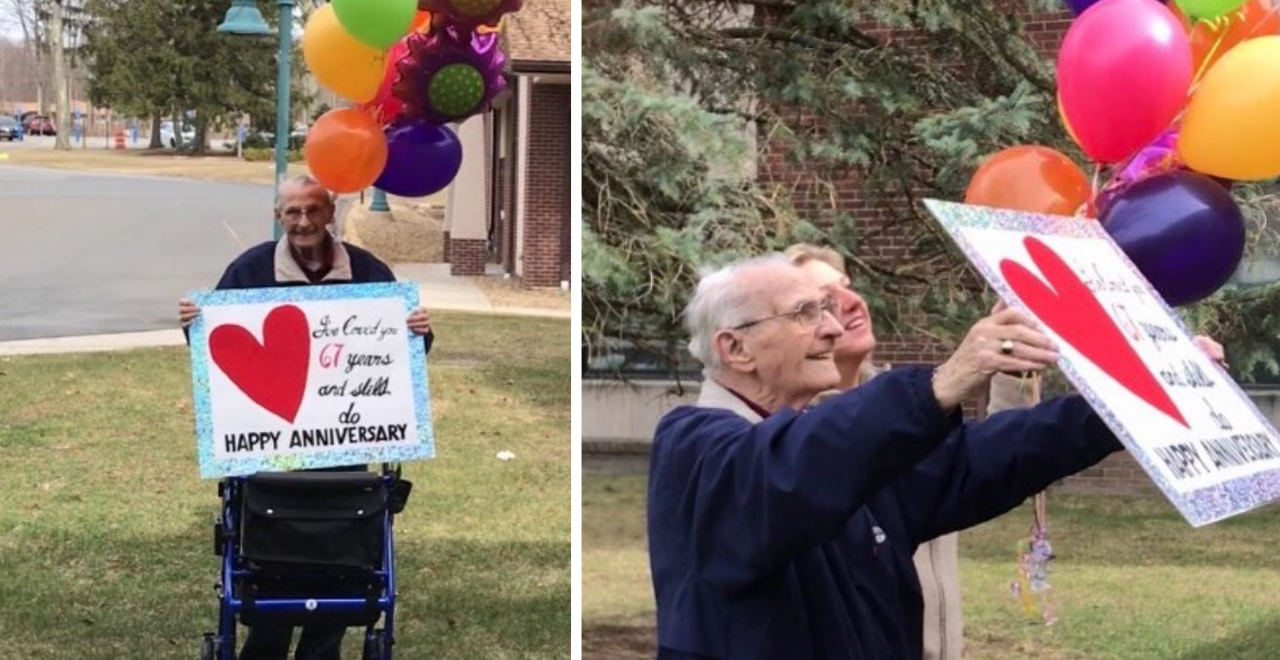 Anniversaries are tricky, especially the longer you've been with someone. You want to wow them, or make some grand gesture to show your love. And then you hit the cruise control part of a relationship, and it can almost feel perfunctory, like renewing your license. But anniversaries have a bigger feel to them when you're older and aren't sure how many you have left.
A Connecticut man named Bob Shellard was celebrating his 67th wedding anniversary this week. His only problem? He couldn't get to his wife Nancy. She's a patient at a nursing home and Bob, who visits daily, wasn't allowed in due to extra tight precautions to prevent the spread of COVID-19.
Instead, he stood outside the nursing home, holding a sign that read "I've loved you 67 years and still do. Happy Anniversary." He held it towards his wife's window, and she responded by waving and blowing kisses. It was their first anniversary apart.
(1/2) Bob and Nancy Shellard celebrated their 67th anniversary in an unconventional way over the weekend. Nancy is in a Connecticut nursing home, and because of the visitation restrictions in place, Bob couldn't spend the special day with her. @News12CT pic.twitter.com/DPQY8kmyUQ

— Marissa Alter (@MarissaAlter) March 16, 2020
The man told a local news station he was disappointed he couldn't see her.
"It makes me feel bad because I want her down with me and I know she can't be," he said.
The governor has restricted visits to nursing facilities due to the setting being ripe for COVID-19 outbreaks, similar to one in Washington State. For some guys, that would be a big enough hurdle to celebrate at a different time, when you could be together.
That would not suffice for Bob, who took it to a whole different level, and it's a pretty baller move honestly.
Here at The Dad, we hope you, your families, and communities stay safe and healthy during the COVID-19 pandemic. For the latest information, please utilize online resources from local public health departments, the Centers for Disease Control, and the World Health Organization to remain as informed as possible.