7-Year-Old With Spina Bifida Runs First Track Race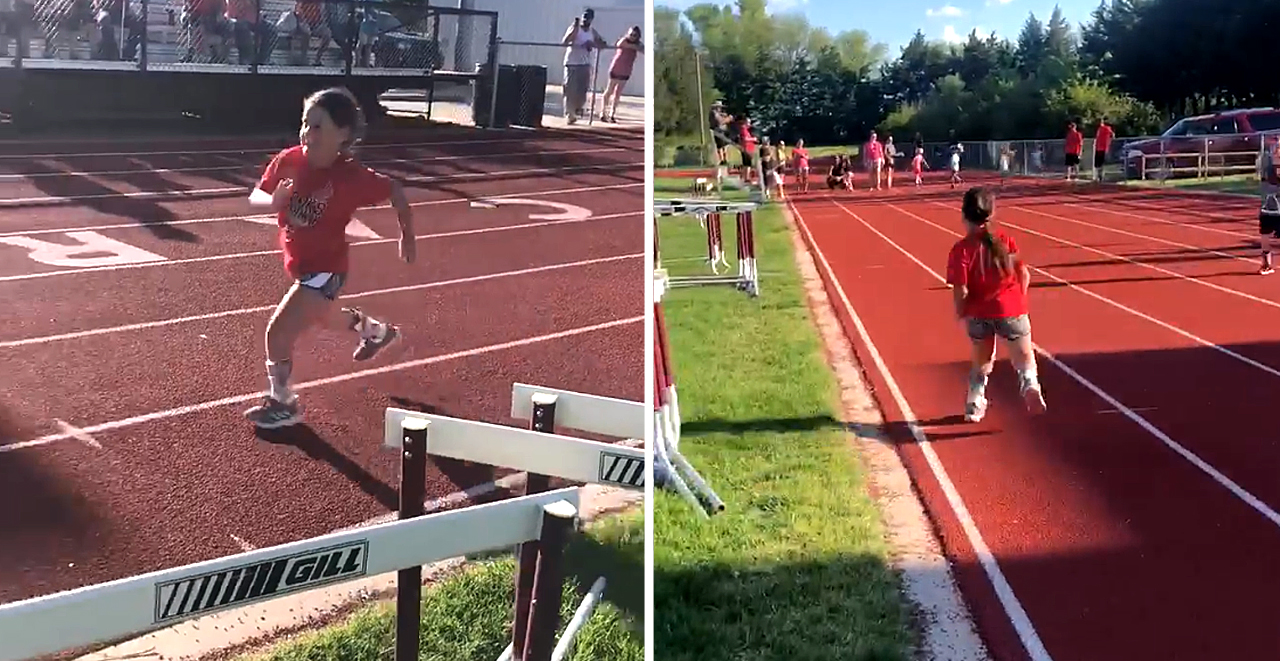 I'm lazy. And I'm tired. I have two kids, I'm in my forties, it's the way it goes. Most days, dragging myself out of bed is an accomplishment, never mind being productive. And don't even get me started on going to the gym! I have a dad bod, I own that, and I'm okay with it.
And then I hear some inspirational story about some teenager making the world a better place, or some kid overcoming a disability, and I feel like a pathetic jerk.
Like today, when I learned about a 7-year-old girl with Spina Bifida and Hydrocephalus (a buildup of cerebral spinal fluid on her brain) who ran in her first track race.
In a Facebook post celebrating her daughter Aubrey's accomplishment, Chelsea Garcia explained why the moment was so special.
The proud mom shared a video of her daughter running the race, and added some backstory in the caption:
"She was diagnosed prior to her birth and had surgery 24 hours after delivery to repair her spinal defect and place a shunt to drain the extra cerebral spinal fluid into her abdomen. She has worn some sort orthotic on her ankles/feet since she was 3 months old. She is unable to feel anything from her knees down, which means she has had to teach herself to walk by using her hips and thigh muscles."
None of this dampened Aubrey's spirit. She has slowly but surely progressed through various methods and contraptions that helped her stay upright and walk. She dreamed of running in a track race and worked hard to get there.
"Sometimes I'll suggest using a walker to get around if we're going to Walmart or a big store like that, but she refuses," Chelsea told Good Morning America. "She wants to do it all on her own."
Mom wrote:
"She knew she would not win, but it didn't stop her from trying…With tears streaming down my face, I watched her fall into her daddy's arms.. She FINISHED that race. And thank you to ALL of the people that congratulated her after the race.. Her smile just wouldn't stop! I can't ever explain the joy I feel watching my children give it their all."
The inspiring video has been viewed over 42,000 times on Facebook, and Cheryl has been overwhelmed by the positive responses.
Watch Aubrey's triumphant race: