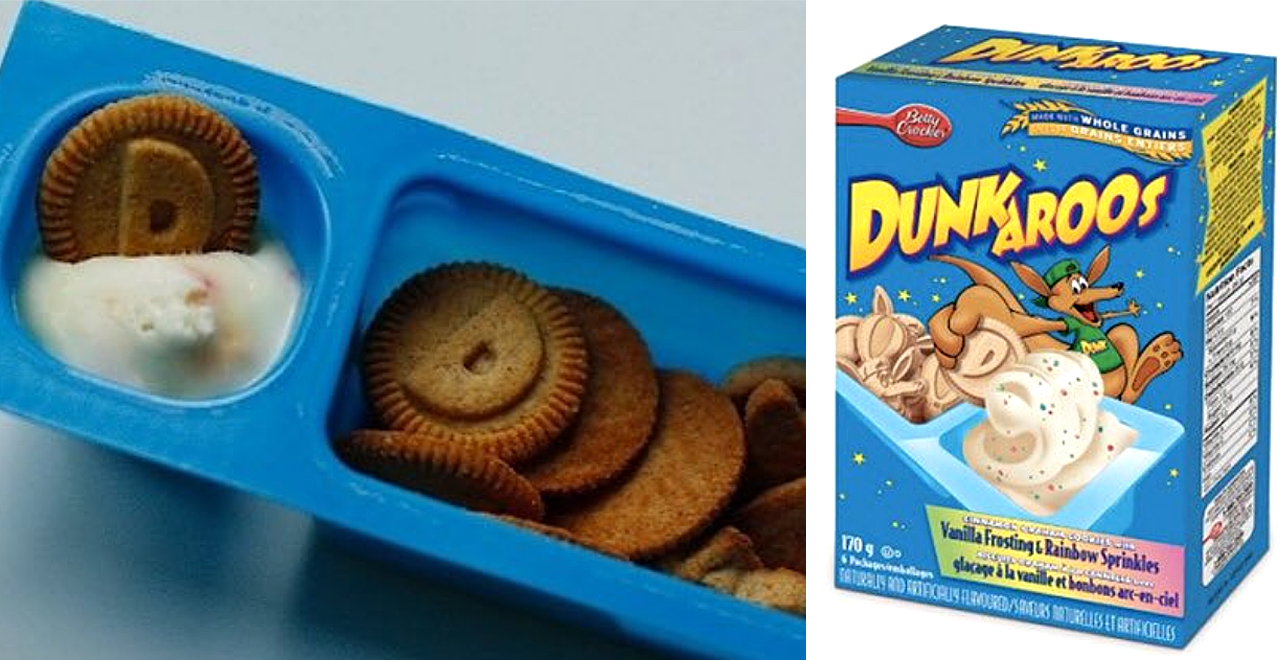 Credit: Twitter/_LukeKellly
Dunkaroos are coming back, and people are losing their shit about it. The beloved snack of 90s kids is having a moment, as everything old becomes new again. The internet went crazy Monday when General Mills confirmed the widely spread rumor, Dunkaroos are officially making their return.
If you're not familiar with the glory of Dunkaroos, the concept is easy to grasp. It's basically a tub of icing, with a few cookies in a separate container. They draw their name from the act of "dunking" the cookie into the icing and…ok, come on, you get it.
Why now? Well, it certainly falls in line with everything else about re-booting the 90s, so it makes perfect sense. The news also probably owes a debt to Dunks many celeb backers, including the likes of Kim Kardashian West and Chrissy Teigen. And of course, there was a popular hoax campaign in 2018, where a fake photoshop claimed General Mills would bring the snack back if it got 150k retweets (it broke that with ease).
Obsessed with Dunkaroos. Please come back! https://t.co/4UxtiOQYO1

— Kim Kardashian West (@KimKardashian) April 27, 2018
But this time, it's real.
View this post on Instagram
"For those who grew up in the '90s, the original cookie-frosting combo represents the taste, color and fun of being a kid during that decade," said a General Mills spokesperson. "We know there's a lot of love for Dunkaroos, and fans everywhere have been asking for it. We're excited to help '90s kids relive all the best parts of childhood."
The timetable is still a little iffy, but the company did confirm that the version being re-released this summer is the classic vanilla cookies with the vanilla and sprinkle frosting. They will also go to 7-Eleven first, with other stores following.
So while we don't get all the flavors just yet, Millenials will take what they can get when it comes to resurrecting this fan favorite.
Hey @Dunkaroos I'm glad you're coming back because I'm tired of having to do this: pic.twitter.com/Dx1q0zr62u

— TJ Harris (@TJPOWERuloveit) February 3, 2020
Dunkaroos BACK? pic.twitter.com/G0ZasnE7B3

— Barrett Tomek (@BarrettTomek) February 3, 2020
My brain when I hear Dunkaroos are coming back pic.twitter.com/JtmkUaaLei

— marshmello (@marshmellomusic) February 3, 2020
Dunkaroos really brings me back to my childhood. Those cookies were like currency on the playground at school

"I'll let you play my Gameboy with Pokemon Red if you pay me in Dunkaroos? Deal!" pic.twitter.com/XVO8XpHqmZ

— Josh Rockstark 📢 Beast Wars Movie Hypeman 📢 (@joshrockstark) February 3, 2020