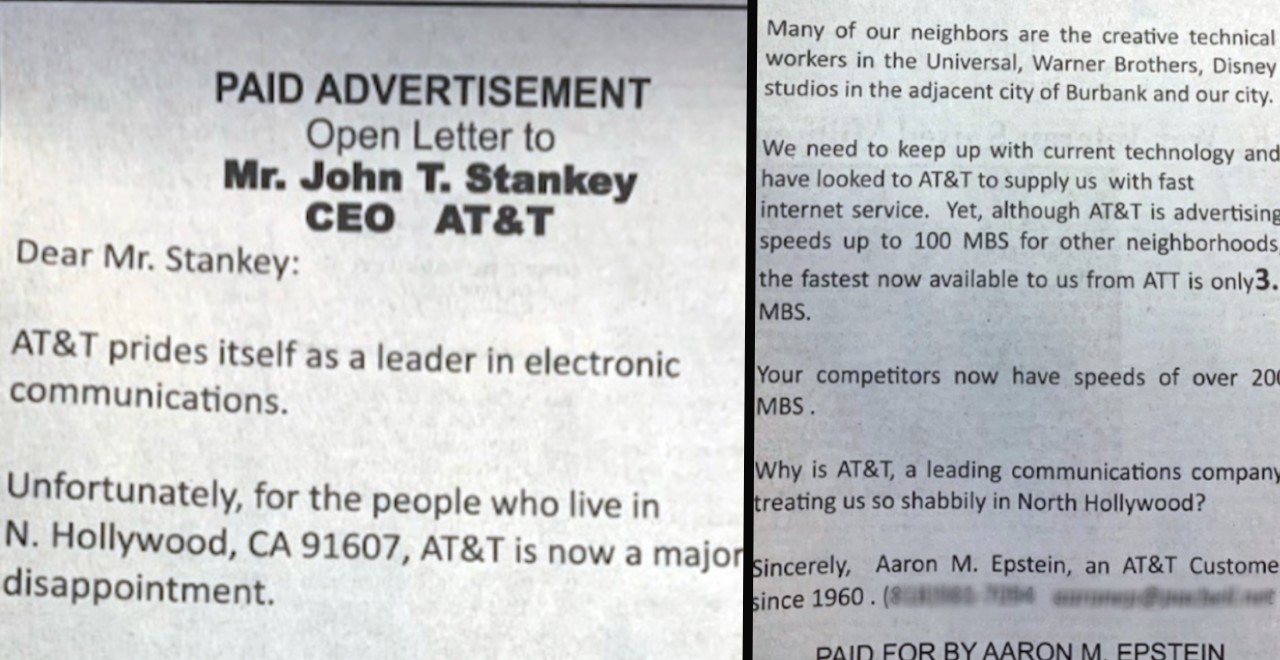 Credit: Twitter//zzcrockett
We are living in a golden age of technology, while simultaneously living in probably one of the worst periods of customer service in history. Calling any major corporation to right a wrong involves so many steps that most people give up before ever getting the chance to talk to an actual person. So it's satisfying any time someone has had enough to takes extraordinary steps to let companies know they need to do better.
California man Aaron Epstein has been an AT&T customer since 1960. That's incredible loyalty to a company, the type you pretty much only see in other 90-year-olds. But, like many AT&T customers, he's been frustrated that his internet service isn't living up to the hype. But, unlike most people, he didn't just send a strongly worded letter or cancel his service. He took his fury to the next level and spent $10,000 taking out two ads in the Wall Street Journal to call out the CEO.
Next-level customer complaint:

90-year-old Aaron Epstein, of Los Angeles, CA, got so mad about his shitty AT&T internet speed that he bought ad space in the @WSJ to publically call-out the company's CEO. It cost him $10,000. pic.twitter.com/A1aMJhh8qT

— Zachary Crockett (@zzcrockett) February 10, 2021
"I kept calling AT&T," he said asking them, "'When are you going to give us a faster speed?' They said, 'It's coming, it's coming.' But what really made me angry was they started putting ads in the paper and sending emails and putting ads on the internet [saying], 'Try our faster speed.'"
The ads were titled "Open Letter to Mr. John T. Stankey CEO AT&T," and touted his loyalty, and closed by asking why the company was treating them "so shabbily." One ad went in the Dallas version so the company's executives would see it, and another went in the New York version so investors would see it.
The 10k was money he had set aside for a vacation, but he said if it ultimately succeeds in getting him the faster internet service he was promised, it will be worth it. And honestly, it has to feel pretty good to finally say enough is enough and put the CEO of a major corporation on public blast.
And his trolling efforts did work. AT&T techs paid him a personal visit the next day, and now his internet service went from an appalling speed of 3Mbps to 300Mbps.
So, if you want to hold a company accountable for its promises, all it takes is thousands of dollars and years of patience.
Props to the old man for finally getting what he deserves, and sending a wake-up call straight to the top.