A Dad Pays Gratitude for an NFL Draft Pick's Keg Party Heroics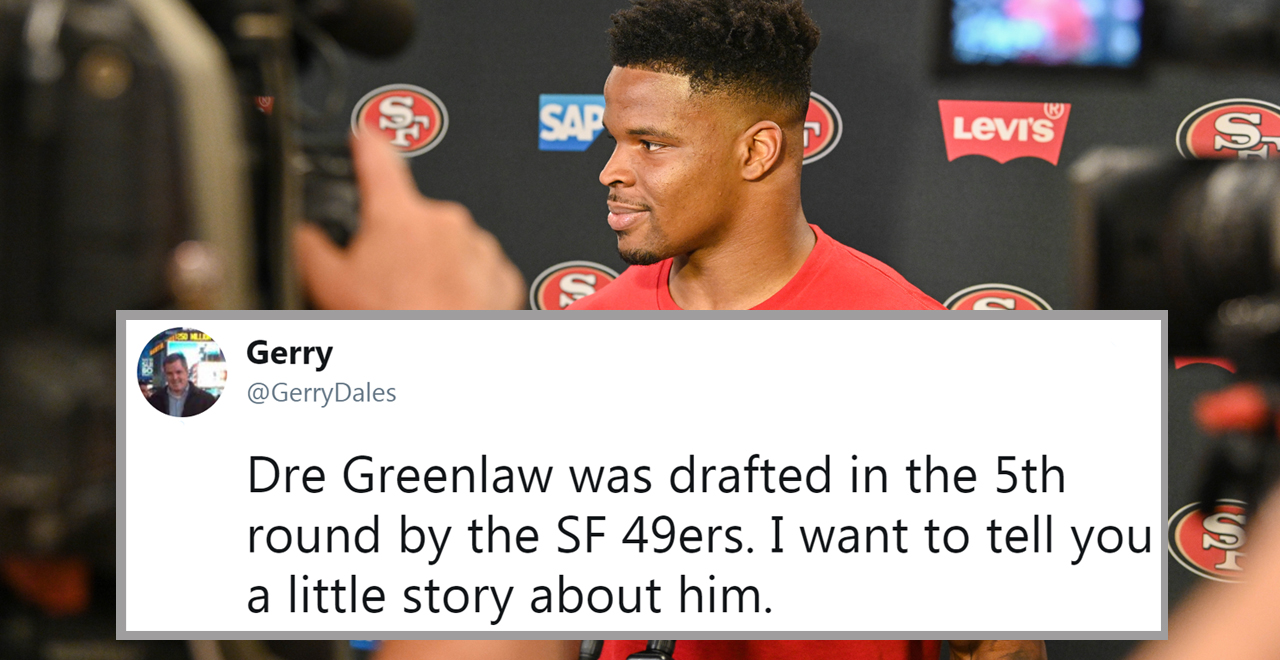 The aftermath of the NFL draft is usually spent with analysts grading teams like it's a third-grade spelling bee, college football fans raging about how insane it is that no one drafted their backup slot receiver, and bored fans criticizing players sartorial choices.
Which makes this story about 49ers fifth-round draft pick Dre Greenlaw a little more unusual. Given the NFL's very recent history, I was fearing the worst when someone told me a dad was tweet-storming a story about what happened with an NFL draft pick and his daughter when they were both at a college keg party. Keg parties are not usually the best environments for gentlemanly conduct from football players.
As Gerry Daly details it, though, that was exactly the case for Greenlaw as an underage football star at the University of Arkansas. Daly's daughter was incapacitated after a man slipped something into her drink and tried to leave the party with her. Greenlaw, who went to high school with Daly's daughter, noticed something wasn't right and stopped the man from leaving with her. Daly said he never mentioned the incident before because Greenlaw was underage and he didn't want him to suffer repercussions for helping his daughter.
Dre Greenlaw was drafted in the 5th round by the SF 49ers. I want to tell you a little story about him.

— Gerry (@GerryDales) April 27, 2019
"Thank God someone was looking out for her," Daly said. "Thank God that there are good people in this world like Dre."
NASCAR driver Chase Elliott won a race at Talladega Superspeedway for the first time in his career when he won the Geico 500. His dad, racing great Bill Elliott, wasn't there to see to his son pull out the win, but he had a good reason: he was winning a race of his own that weekend.
The elder Elliott has won at Talladega twice, and shortly before the GEICO 500, Chase tweeted out this sort of adorable video.
Speaking of father-son duos, ESPN ran a great feature recently on the greatest father-son duos in sports history, and it's easy to forget how many great ones there were. Props to the Elliotts for winning races on the same day, but that doesn't quite get them into that upper echelon (Dale and Dale Jr. are certainly in the conversation, however).
Bobby and Barry Bonds are a compelling choice, as the elder Bonds was a three-time All-Star and Barry holds baseball's record for the most asterisks on a career. Dell Curry was a sixth-man of the year in 1994 and had a 16-year NBA career, and his son is obviously one of the best players in the league currently.
Archie Manning was a two-time Pro Bowl quarterback and his son Peyton was a commercial actor who may or may not have played football. Howie Long and Chris Long could make a pretty good case, as Howie is a Hall of Famer and Chris has a shot to end up there someday. Bobby Hull and son Brett have maybe as strong a case as any, as they were the first father-son duo in the NHL hockey hall of fame.
But, for me (a pretty big caveat for the hundreds of people about to complain that I'm wrong), it's Ken Griffey Sr./Jr. Senior helped two Reds teams win a World Series, and Junior was perhaps the most gifted baseball player in history.
The White House has become a nice Wendy's. I'm loath to even mention this, as any #content with even a whiff of politics can be enough to rile up the most delicate snowflakes, but it is sad that the new tradition for college championship teams is for the White House to turn into the country's nicest fast food buffet.
Here's @kalanibrown21 at the White House, laughing as she surveys the Big Macs and Pizza and Fries and BBQ Sauce on display.

"Okay, Donnie. Coooool." pic.twitter.com/TBUs8i9TVI

— Lindsay Gibbs (@linzsports) April 29, 2019

Sure, college kids DO like food like that. They just like at 3 a.m., after hours of outrageous alcohol consumption. No one wants to put on nice clothes to eat a Big Mac.
And that wasn't even the saddest food-related sports story this week. This Dodgers fan lost his entire plate of fries chasing down a foul ball. He followed that up later in the game by losing a slice of pizza while making a play for another foul ball.
REAL LIFE: The guy who lost the fries just dropped a slice of pizza. ???? pic.twitter.com/En2Ea8APre

— MLB (@MLB) May 2, 2019
Simply incredible. I wish more foul balls would've ended up there, just to see how absurdly this would've escalated. He probably would have been carrying a dozen pies the next time, like some vaudeville clown. A foul ball is cool, but is it worth wasting $47 of stadium food cool?