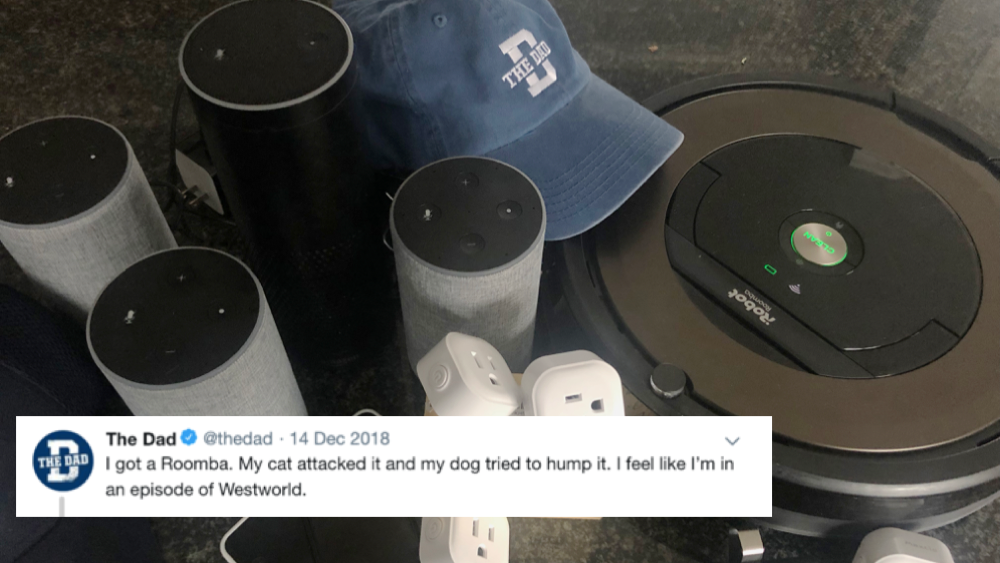 Look, some dads are tech masters who are always on top of the latest thing, but I just hadn't thought about home automation before. I had Alexa, and loved it, but I figured smart lights and everything would mean rewiring the whole house. But then I was part a "favorite things" gift exchange and someone gave me a pack of four smart outlets, and it was a huge "Oh, duh" moment.
To have a smart home, you don't have to reprogram your whole house's electricity…you just take remote control of an outlet. I downloaded the Smart Life app, plugged in one of the outlets and held down the button until it blinked.
With my phone connected to the wifi, they synced up and were good to go. I grew up with frustratingly slow tech, and had to deal with computer virus hell in the 90s, so it's still crazy to me how intuitive and quick most things can work now! I could plug in anything to this outlet: a lamp, the Christmas tree, a surge protector connected to all devices in the room, and control it all from my phone.
Now, the next phase of any conquest is delegation. I enabled the Smart Life skill in the Alexa app so I could use it to control the smart outlets. Fun Pro tip: You can reprogram Alexa's response word to be "Computer." So for a while I could say "Computer, lights" and the lights would go on or off! It was basically like being a starfleet captain all the time. Word of caution though: you say the word "computer" way more often than you think you do. It'll hear you, man. It'll hear you.
Of course once I got started, I became hooked. I wanted to connect full rooms and the outdoor lighting. I wanted to control the thermostat and the garage door. I wanted unlimited power! So, my next step was buying several smart switches.
These work the same way the outlets do, but for the internal stuff, and even the nicer ones only run for about $20. They allow voice, remote and timed control of anything that isn't plugged in – ceiling lighting and fans and so on. I installed them myself, but it's a little more complicated so no shame in hiring a professional for this part. It was still way easier than the complete rewiring I'd always imagined, and setup with Smart Life was just as easy as the outlets.
Now I have 6 smart outlets and 4 smart switches on the grid. With Alexa, it's super easy to create groups for different rooms, like: Family Room, Kitchen, Outside, or larger groups like: Whole House.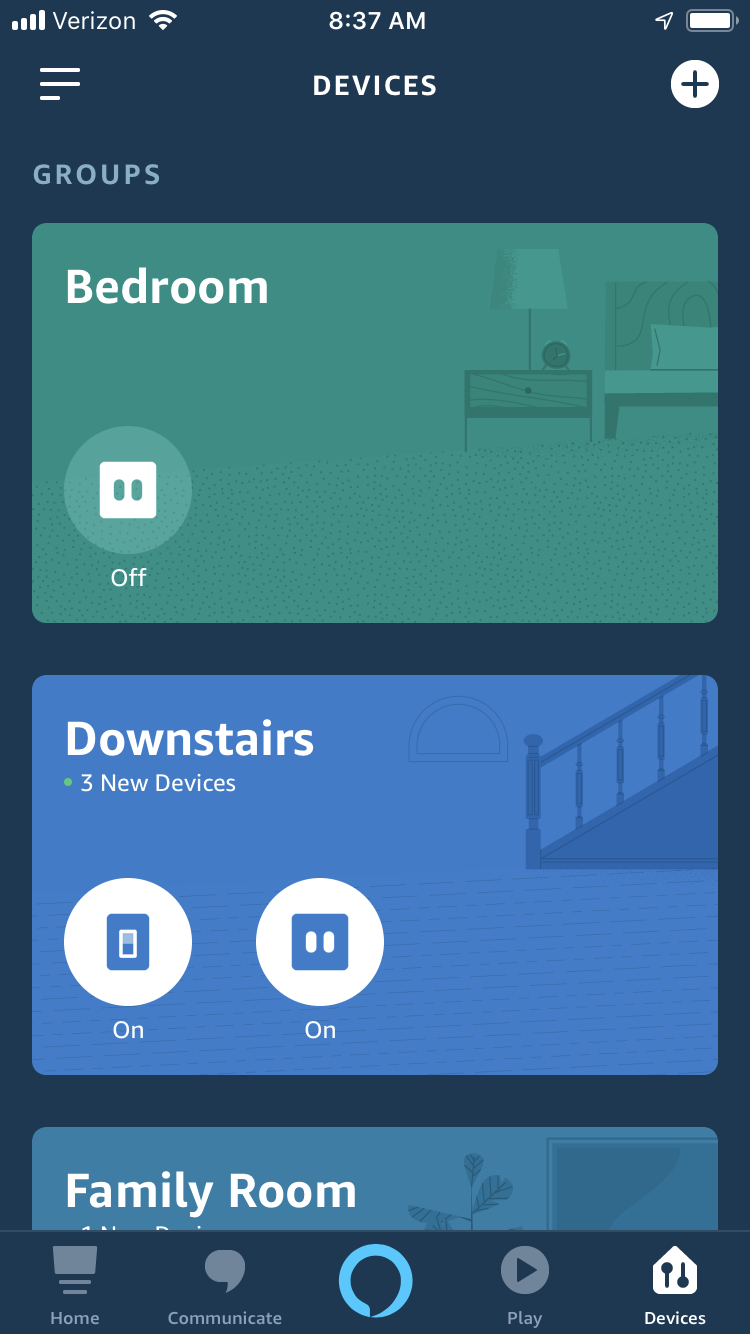 From here, I was basically set to go. Smart Home: Activate! But I tend to dive…deeper.
There's a section in the app called "Routines," and it's key. With it, I schedule all of my groups to turn on and off depending on day and time. For example, the box fans in all our bedrooms (#whitenoise4lyfe) are programmed to turn off, while the lights all turn on just before alarm time every morning. This is usually enough to wake up my kids without an alarm!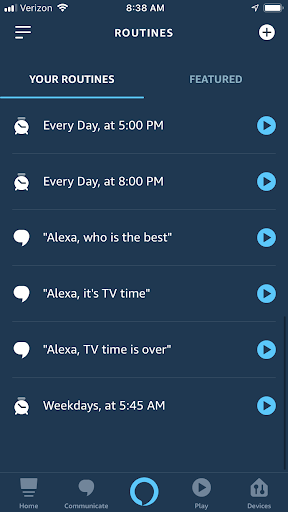 All of the downstairs lights are on when my wife gets up at an ungodly hour for her workout. My outdoor lights turn on and off at the appropriate times. The customization possibilities are awesome. Routines can also be voice-controlled, and you can make your voice commands whatever you want by typing it in the app.
So when I say "Alexa it's TV time!" she says, "Heck yeah let's get this party started" and turns on the Family Room.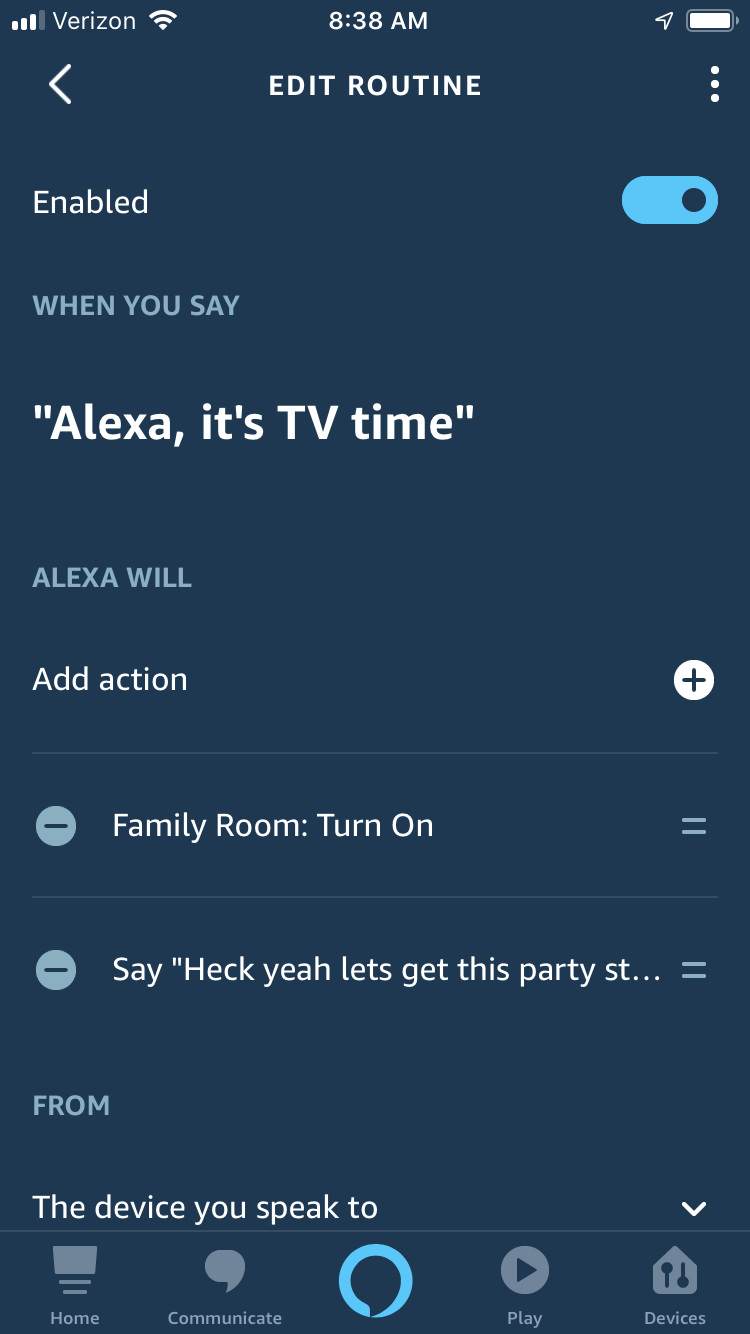 You can also use these routines to mess with your kids. When I ask "Alexa, who is the best?" she responds with "Joel is the best" and that is an airtight argument from an omnipresent computer controlling our entire lives.
Now I have a Nest thermostat, a Roomba, and a Chamberlain garage door opener, all controllable through Alexa or by a schedule.
Westworld season 3 looks amazing pic.twitter.com/c6zQDNIYEo

— The Dad (@thedad) January 3, 2019

I was really impressed by how simple and easy it was to get all this up and running. The big takeaway for me was realizing that having a smart home wasn't something that's just for super rich people living in future homes. I know there's more that could be done, and as prices on the tech come down, I'll probably automate more stuff. Eventually, I will achieve the ultimate goal of an automated breakfast machine, like from Back to the Future III.

The Dad loves cool stuff, and we want to share it with you. We are a part of the Amazon Affiliate Program, so we may earn a fee if you buy stuff from links featured here. But this was a true story, and it happened mostly before that whole arrangement, so no bullshit.