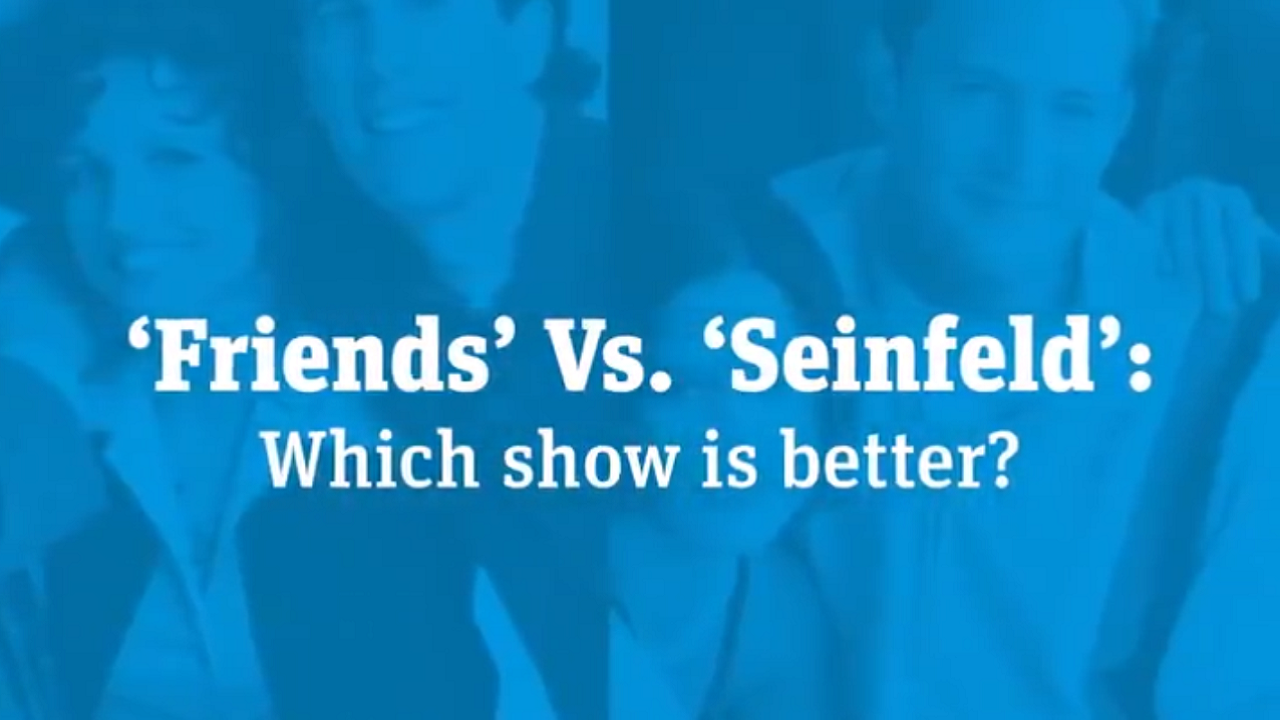 Credit: Twitter/newscomauHQ
Opinions are beautiful things. Everyone has their own and is free to share them. Social media makes sharing your opinion easier than ever. Of course, that often leads to others disagreeing with your opinion, and then a need to defend that opinion, and all of a sudden, you've started a shitstorm.
That's what one Australian news site did recently, when they posed an innocent little question on their Twitter account, about a pair of beloved 90s television programs.
OK, let's settle this… 'Friends' Vs 'Seinfeld': Which show is better? pic.twitter.com/a7hLQfwgpY

— news.com.au (@newscomauHQ) August 19, 2019
Okay, so maybe it wasn't that innocent. This being the internet, and Twitter, it certainly didn't stay innocent, as user after user chimed in with their take on why their favorite show was better than yours.
Some went for Friends:
No contest. Friends 100%!

— Mickey CTP ???????? (@Mickey_Elvis) August 19, 2019
Actually, that was pretty much the only person who went for Friends. It was Seinfeld in a landslide!
Seinfeld by about 100 miles

— Obi_1_D_AllKnowing ???????? (@obiopiah) August 19, 2019
Seinfeld vs Friends pic.twitter.com/gaf6Xlv7xd

— Justin Whang ???? (@JustinWhang) August 20, 2019
Are you kidding? Kramerica rules! I still celebrate Festivus.

— Serious Gravity (@GravitySerious) August 20, 2019
Seinfeld doesn't push the jokes with canned laughter and that makes all the difference.

— Clown World Zoomer (@kekistaniite) August 20, 2019
Seinfeld. Not even close.
Seinfeld, top 5
Friends, top 50, maybe..
Give me 2 minutes I can come up with 20 shows funnier than Friends

— Charleston Strong (@DagneyTaggart3) August 19, 2019
A few people used images and clips from the show to explain why it was the master of its domain:
Who?! WHO thinks Friends is a better TV show?! pic.twitter.com/O89MzbFBuS

— Kire. (@KireSays) August 20, 2019
Friends isn't even in the same league…. pic.twitter.com/h0LZPcdNx8

— Tj ????????????‍???? (@Tj__Edwards) August 19, 2019
Obviously, only one answer is correct. Which isn't to say you can't enjoy both classic sitcoms, but on Twitter, you'd better be prepared to choose one as the winner. Thankfully, Twitter came correct.
How is this even a question? While Friends is enjoyable, it's simplistic generic. Seinfeld was unique and clever in it's stupidity.

— Claudia Stavola (@ClaudiaComedy) August 20, 2019
Of course, not every one is a fan of these shows:
Hot take: we can throw them both out

— Kyle ???? (@KylePlantEmoji) August 19, 2019