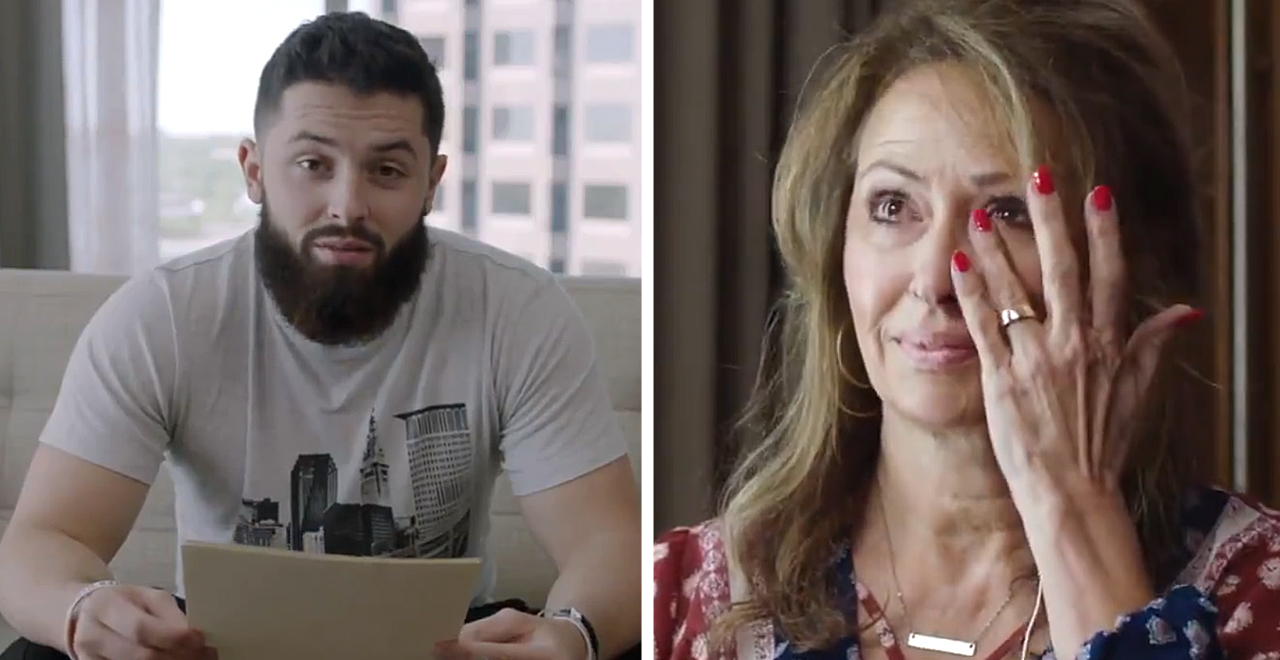 Credit: Twitter/SportsCenter
As Mother's Day approaches, it's only fitting to take a moment to recognize all the sports moms out there. No, this is not going to be one of those agonizingly mushy think pieces that make up with empty prose what it lacks in sincerity. It's not going to be some missive about how women are the true power in the world and men are complete and utter trash. But sports moms, we see you.
We know how hard it is to get a 7-year-old's shin guards on seconds after getting them off the bus, shoveling something loosely resembling food in their mouths before dropping them off at soccer. We know how boring it is to sit on a rainy sideline, waiting for your kid to do something tangentially related to the sport they are competing in (he kicked near the ball!). We see you juggling practice schedules with the tenacity of an air traffic controller. And we see you on the sidelines, as more moms are coaching youth sports than ever before. We see you, and we respect you.
Sports Moms are also crazy. I respect that too. If you're a crazy sports dad, either the police are called on you, or you develop a reputation in the community. Crazy sports dads get banned from coaching. Crazy sports moms are just a good time. Of the top five craziest things I've seen at youth sporting events, moms have been involved in seven of them. I once saw a mom at a soccer game for second-graders yell at the ref to go f*** himself. The ref was a 12-year-old kid.
Baker Mayfield read a letter to his mom on Sportscenter and it made her cry. What a jerk! While this has been getting a lot of attention, I think his letter-writing skills leave a lot to be desired. I'll be honest; I was expecting a lot more from him when I clicked the link.
We asked @bakermayfield to write a letter to his mom.

What he *didn't* know was that she was listening in the next room … pic.twitter.com/20zxDiXnPw

— SportsCenter (@SportsCenter) May 8, 2019
I was raised by a sports Mom, as my mom spent years coaching my youth soccer teams. She didn't know anything about soccer and had to spend hours going over books she checked out from the library to build our practice plans, but you wouldn't have known it as we finished in 2nd place. We may have also been naturally very talented though, so who knows who truly deserves the credit?
Milwaukee Brewers star Christian Yelich also wrote a letter to his mom, this one featured on The Players Tribune. He mentioned his mom convinced him to stick it out in baseball when he wanted to quit as a seven-year-old. He was afraid of being hit by pitches, and his mom offered him $5 per pitch he got hit with as an incentive to keep playing. I think we really need to consider the true motives here. It's probably really funny to see a seven-year-old get hit with a pitch, and for some reason, his mom wanted to see it happen so much she put a financial reward on it. Sure, for the holiday, we can retcon this as a moving gesture by a strong mom teaching her son a lesson about quitting. But it could also be a tired, frustrated mom living vicariously through other kids throwing baseballs at her kid. I know those moms (and dads) are out there.
When @ChristianYelich was seven, his mom offered him $5 if he got a hit as an incentive not to quit baseball.

That's one of the MANY reasons he wants to say thank you this upcoming Mother's Day.https://t.co/Qkncb8KkvF

— The Players' Tribune (@PlayersTribune) May 9, 2019
Indianapolis Star sports columnist Gregg Doyel is one of the best in the country, and he also has a moving Mother's Day column worth reading.
Now, for a tonal shift, BEES! The Cincinnati Reds had their game delayed this week due to bees, which is just as terrifying as it sounds. A swarm of bees invaded the stadium, stopping play as the umpires and teams tried to figure out what ghastly curse had been invoked on all present.
There was a sciency reason why bees act like that, but this sort of thing might be exactly what makes baseball more watchable. Don't stop play until they leave, force the players to play through it. Football players sometimes play when it's a little chilly out, so baseball players should be forced to play as literal clouds of thousands of bees swarm around them.
We are currently in a bee delay at GABP. ???? pic.twitter.com/lOmvC2X7tz

— Cincinnati Reds (@Reds) May 6, 2019
Jamal Murray is one of the better free throw shooters in the NBA, making some pivotal ones down the stretch in a game four win for Denver.
He credited his dad with being the reason he's so good at free throws. His dad used to blindfold him, yell at him the way a hostile crowd would, and make him shoot free throws. I'm not sure if that counts more as practice or as hazing.
Jamal Murray says his dad used to make him practice free throws blindfolded and would yell things at him to simulate a hostile crowd.
So those final six he hit tonight to keep Denver ahead…not the toughest he's ever had to make.

— Rachel Nichols (@Rachel__Nichols) May 6, 2019
The best sports moment of the week goes to hockey, as hometown hero Patrick Maroon scored the game-winning goal in double overtime for the St. Louis Blues, and the reaction of his son is priceless.
Everyone remembers when Maroon broke down while talking about his son watching him tie a game 2 years ago. But watching lil rig break down after watching his dad score a GM7 OT winner is even more emotional. pic.twitter.com/NT5gG0Mbgn

— Jordan Elford (@Flelford) May 8, 2019
And here was the video that went viral a few years back, when Maroon was talking about his son getting to see him score another goal.
#Oilers Patrick Maroon chokes up while seeing his son celebrate his goal in his hometown of St. Louis tonight pic.twitter.com/6HFc88Mm6T

— Marina Molnar (@mkmolnar) December 20, 2016
I hope Maroon keeps scoring goals, and we get a video of his kid crying into the Stanley Cup in a few weeks.