A Tribute to Sports Dads, The Raptors, The Blues and Big Papi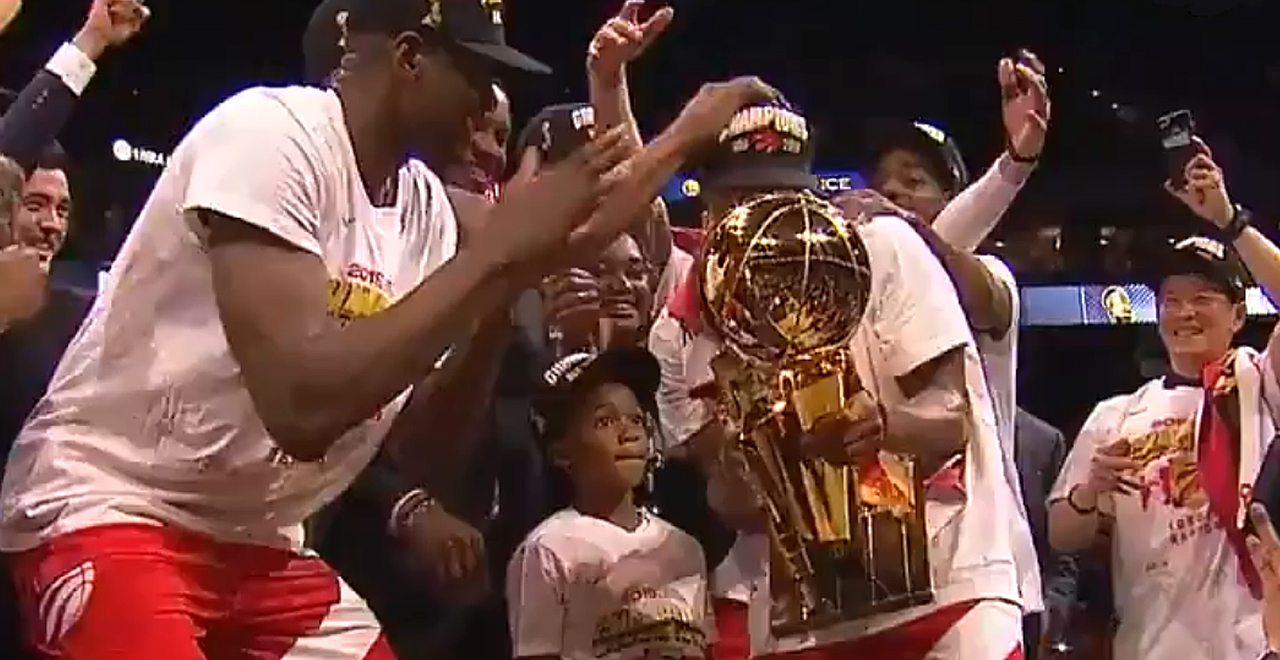 It's only appropriate to take some time on Father's Day to raise one to all the sports dads out there. Someone has to set up the soccer goal in the back yard, teach the finer points of hitting a fastball to a kid who can barely hit off a tee, and scream belligerently at the refs during a high school basketball game (OK maybe not the last one).
Like most sports fans, I picked up my love of sports from my dad. One of my earliest sports memories was being woken up on a school night because he thought I should see the Stanley Cup presentation (and he was right). He coached my hockey team when he couldn't skate much better than the sixth-graders on the ice, and years later I got the assist on a goal my dad scored when we were playing on a rec-league team together (when I gave him a pass so perfect even he couldn't have blown it).
We weren't even together for one of my favorite memories. As huge college basketball fans, there was one March where our favorite team made the NCAA tournament by blowing out the No. 1 team in the nation. Immediately after the win, my dad called me from the sports bar where he was watching the game and asked if I saw it. I told him I not only saw it, but I had skipped one of my college finals for an impromptu road trip to see it live. I was a little worried he might turn full dad on me for skipping a major exam, but his reaction was one I'll always remember.
"Oh man, college is the greatest time of your life!" he said.
So here's to all you sports dads, who truly have your priorities in line. If you're looking for additional Father's Day #content, USA Today has a great collection of athletes with their kids and the U.S. Women's National Team shared some memories of their dads before their big game Sunday.
Check out the USWNT video tribute here.
Speaking of the USWNT, many were clutching their pearls after the 13-0 win over Thailand earlier this week. There were far too many "pundits" taking the team to task for running up the score and celebrating too much, and whining about "winning with class", which is such an old man take. Or is it a fair question: did they score too much? Were the celebrations overboard??
No. No, they were not. I'm sorry, but it's the World Cup, the highest stage for soccer, it's not exactly the stage where you worry about the other team's feelings. I could understand the sentiment if this was 11-year-olds playing in a rec league, but this is the World Cup. Most of those players will only get to play in one, so I'm fine with celebrating their moment however they want. Besides, Thailand should be honored, as they were part of the game that broke the record for most combined goals. Sure, they didn't score any of them, but that record couldn't have existed without them.
The Toronto Raptors got to celebrate this week as well, winning the NBA championship over a depleted Warriors squad. I'm not one of the people beating the asterisk drum, but it was such a bummer to see Durant go down in the manner he did and to see Klay Thompson not far behind him. They put up a valiant fight, but those were catastrophic injuries to overcome and it is a sad note for the Warriors dynasty to end on.
That being said, Kawhi Leonard had an insane finals and it was great to see players like VanVleet and Siakam get a championship. Even aged veteran Jeremy Lin, who averaged only a few minutes more than I did in the playoffs, made history, becoming the first Asian-American player to win a ring. So, the Raptors deserve to celebrate.
HEART OF A CHAMPION! @Klow7 | #WeTheNorth pic.twitter.com/VwMntkCuuI

— Toronto Raptors (@Raptors) June 14, 2019
Rounding out a championship week, The St. Louis Blues capped off a dramatic turn around to win the franchise's first Stanley Cup. It's hard not to get behind stories like that, as the Blues went from dead last to hoisting Lord Stanley's Cup. And huge props to the bettor who turned $400 into $100,000 by backing the Blues when no sane person would. He had many chances to hedge that bet but he stuck to his guns, and it must have been a wrenching game 7 for him. He should probably give a considerable chunk of that to Jordan Binnington.
Deadspin had a great video of Blues fans going crazy on local news. This is one of the best parts about a championship-starved franchise finally crossing that line. The pure jubilation when your favorite team wins a title is a level of bliss you experience a couple of times in your life (if that, I'm still waiting for the Bengals to win a Super Bowl.
Check out the footage here.
And in less than celebratory father's day news, David Ortiz is still recovering in intensive care. The Red Sox great was shot last weekend, and his daughter took to Instagram with an emotional post about his recovery.