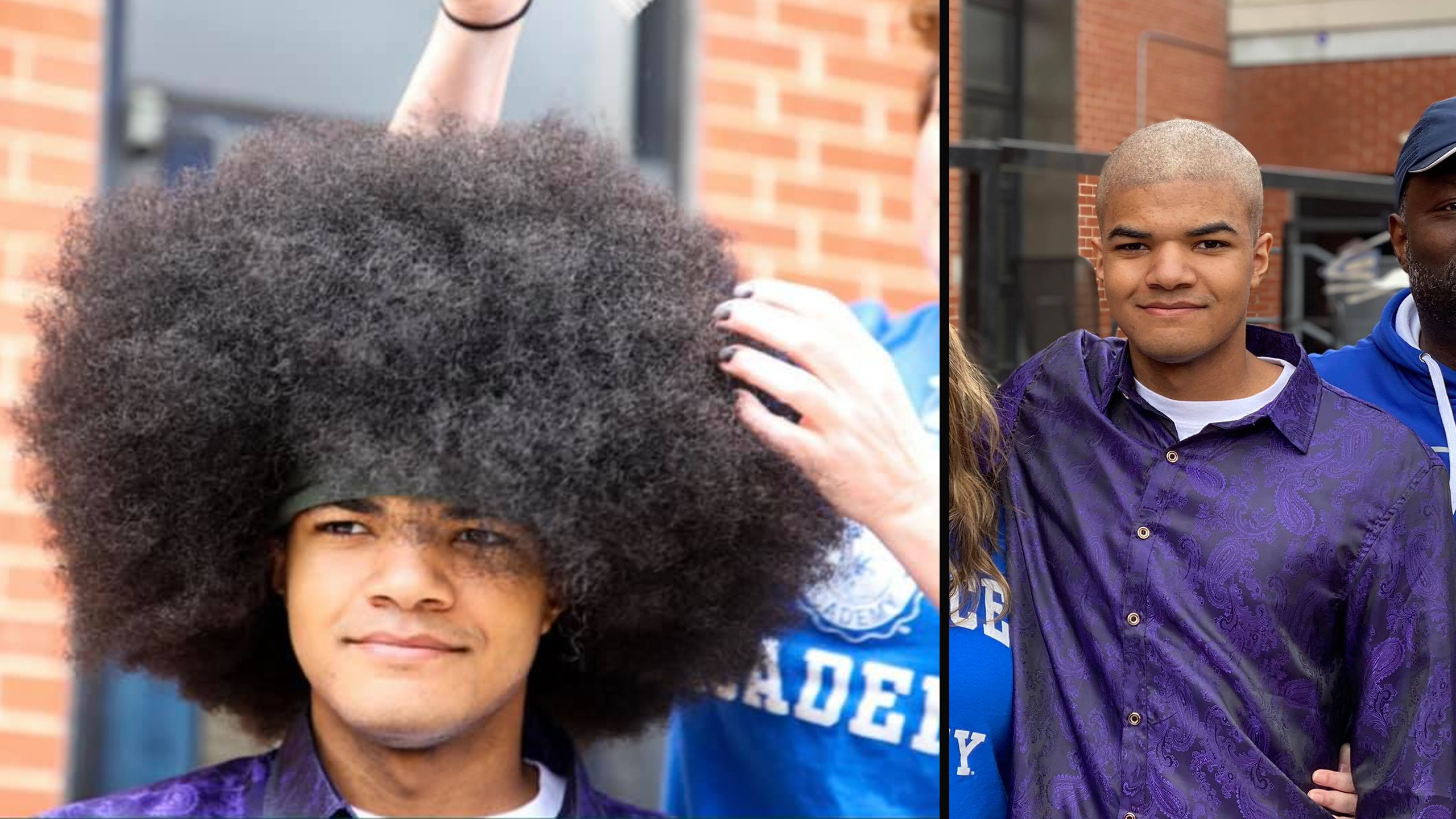 Credit: Facebook/kelly.v.moise
Kieran Moïse had heard of people donating hair to help those who lost theirs during cancer treatment so he started growing out his hair in the eighth grade. Now 18 and ready to enter the Air Force Academy, he recently cut it all off for charity and has raised more than $45,000 for kids with cancer. All of this was inspired by the memory of a childhood friend who he lost to the disease.
His mom told CNN her son has "always been known for his hair" and that it was a big part of who he was. "But he has always been the most compassionate and caring person," she told the legacy media outlet. "Since he was 6, he somehow had the mindset of raising money and giving it to people who need it, and that never changed."
After six years of growth, 17-year-old Kieran Moïse chopped off his impressive head of hair and donated it in memory of a friend who died from cancer: https://t.co/OT7a7zAt47

The awesome teen is preparing to head off to the U.S. Air Force Academy 🇺🇸 pic.twitter.com/NXrXmBCu6i

— Local 12/WKRC-TV (@Local12) July 5, 2021
When he finally cut his hair to give it to a non-profit and had 19 (!) inches to shear off. So he decided to tie in a fundraiser on top of it and said his goal was to raise $1,000 for St. Jude for every inch of hair he was losing.
"That money will do so much good to help families dealing with cancer," he wrote on his fundraising page. "One of my good friends in middle school died from cancer and I know St. Jude's really helped his family. This is just one of the ways I feel like I can give back."
And give back he did. He raised his $19,000. Then it doubled. And, at last check, he closing in on $50k.
Kieran isn't basking in the spotlight that found him after raising such an amount. He called it a small gesture (19-inches isn't small in my book, but whatever) and said more of those can make the world a better place.
"When you smile, that usually makes someone else smile, and then that one smile can brighten someone else's day," he said.
No better way to honor your friend's memory than paying it forward to helping other families enduring one of the most difficult things a family can face in this world. Kieran is a kid that's going places.