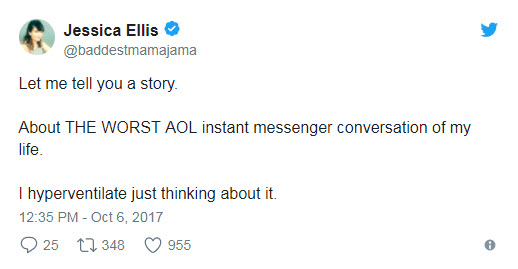 One woman likely sheds few tears at the death of AIM
AIM, America Online's Instant Messenger service, recently died a merciful death. It had been part of our lives for years, and for many of us, was our initial entry into the world of instant messaging, but like a beloved pet who was long past his prime, it was time for AIM to go.
Thankfully, we'll always have our memories. Not so thankfully if you're this poor woman, who recounted a harrowing story of the dangers of mixing teen-hood with texting.
Jessica Ellis is a filmmaker and writer who had probably buried this embarrassing story deep in the recesses of her mind, only to have it painfully drudged up with the news that AIM was being discontinued.
Champion that she is, Jessica decided to share her mortification with the rest of the internet, because what's the internet for if not schadenfreude and also screaming at strangers for disagreeing with you about who should play Beverly in the IT sequel?
While you read her story, remember, she didn't have to do this. She didn't have to make her shame public. But she did, and for that, we love her.
It starts way back in the 90s, when the internet was young…
https://twitter.com/baddestmamajama/status/916356221229178880
https://twitter.com/jetpack/status/916356514851332096
https://twitter.com/jetpack/status/916357039663677440
She's older now because it's 2017 and that's how math works. Unfortunately for her, her long-lost love had made the jump to adulthood a bit more quickly than she had…
https://twitter.com/jetpack/status/916357599678799873
https://twitter.com/jetpack/status/916357872644063232
https://twitter.com/jetpack/status/916359053110001665
Here, she pauses to remind us how much she dug this dude. Her little teenage heart was smitten, besotted, dare-I-say obsessed. She was ready for anything.
Except baby Guam.
https://twitter.com/jetpack/status/916359248052752385
https://twitter.com/jetpack/status/916359422238060544
Cool, man, good luck with that. Ima head off to college so I'll catchya on the flip-flop — wait what?
https://twitter.com/jetpack/status/916359563644825600
Bruh.
BRUH.
Maybe it's because I'm a dad now, and the thought of one of my kids throwing away their life to raise someone else's lovechild makes me want to throw up all over myself, but I've never been happier to learn this was a cruel joke.
Look, I was 18 once. In fact, I'm 41 now but I'm basically still 18 (don't tell my kids.) And I remember the early days of online life. They were heady, full of excitement and promise. We could talk to anyone, anywhere, at any time. Catfishing wasn't a thing – at least, it didn't yet have a name. It was a more innocent time…
But shit, Jessica. WHAT ARE YOU DOING?!
And it's here that things go from romantic and stupid to embarrassing and humiliating. But also THANK GOD.
https://twitter.com/jetpack/status/916360092836012032
https://twitter.com/jetpack/status/916360327024885761
She was ready to ditch school for this guy! And despite the fact that the pranker was a twisted individual who deserves congratulations for pulling it off to burn in hell, the fact that it was a practical joke turned out to be the best thing that ever happened to Jessica.
https://twitter.com/jetpack/status/916360607938494465
She'd unwittingly dodged the bullet, and the blame obviously lies with the jerk who played her like butter plays toast. But one can't help but think Jessica is none too sad that AOL's instant messenger service, the method via which she was humiliated, has finally met its demise.
AIM was a cruel master of fate.

— Jessica Ellis (@baddestmamajama) October 6, 2017