The Airplane Seat Recline Debate Takes Flight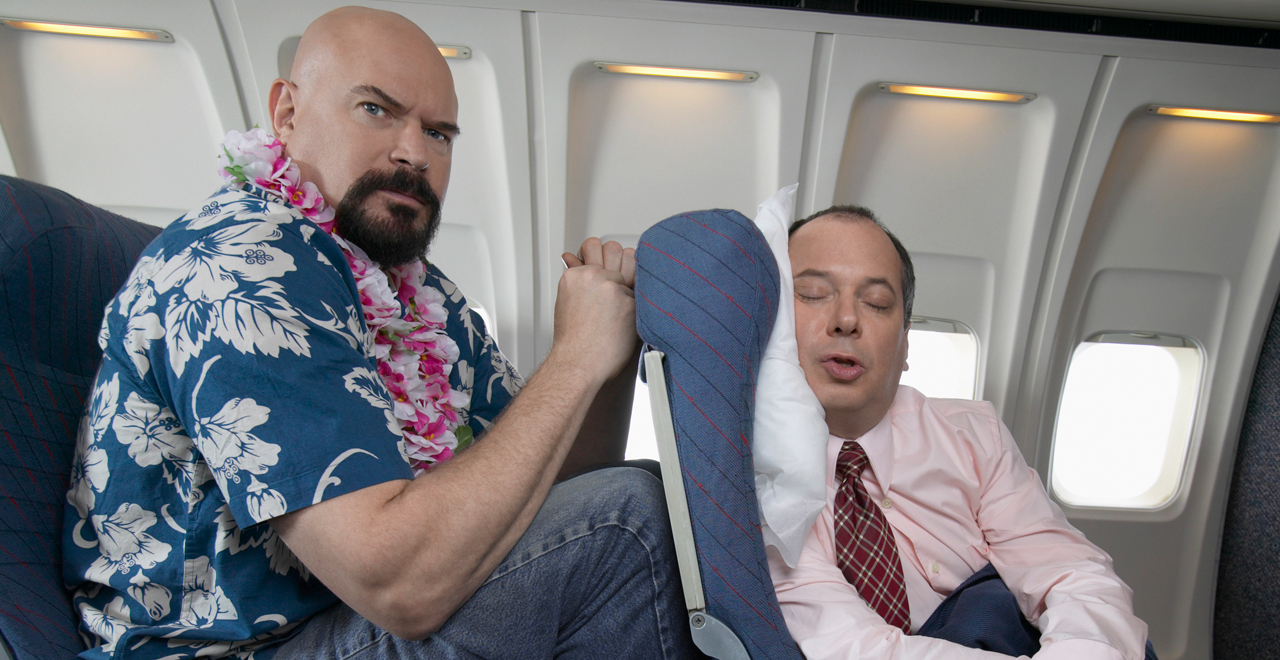 Flying sucks! It just does. It's expensive and uncomfortable and stressful and despite its ability to get you farther away faster than any other mode of transportation, it's time consuming! You have to get to the airport super early to make it through the long security lines, and then you have to sit at your gate and pray your flight isn't delayed – again.
Again, it still remains the easiest way to travel long distances, so it's often a necessary evil. We are all forced to fly every once in a while, and, unless you're lucky enough to afford first class, the best you can hope for is an empty seat next to you, or at least a smooth, uneventful flight with courteous passengers.
That's not quite what happened on a recent American Airlines flight.
A woman took to Twitter to share her experience after she got into a confrontation with the passenger behind her. Her complaints ignited a debate about airplane etiquette.
Wendi Williams (no relation) was flying from New Orleans to Charlotte. When she landed, she shared a video of a passenger behind her spent the flight nudging the back of her seat, all in protest of her decision to recline hers. He was upset because he was in the last row and was unable to recline his own seat, making her infringement on his territory all the more objectionable.
I was returning from a teachers' convention. The man asked me, with an attitude, to put my seat up because he was eating. I did. I then reclined it again when he was finished. At that point, he started hammering away at me. That's when I started videoing and tried to call the FA.

— wendi (@steelersfanOG) February 8, 2020
It's safe to say that despite the seat's ability to recline, nobody likes it when the person in front of them reclines their seat.
Meanwhile, the ensuing debate about airplane etiquette raged for days. What's the etiquette when reclining your seat?
The CEO of Delta Airlines even went on CNBC to explain that reclining is okay, but you should ask first:
"I think customers have the right to recline." $DAL CEO Ed Bastian shares his seat-reclining philosophy: If there's a tall person behind you "the polite thing is to make certain it was okay. I never recline … and I never say anything if someone reclines into me." pic.twitter.com/JJw5DVH4QG

— Squawk Box (@SquawkCNBC) February 14, 2020
Needless to say, people on the internet were not about to stay quiet about this controversial issue.
A prominent tech writer spoke up for people with back issues:
No. If the seats are able to recline, then you can recline them. I have a spine injury, I'm not going to ask your permission not to hurt for the duration of a flight https://t.co/VjFwKMIkF4

— Alexia Bonatsos (@alexia) February 14, 2020
A Hollywood heavyweight spoke up for people who pay to recline:
Hey @Delta — no! You want to create a situation where we all have to negotiate and fight with each other? Are you mad? We pay to recline. How about massive discounts when the people behind us say no? https://t.co/xU44px9TgY

— Judd Apatow (@JuddApatow) February 14, 2020
This guy used the opportunity to shine a light on how terrible airplanes are, to begin with:
The Delta CEO is right: We should ask before reclining in coach, because the airlines have forced us into ever-smaller spaces while pretending we can expect the same level of comfort we had in the 80s.

Which would be a great point for anyone to make other than the DELTA CEO.

— Jonathan Myerson Katz (@KatzOnEarth) February 14, 2020
I try to never recline if there's someone behind me, that said I'm not going to retaliate against the person in front of me. But regardless of your personal etiquette, there's one thing we we should all be able to agree on, whether we're on an airplane or not: don't be a dick!