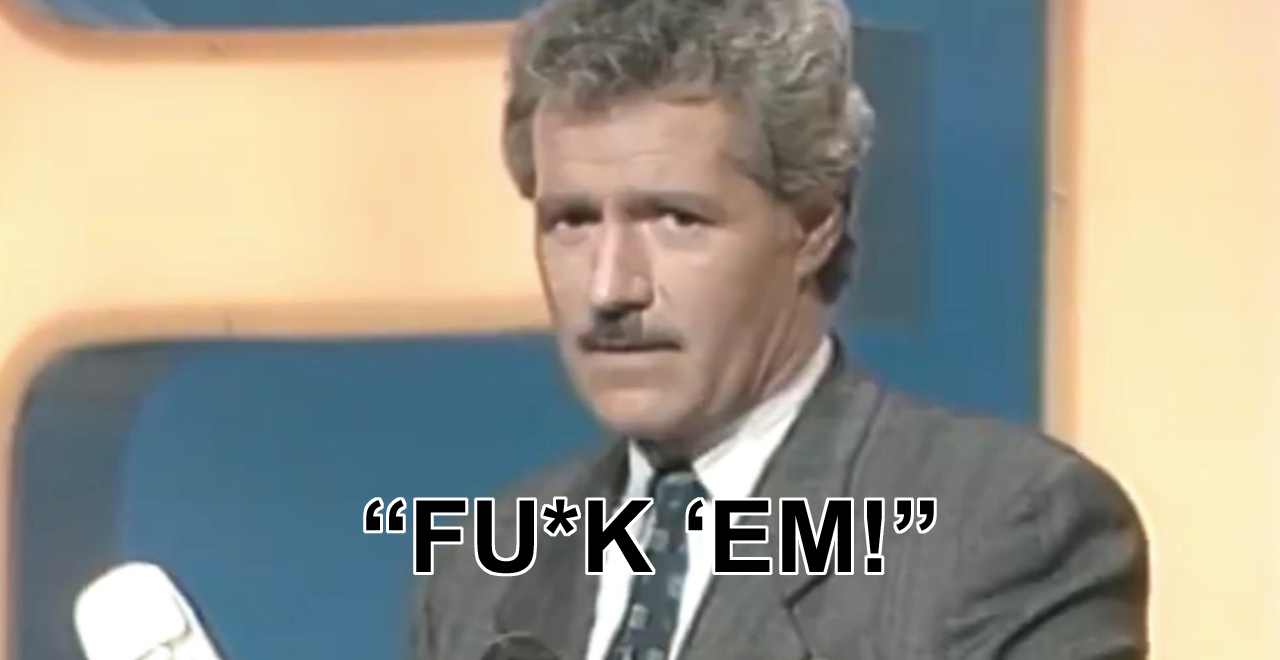 Credit: Twitter/FoundFootage
In the wake of Alex Trebek's passing, there have been many tributes. Contestants who met him, athletes who watched him, fans who enjoyed him over his long, legendary run, shared their memories of the game show host who became much more than that after decades on their TV sets. We even learned more about Alex Trebek as a dad.
I myself grew up watching Jeopardy with my dad, and the primary memories I have of Trebek is of the way he pronounced the word "genre" and his professionalism, seemingly never missing a show and always delivering the goods.
But there were other aspects to his personality, including an excellent sense of humor, a willingness to take some digs at contestants, and something of a potty mouth!
Below are a few clips showcasing the parts of Alex Trebek's personality that didn't always come across on our TV screens, but were there just enough to make him far more than a simple game show host.
Check them out!
Alex Trebek's Potty Mouth
That time he had little patience, and a lot of swears, for show promos:
No host likes shooting promos, especially for a phone version of their hit game show, but Trebek did them with good humor. So long, Alex, and fuck 'em. pic.twitter.com/7Z1hh1vl2w

— Found Footage Fest (@foundfootage) November 9, 2020
Trebek Doesn't Mince Words
The time told them how he really felt:
No Pants Alex Trebek
The time he wasn't caught with has pants down:
Trebek Vs Clueless Contestants
The time he was a good sport with contestants who were bad at sports:
Alex Trebek and Cliff Clavin
The time he made a cameo on Cheers and Cliff talked him out of quitting:
Trebek Cameos on SNL's Jeopardy!
The time he showed his respects to a long-standing sketch: