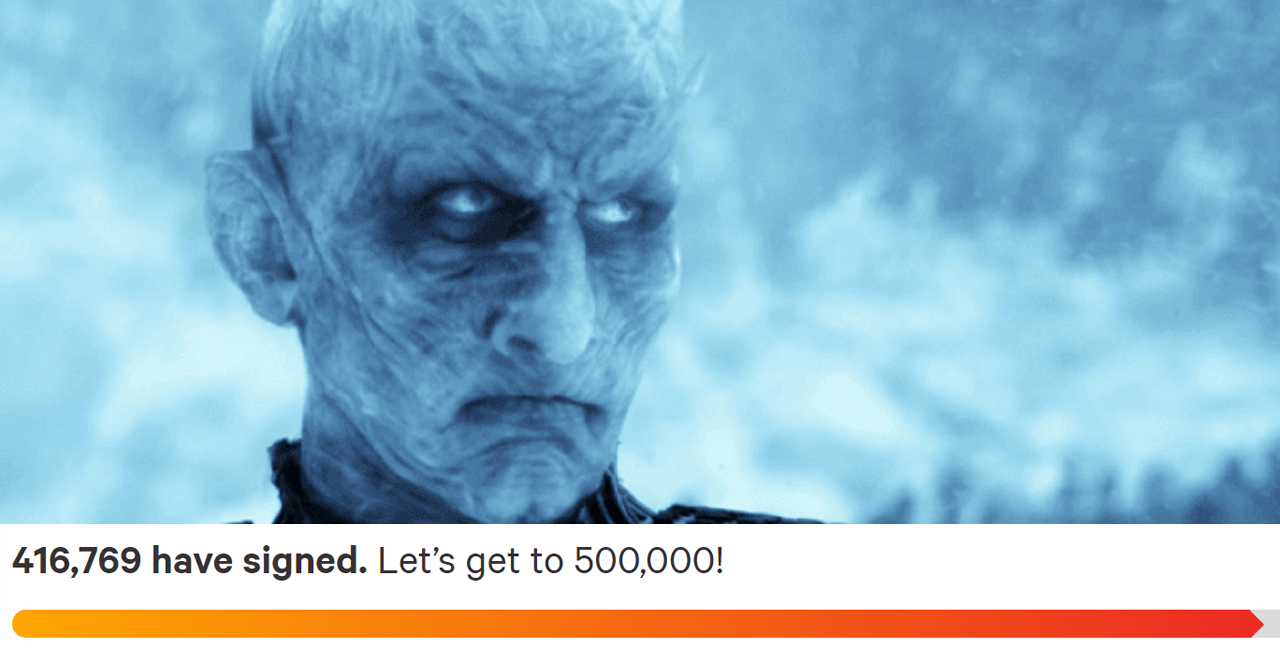 Credit: Change.org/Dylan D.
If you've been watching Game of Thrones this season – and let's face it, you probably have (Shut up, Karen) – you probably have a few opinions on how things are going. You've spent 7 seasons with this world, nearly 10 years now, and if you're a book reader, even longer. You're invested in these characters and in this story, and you're hoping for a satisfactory and yet somehow unpredictable resolution.
And some of you might be a little bit peeved at how things are going. The show's final season, which wraps up this Sunday night, has been catching some flak from a vocal contingent of fans who don't agree with the direction of the plot, the actions of some characters, and, perhaps most validly, the pace of it all.
And now they're speaking out. And hoping HBO will hear them and yell "Dracarys!"
A Change.org petition is circulating around the interwebs with Thrones cans signing it in an attempt to get HBO to burn it all down and rewrite this final season.
The petition states:
David Benioff and D.B. Weiss have proven themselves to be woefully incompetent writers when they have no source material (i.e. the books) to fall back on.
This series deserves a final season that makes sense.
Subvert my expectations and make it happen, HBO!
As of this writing, the signatures were nearing half a million. That's insane. (And with all due respect, anyone who's read his novels The 25th Hour or City of Thieves knows that David Benioff is far from an incompetent writer.)
It's not insane that there are that many people unhappy with the eighth season of the show – when this many people watch something, you're bound to have a fair amount of gripes. No, what's insane is that these people feel so entitled as to attempt to force HBO and the show's writers and the thousands of actors and crew members who've spent a large portion of their lives creating this undeniably impressive work to redo it.
Fanboys have long had strong opinions about their favorite fiction, but it wasn't until the internet, and social media, came along that they had a platform and a way for all these like-minded haters to coalesce and turn their complaints into a grassroots movement. In the past, they'd just create fan-fiction and call it a day. Now they demand that their fan-fiction become canon.
I don't love the way the past season and a half of Game of Thrones has sacrificed the painstaking groundwork and slowly-developed character motivations in favor of spectacle and speed, but it is what it is. It's okay to be annoyed but to demand a do-over?
You sound like Joffrey.