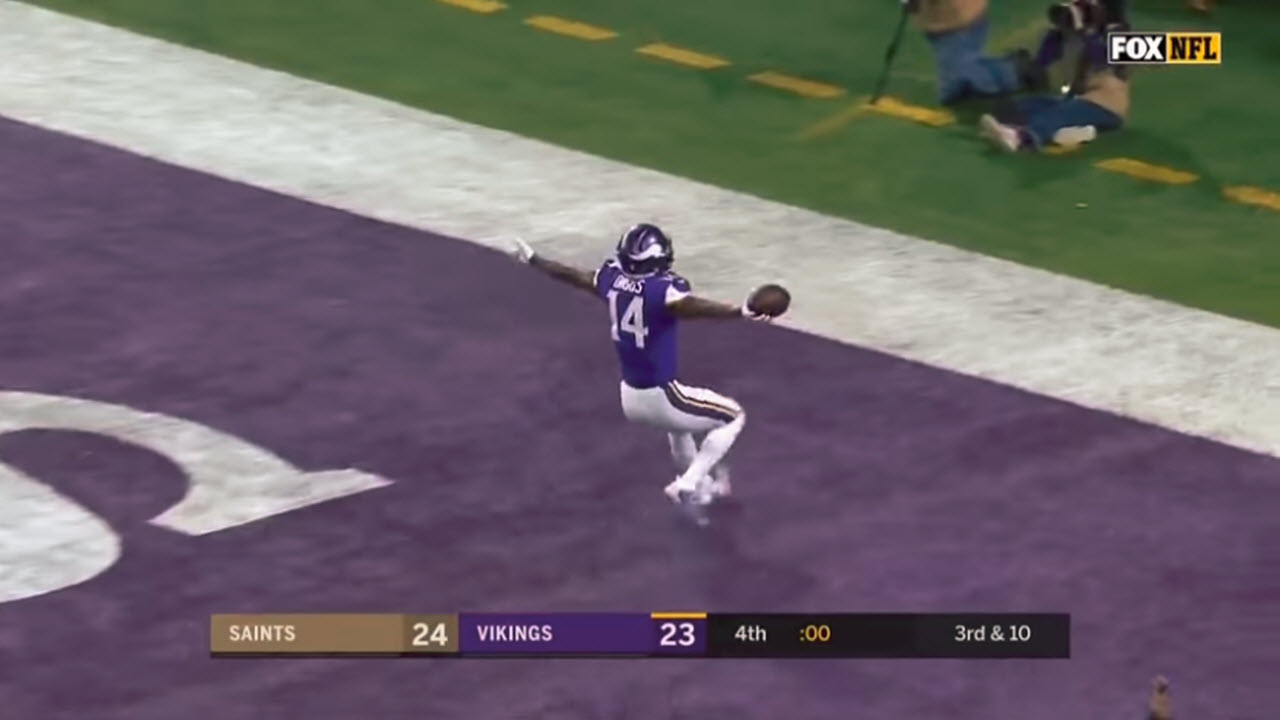 Their increased heart rates confused the gadget
If you are a Saints fan, Sunday night's last-second loss to the vikings probably felt like death. But if you are a Vikings fan with an Apple Watch, thanks to your sudden, ecstatic reaction to the Minneapolis Miracle, your favorite tech gadget was actually concerned you were dying from a heart attack.
If there's a bright side for New Orleans, it may be that rumors of robots taking over the world are greatly exaggerated. SkyNet ain't about to take over when they can't even decipher human emotions!
To be fair, the ending of that game blew the minds of even the most sanguine sports fan.
ICYMI, third and ten with ten seconds left, a trip to the NFC Championship game on the line, and Minnesota down by one point, Stefon Diggs made a catch that would have put the Vikings in position for a long field goal with just a tick or two on the clock. But instead of stepping out-of-bounds, the receiver came down, spun around, and somehow had the wherewithal to sprint for the end zone after seeing the Saints' rookie Marcus Williams – the last line of defense – whiffed on an ill-advised tackle.
The result was utter pandemonium in Minnesota, among a fan-base that has suffered through more than their share of playoff gaffes. The commotion in the stands was matched by the confusion on the field, as players, coaches, and the media swarmed around the Vikings players while the Saints looked on in disbelief.
No one was more confused than Apple though, as multiple Vikings fans began sharing images of their watches alerting them to dangerously elevated heart-rates as a result of their reaction to the miraculous victory.
If I was wearing an Apple Watch tonight, you'd be planning my funeral. Certainly flat lined and spiked. #vikings #skol #SkolVikings #skolchant pic.twitter.com/u3dVpJbnOE

— TC Huddle (@TCHuddle) January 15, 2018
https://twitter.com/mikethefifth/status/952732213224845312
It's tempting to mock Apple for misunderstanding the situation, but honestly, what was it supposed to think? Sports have an unrivaled power over our emotions, and at that moment, with the season dangerously close to collapsing, Vikings fans went from zero to sixty in mere seconds. Hard to fault Steve Jobs for not anticipating that!
Seems to me that the Watch deserves props for having our backs. Good lookin' out, Watch! And good lookin' out, Football Gods, who don't always come through – no matter how hard we pray – but who were way late in rewarding the Vikings.
If you did make some promises in advance of that play, good news: there's a mass for that.