Arnold Schwarzenegger Donates $1 Million to First Responders Fund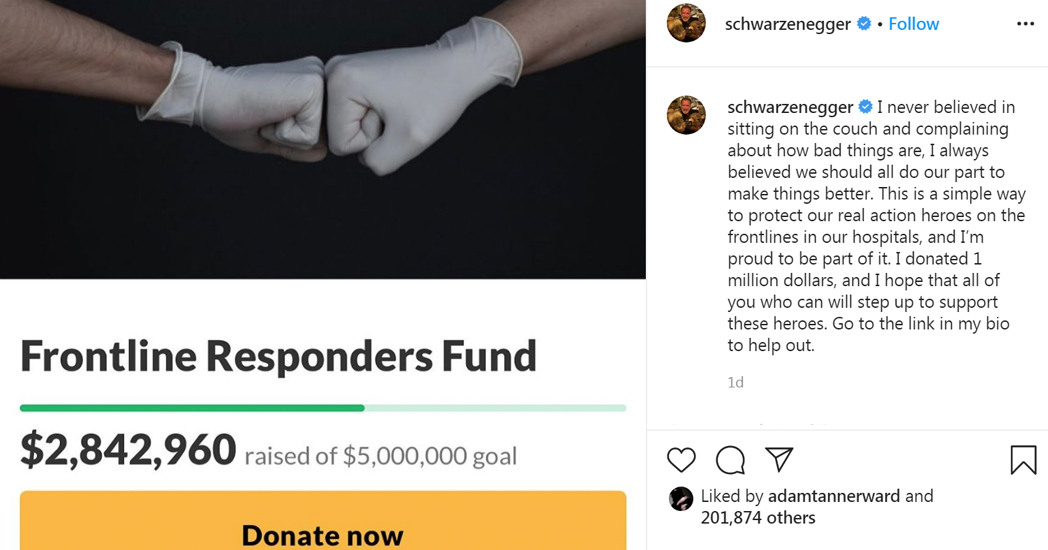 In times like this, entertainment can be a nice distraction, which is why movie studios and streaming services are doing whatever they can to make things easier for us, making their content available sooner, and cheaper, than usual.
But when things are tough, we need more than superheroes and action stars, we need real-life heroes to save the day, and unlike comic book characters, real-life heroes need help. Thankfully, one of the biggest movie stars of all-time realizes that, and he's pitching in.
Arnold Schwarzenegger, the man who killed the Predator, rescued Alyssa Milano and helped saved John Connor, and the world, from Skynet, has long been known for far more than his movie superstardom. The champion bodybuilder and former governor of California is dedicated to using his fame and influence to help others, and during the Coronavirus pandemic, he's at it once again.
Arnold took to Instagram to share a GoFundMe link to the Frontline Responders Fund, urging his followers to "all do our part to make things better" and leading by example with a one million dollar donation of his own.
In the post, the movie star called the fund "a simple way to protect our real action heroes on the frontlines in our hospitals" and wrote that he is proud to be part of it, explaining that the fund was "created by an organisation called Flexport, which is currently 'focusing all [their] resources on getting critical supplies to frontline responders combating COVID-19'."
The GoFundMe page states:
There's a shortage of masks, gowns, gloves and other critical supplies to protect our medical professionals in hospitals across the world. If a member of hospital staff catches the virus, their health is at serious risk, and they cannot work for at least 14 days. That's a major problem.
We need to protect frontline responders. More responders on the frontline means more capacity at our hospitals, and more people will get the care they need… One of the most important things we can do is protect our frontline responders. We need to protect them so they can protect us.
The proceeds raised by the fund will be used to provide PPE – personal protective equipment – the first responders and health care practitioners on the front lines of the epidemic. The money will help bring masks, gloves, and other crucial supplies to those who need it most as they fight to stem the tide of COVID-19.
So far, Arnold's post has over 200,000 likes, and the fund is up to nearly $4 million. Kudos to the Governator for getting the word out, and putting his money where his mouth is.