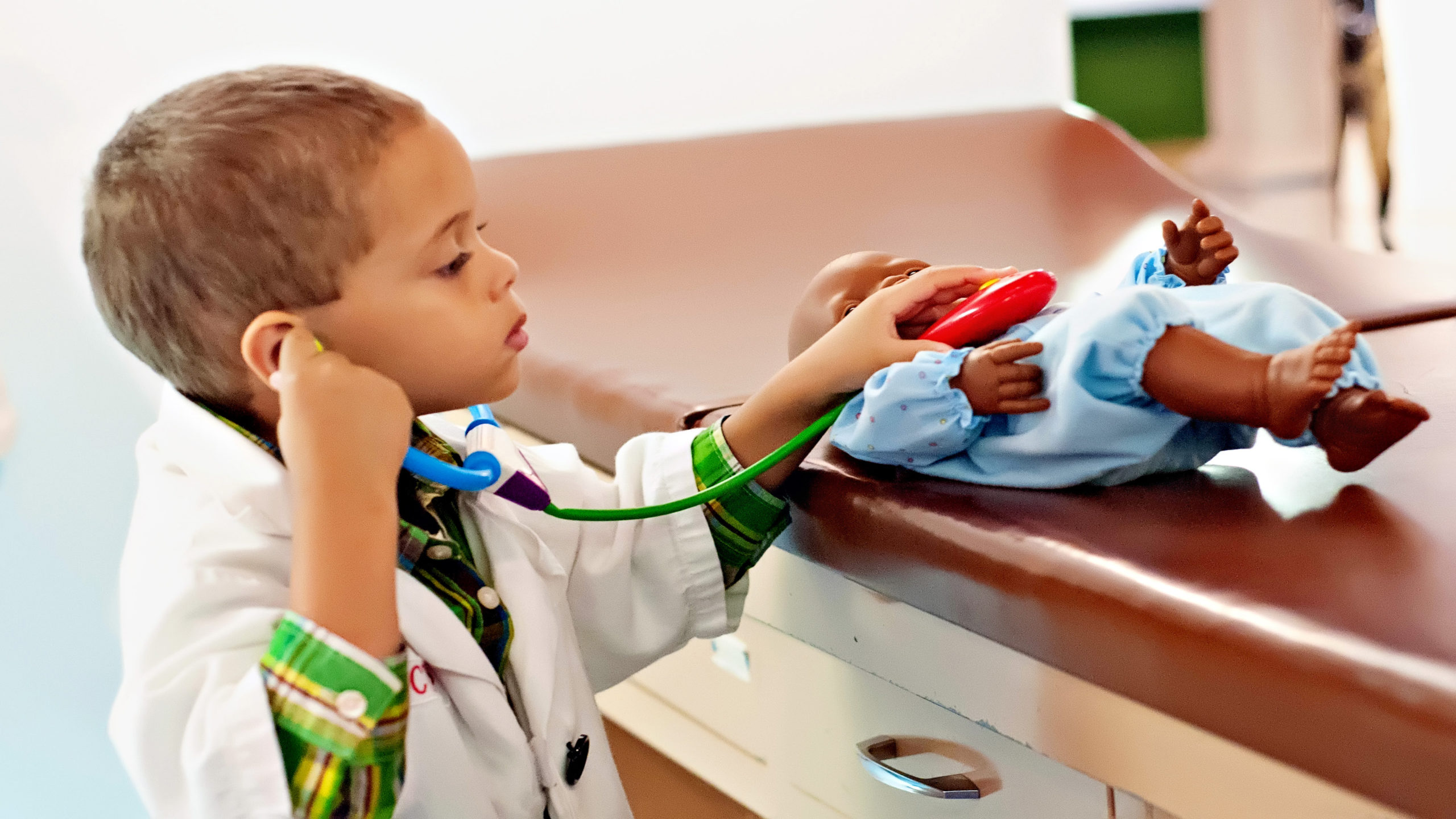 Credit: Getty/Kristal O'Neal
This question comes from Tony in Ontario, CA.
I have an 8yo daughter and a 5yo son. A couple of months ago, my daughter gave my son one of her old dolls, and he loves it. I refuse to let him leave the house with it for obvious reasons — but whenever he's home, he is always singing to the doll, brushing the doll's hair, feeding the doll, etc. This isn't what I expected when I had a boy. Should I put my foot down and take the doll away or should I just pray he figures it out on his own?
Bruh…
I gotta keep it real with you, my dude — your son is the last thing you should be worried about.
You mentioned this isn't what you expected for your son, but what were you expecting, exactly?
That he would bench press 225 lbs straight outta the womb?
Ask for a shot of Jack Daniels before bedtime?
Fight any kid who looks at him the wrong way?
Give you a rundown of the "cuties" he plans to spit game to in his kindergarten class?
Hit you with quotes from Braveheart on the drive to school?
Seriously, I need to understand why you're so concerned about his love for dolls. From what you're describing to me, your son seems to be a nurturing, loving, and caring little boy — the kind of boy that may someday grow up to be…
…wait for it…
.
.
.
.
A GOOD DAD.
Because you were kind enough to reach out for my help, I'm not going to end you on these internet streets. However, I think you really need to reconsider what true masculinity is all about.
Despite the numerous obstacles little girls have to deal with, at least they live in a world where they believe they can do anything and be anything. Unfortunately, we're letting our sons down in that regard. We have to get past the nonsense that the only acceptable emotions boys can express are happiness, anger, and lust. If our young boys bottle up other feelings like sadness, empathy, and kindness it could end badly for them.
The suicide rate is four times higher for men than it is for women and I'm sure a main reason for that is boys/men don't feel comfortable being true to themselves based on being shamed by society or their parents. Needless to say, this is something to be taken very seriously.
Since you asked for my advice, I'd suggest embracing the fact that your son is happy. He is hurting absolutely nothing (except maybe your ego) by playing with dolls, so let him do it. If it makes you feel better, there are actually dolls on the market that cater to little boys. Doing so doesn't make you "soft" or "weak" as a dad; it shows that you're interested in raising a well-rounded young man. A young man who won't contribute to the frat-bro toxic masculinity that will end up making your daughter's life more difficult as she gets older.
The world is changing, Tony. Your 5-year-old son has figured it out. It's time that you join him.
RELATED: I Went to a Frighteningly Realistic Doll Event to Please My Daughter – Fatherly