Australian Man Charged Man $68,000 for Beer in London Hotel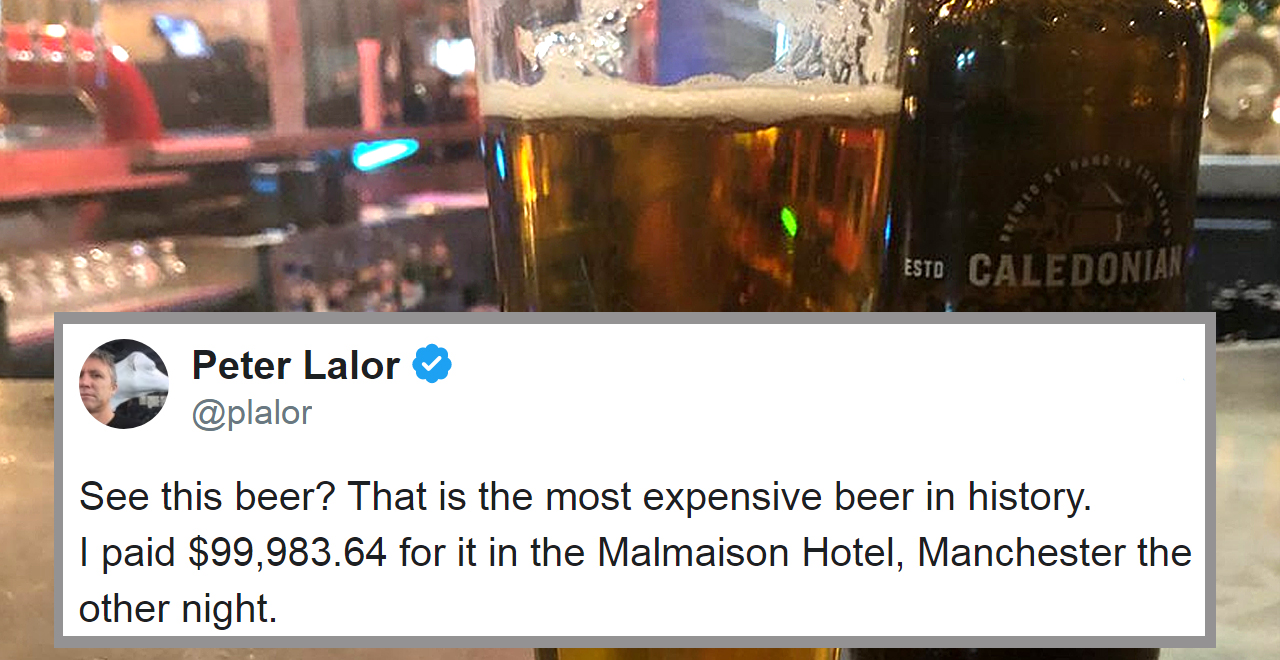 An Australian sportswriter was in a London hotel pub when he ordered a Scottish IPA, which, by his account, was a 'good beer.' The question becomes, how much would you pay for a good beer? The final amount? Nearly $68,000 (or $99,983 in Australian dollars).
See this beer? That is the most expensive beer in history.
I paid $99,983.64 for it in the Malmaison Hotel, Manchester the other night.
Seriously.

Contd. pic.twitter.com/Q54SoBB7wu

— Peter Lalor (@plalor) September 5, 2019
Anyway, I didn't have my reading glasses when she presented me with a bill for the beer and when she had some problems with the machine I didn't think much of it, but it was eventually resolved, I said I didn't want a receipt and she went to leave.

— Peter Lalor (@plalor) September 5, 2019
He told the bartender he didn't need a receipt after blankly signing the bill. Only then, on a hunch, he decided to ask how much he just spent for the drink.
Something, however, made me ask "how much did I just pay for that beer".

She checked, covered her mouth, started to giggle and refused to tell me, saying only there had been a mistake and she would fix it.

I insisted.

— Peter Lalor (@plalor) September 5, 2019
Lalor wrongly assumed his bank would not process the charge, a mistake he realized when he got a frantic phone call from his wife the next morning, curious about the tens of thousands of dollars missing from his account.
Then came the call from home. The sum of $99,983.64 had been removed from our account.
And, there'd been a transaction fee of $2,499.59 to add to the pain.
The fee has been refunded but not the larger amount.

— Peter Lalor (@plalor) September 5, 2019
His bank is now in the long process of returning the funds to his account. In the meantime, he's left with a giant hole in his bank account, and the fleeting memory of what an ice-cold glass of $68,000 tastes like.
"It really is baffling that both Visa and our bank would allow such an amount to go through unquestioned," Lalor later tweeted.
If you're curious what the world's most expensive beer tastes like, you can replicate (the good) part of the experience with a bottle of Deuchars – apparently the regular price of a bottle is far more reasonable.