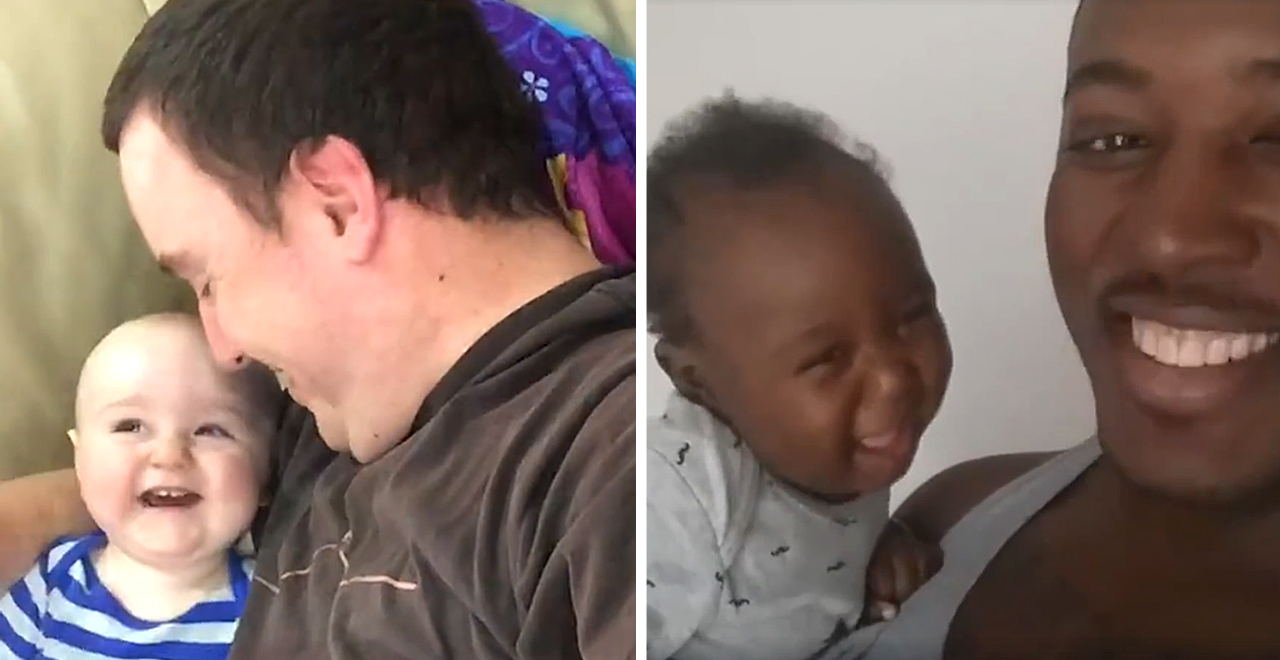 Credit: The Dad Break
Babies, man. Babies are nuts.
They'll learn how to stand but not sit when you want them to. They'll poop their pants while staring right into your soul. They'll laugh when they see you get hurt. As a matter of fact, they'll laugh at just about anything.
And sometimes babies laugh at…well, nothing at all. And we think that's beautiful.
Here are five times babies laughed at pretty much nothing, plus one final compilation of lots of babies laughing at lots of nothings. We hope you enjoy it as much as these babies enjoyed, well, nothing.
1. Baby Laughs Hysterically When Older Brother Gargles Water in Mouth
I know what you're thinking, "He's gargling water! That's something!" But listen to me: gargling water is nothing. It is literally just bubbly-water-in-throat noises. Exactly what is funny about that? That's right: nothing. Yet here we are grinning from ear-to-ear while watching it.
2. Baby Laughs While Spraying Hose at Thirsty Dog
I know what you're thinking again, "He is spraying water into his dog's mouth; that is the thing he is finding funny." That's not comedy, that's just being a responsible pet owner, and frankly, I don't find it all that funny. But I do find a baby finding it funny absolutely tickling.
3. Dad Makes Baby Laugh By Spitting Out Pacifier
I'll admit that out of all the nothings on this list, this one's the most something. A grown dad with a pacifier in his mouth? Now there's some incongruity I can get behind. But then he spits it out?! Why does he do it – is it an act of rebellion? An attempt at physical comedy? Fine, I'll give you this one, baby. This one is funny.
4. Baby Laughs Hysterically At Dad's Weird Noises
Again, out of all the babies on this list, this is one of the least ridiculous. Noises are funny, especially when they're of the fart genre. I'd probably dissolve into giggles too. You win this round, baby.
5. Baby Laughs at Balloons Tied to Hands and Feet
Somebody put this baby on the witness stand. Bring in the comedy experts and make him explain himself in front of all of them: what exactly is so funny about balloons tied to your extremities? Ok, ok, I'm going to go out on a limb here, it is pretty funny.
6. Babies Laughing at Their Dads
Let's end this one on a high note with a compilation of many babies, laughing at many dads.
I'll admit that for the sake of comedic science (which is a thing we do research on here at The Dad and not something I made up just now), I may have repeatedly questioned a baby's sense of humor. Truth is, I love a laughing baby. I'll take a laughing baby over a crying one any day of the week, and that includes babies who laugh at nothing at all.
So keep laughing on, babies. I envy you. I wish I could laugh at nothing at all. For now, I'll just have to settle for getting my laughs from videos of you doing your thang, which is being so silly and pure that I have to laugh.
Laugh on, little weirdos. While you're at it, have your dad film it and send it in to us so I can laugh along.