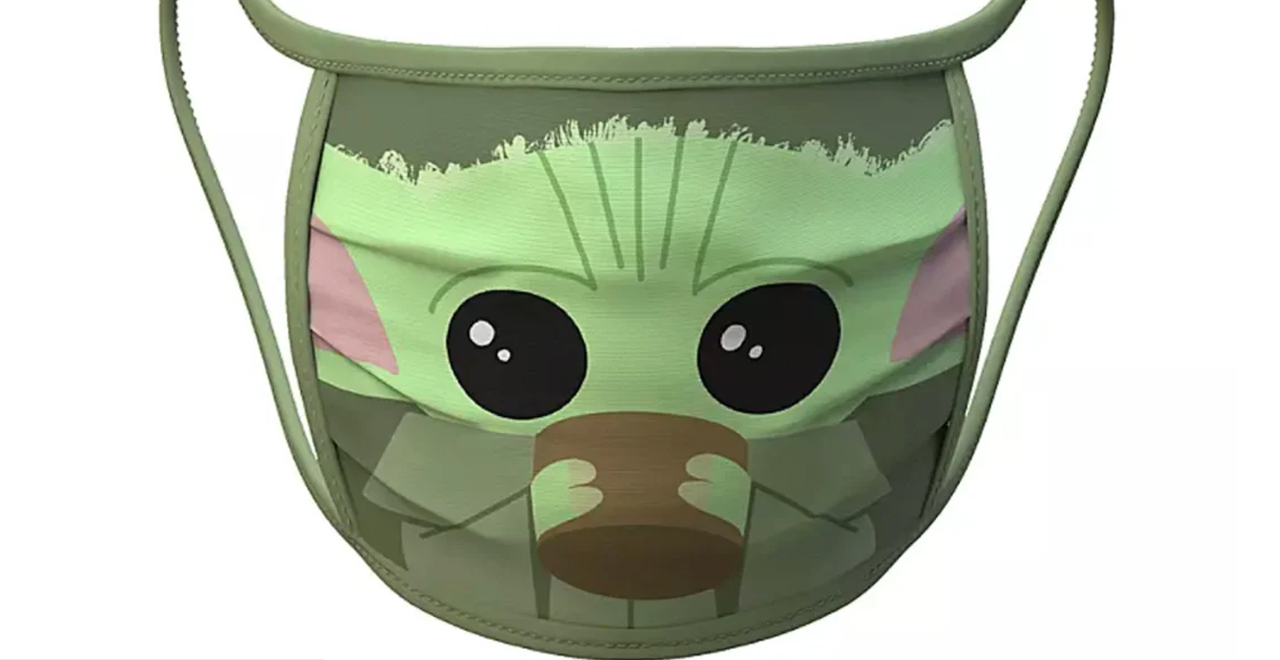 Credit: Disney
The pre-virus world was marked by many a craze, but none carried the fall of 2019 quite like Baby Yoda (not his name) from "The Mandalorian" on Disney+. The BaYo obsession reminds us all of a much simpler time. But now there's a way to bring Baby Yoda into the Coron-era: Disney's new Baby Yoda masks.
To be fair, it's not just Baby Yoda masks. Disney is selling four-packs of face masks featuring a variety of characters from Pixar, Marvel, and Star Wars.
As much as I'd like to make fun of this, being a website that treasures humor above all else, this is actually a cool idea. Now that the CDC recommends facial coverings for anyone in public over the age of 2, having masks with familiar characters on them will make the concept a whole lot scarier for kids. Tying a bandana around their face like you're about to take the family to a bank heist can be intimidating, and the last thing parents need right now is more resistance.
Getting a kid to look more like Iron Man or Elsa before going to run an errand? A much easier task.
Read more about @shopDisney's new range of cloth face masks and donations to families and communities in the U.S., including Florida, during this trying time: https://t.co/39T5fxm7Vq pic.twitter.com/0UDvi1ciCd

— Walt Disney World (@WaltDisneyWorld) April 30, 2020
"We realize this is a challenging time for families and wearing any type of mask can be daunting," a senior VP for the Disney Store said in a statement. "Our hope is that Disney's cloth face masks featuring some of our most beloved characters will provide comfort to the families, fans and communities that are so important to us."
Wearing masks routinely is a very foreign concept to most Americans, so it will take some getting used to. It may feel weird or silly, but it helps to remember that when you see someone wearing a mask – they're doing their part to protect others. And given this seems like the new normal for the next while, finding a mask that's both comfortable and fun can make a big difference, especially when it comes to kids.
You can buy a four-pack for yourself (or your people) online at the Disney Store for just 19.99. Disney will also be donating $1 million of sales to COVID-19 relief efforts and will be donating masks to underprivileged communities.
Here at The Dad, we hope you, your families, and communities stay safe and healthy during the COVID-19 pandemic. For the latest information, please utilize online resources from local public health departments, the Centers for Disease Control, and the World Health Organization to remain as informed as possible.