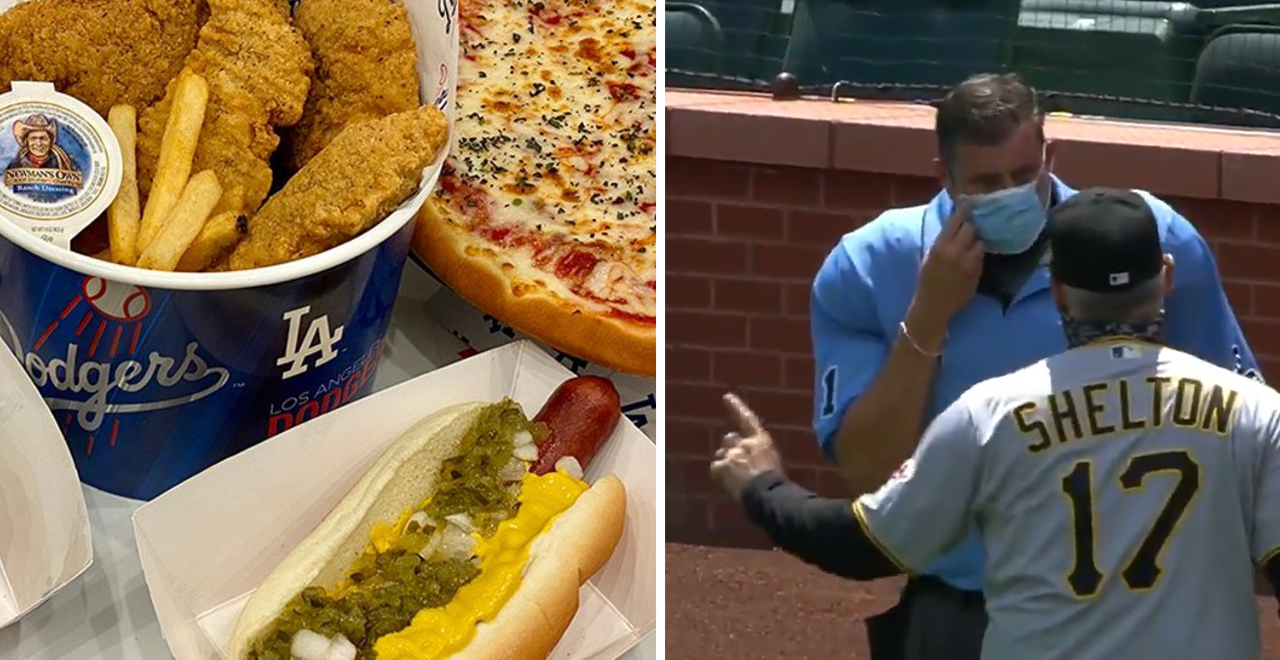 Credit: Dodgers.com Twitter/FSMidwest
Major League Baseball has been able to start their truncated season, but fans may be feeling left out by not getting to sit in the stands to watch their favorite team. It's one thing to be watching at home and another to be scarfing down a Dodger dog and eating nachos out of a souvenir helmet. Fortunately for some teams, they can still get the "ballpark experience" at home, as stadium food is available for order and delivery.
Home Plates is selling Dodgers fan a variety of ballpark options and delivering to LA fans. Among the food available: the infamous Dodger dog, garlic fries, and some items specially created for the fans at home, including Dodger Blue Gelato. Home Plates is a collaboration between the L.A. Dodgers and Postmates and sounds pretty awesome.
"Los Angeles sports fans will now have year-round access to their favorite stadium flavors, whether it's for a gourmet gameday, celebration or just to satisfy an everyday craving," said a Dodgers spokesman.
Stadium food delivered to your house is just one of the oddities for 2020. I mean, just for starters, the first pitch of the season was thrown by America's most famous infectious disease expert, Dr. Anthony Fauci. And it was terrible! Celebrating terrible ceremonial pitches is one thing that can bring all fans together.
Anthony Fauci, First Pitch Mechanics. pic.twitter.com/QxszDQJDuu

— Rob Friedman (@PitchingNinja) July 23, 2020
As soon as the pitch happened, everyone made the same dad joke (he's a virologist, he doesn't want anyone to catch anything) and about social distancing the ball from the catcher. Good times.
Oh, an infectious disease expert throwing out the ceremonial first pitch not weird enough for you? Well, Topps also made a Dr. Fauci baseball card, which quickly became the fastest-selling card in baseball card history. Even Dr. Fauci said baseball's greatest players would be looking down in confusion at that news.
In other "only in 2020" baseball moments, we may not have the spitting and high-fives players are used to, but we still have classic umpire-manager arguments and ejections. Only now, they both have to calmly put on masks before going after each other.
Manager and umpire arguments in 2020 are just a tad different than normal.

TV: FSMW
Stream: FSGO – https://t.co/einVSr6Rgw pic.twitter.com/kg7NAEo28h

— FOX Sports Midwest (@FSMidwest) July 26, 2020
Of course, we're still getting plenty of great baseball action for the first time in nearly a year. And some of the highlights and spats help fans forget about everything awful for a minute. It's even cathartic to relive old feuds, such as Joe Kelly throwing at an Astro and taunting another after a strikeout, as payback for the Astros cheating scandal that was the talk of the offseason. It even prompted our first bench-clearing of the bizarre 2020 season.
He was given a big suspension (relatively) for his actions, as somehow he got punished worse than the entire team that cheated their way to a World Series. Other MLB pitchers agreed.
Makes zero sense Ken. He wasn't even thrown out of the game. MLB siding with/protecting a team that openly and knowingly cheated their way to a World Series. He doesn't deserve to be suspended at all. Hoping he wins his appeal. Looking forward to seeing you back out there JK! pic.twitter.com/Lekx8NHLRp

— Marcus Stroman (@STR0) July 29, 2020
And at least his taunting gave us our first meme-able moment of the MLB season.
#NewProfilePic #AmericanHero #FreeKelly pic.twitter.com/YH0WdU1V76

— Phil Hughes (@PJHughes45) July 29, 2020