Beer Fund Sign Sparks $300k in Donations for Children's Hospital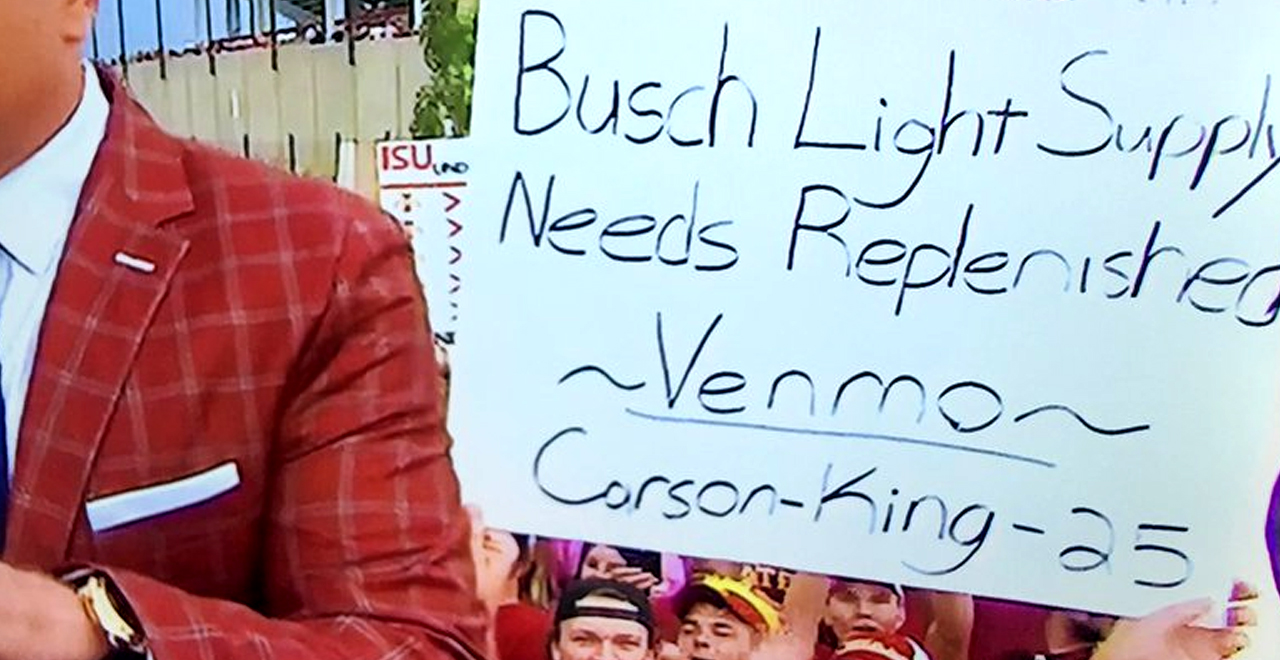 ESPN's College GameDay show is a staple for sports fans. The show sets the tone for every fall Saturday and even the fans have a chance to shine with their (usually) great signs seen fleetingly in background shots. One Iowa State fan changed the game recently when he made a sign begging people to help him replenish his beer fund and included his Venmo name at the bottom.
Iowans love their Busch Light Lol @paulyhoward @MitchMossRadio pic.twitter.com/AZdT5wEI4j

— SC (@downonthedog) September 14, 2019
And the genius plan worked, as he soon saw his account flooded with donations. After receiving more than $1,500, the man decided it had become bigger than free beer (and there are few things bigger than free beer, mind you). He decided he'd buy one case of beer, and then donate the rest to the world-renowned Iowa Children's Hospital.
With all the donations my @CollegeGameDay sign for @BuschBeer has received, I will be donating all but enough for a case of Busch Light to @uiowa Children's Hospital. We're at over $1,600.00 right now! @CycloneATH @WideRtNattyLt @ChrisMWilliams Venmo Carson-King-25

— Carson King (@CarsonKing2) September 14, 2019
And that is when it began to really take off. Those who may have sat it out because they didn't want to support his beer choice suddenly had a good reason to donate. Busch itself got off the sidelines to contribute.
.@CarsonKing2 this is the best thing we have read all year, we're inspired.

We're going to match your donation to University of Iowa Hospitals & Clinics, and we'll throw in some of that Busch Light you were looking for. https://t.co/NPPrPp6zJg

— Busch Beer (@BuschBeer) September 17, 2019
Not one to miss out on a viral feel-good story, Venmo jumped into the mix, also offering to match the donations.
We see a lot of great stories, but this is one of our favs @CarsonKing2. Count us in for matching the donation to the hospital, too. #ftk💛@BuschBeer @CollegeGameDay https://t.co/thS8JXOXC3

— Venmo (@venmo) September 17, 2019
ESPN's top SportsCenter anchor, Scott Van Pelt, featured it on his show, hoping to bump up the donations even more. He even offered to shotgun a beer with King (off-the-air).
Well done. If I could shotgun one on the show I would. Many would argue it couldn't hurt. 🤷♂️

— Scott Van Pelt (@notthefakeSVP) September 18, 2019
While donations will be accepted through the end of the month, what started as a funny ploy for free beer has now turned into an incredible $300,000 (and counting) in donations to the Children's Hospital. And don't worry about King, as he's still getting his free beer. And even his own can.
#BuschIsBae https://t.co/wlxq1ALsVA

— Carson King (@CarsonKing2) September 20, 2019