Peter Williams of Penzance, England is showing incredible strength after the loss of his daughter. On Friday at 10am, he began a 211-mile ride to raise money for The Brain Tumour Charity.
In 2015, Peter lost his 7-year-old daughter, Ellie, to a rare form of brain cancer, only six months after she was diagnosed.
To honor his daughter he decided to begin his ride at Bristol Children's Hospital where Ellie was treated. He's also making the entire trip on her little pink bike, which is only 20″ high. Given Peter is 6 feet tall, that's going to make for an additional challenge, but he's up for it.
Aside from a small modification to the bike's seat, he'll be riding the bike as-is. "My knees clear the handlebars by about half an inch so it's going to be really tight, but it's a great bike," he told the BBC. When he factors in his unique mode of transportation Peter estimates the ride from Bristol to Land's End will take him a week to complete.
Ellie loved cycling and impressed her dad at age three, when she was able to ride without training wheels.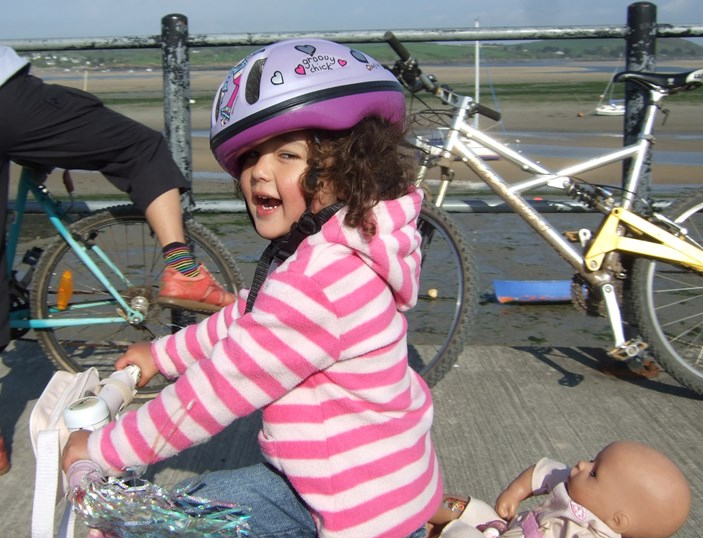 The bike he'll be riding was her pride and joy – a present she received for her last Christmas.
So far Peter has raised £23,349 (roughly $30K US) through his JustGiving campaign, already doubling his £10,000 target.
What a guy! What a dad! Go, Peter, go!
If you'd like donate to Peter's campaign, visit his JustGiving page.
If you want to learn more about where the money is going, check out The Brain Tumour Charity.