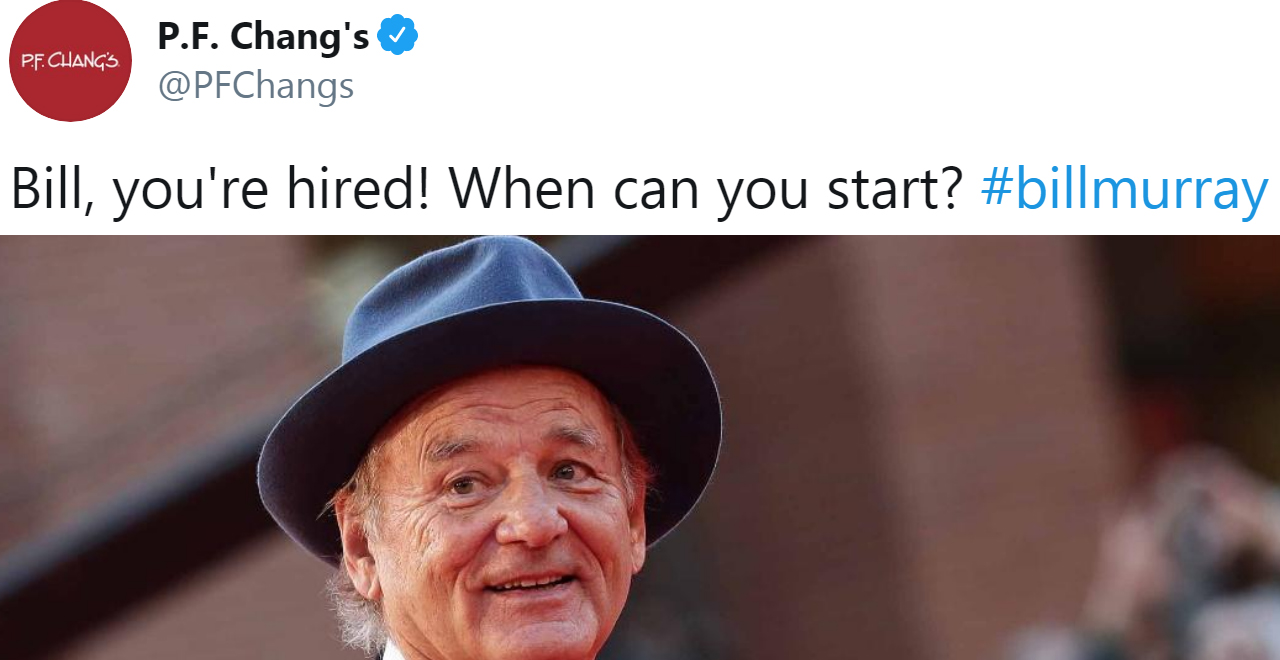 Credit: Twitter/PFChangs
Everyone likes Bill Murray.
Even if you aren't a big fan of Saturday Night Live or Caddyshack or Stripes or Ghostbusters or What About Bob? or Kingpin or Rushmore or Zombieland, odds are you find the guy likable just the same. He's charming and funny, he seems nice, and he's managed to avoid the fame trap that so many supercelebrities fall into. He stays out of the limelight unless he wants to be in it, and when he does choose to emerge, it's often in strange and hilarious ways.
The legend of Murray is strong. He crashes parties and does the dishes, he sneaks up on strangers and then tells them "no one will believe you," he joins terrible animated franchises because he mistakes the director for a much better director. The dude walks to the beat of his own drum. And his latest escapade is further proof of his eccentric, low-key hilarity.
He recently applied for a job at P.F. Chang's. At an airport, no less.
The funnyman/serious actor recently appeared on Amy Schumer's podcast, "3 Girls, 1 Keith," and discussed his affinity for the Chinese food chain.
"I did fill out an application at P.F. Chang's at the Atlanta airport because I think that's one of the great places," he shared, seemingly unaware of how insane he sounds. A Hollywood legend applying to work at a chain restaurant? I feel so funky.
"To do what? Just any job?" Schumer asked.
Murray explained, "It looks like the best time."
Well, it seems it may get his wish, because P.F. Chang's learned of the actor's desire to – what, wait tables? cook? seat customers? – and promptly hired the man, no questions asked.
Bill, you're hired! When can you start? #billmurray https://t.co/1VOAbguvsO

— P.F. Chang's (@PFChangs) October 29, 2019
Obviously the people at P.F. Chang's are Bill Murray fans too, because who isn't! And who wouldn't want to stop by their local airport and have a chance to get some General Tso's served to them – or cooked for them – by the man. And who knows, he might even stick around and do the dishes!
On Tuesday you can listen to the full episode of Schumer's podcast on Spotify and hear Murray discuss his love of Family Feud and that time he drank Sake with the Wu-Tang Clan: "I took them for lunch that day and they'd never had sake. So I proceeded to buy a big bottle. So they drank a lot of sake and came back drunk," Murray said.