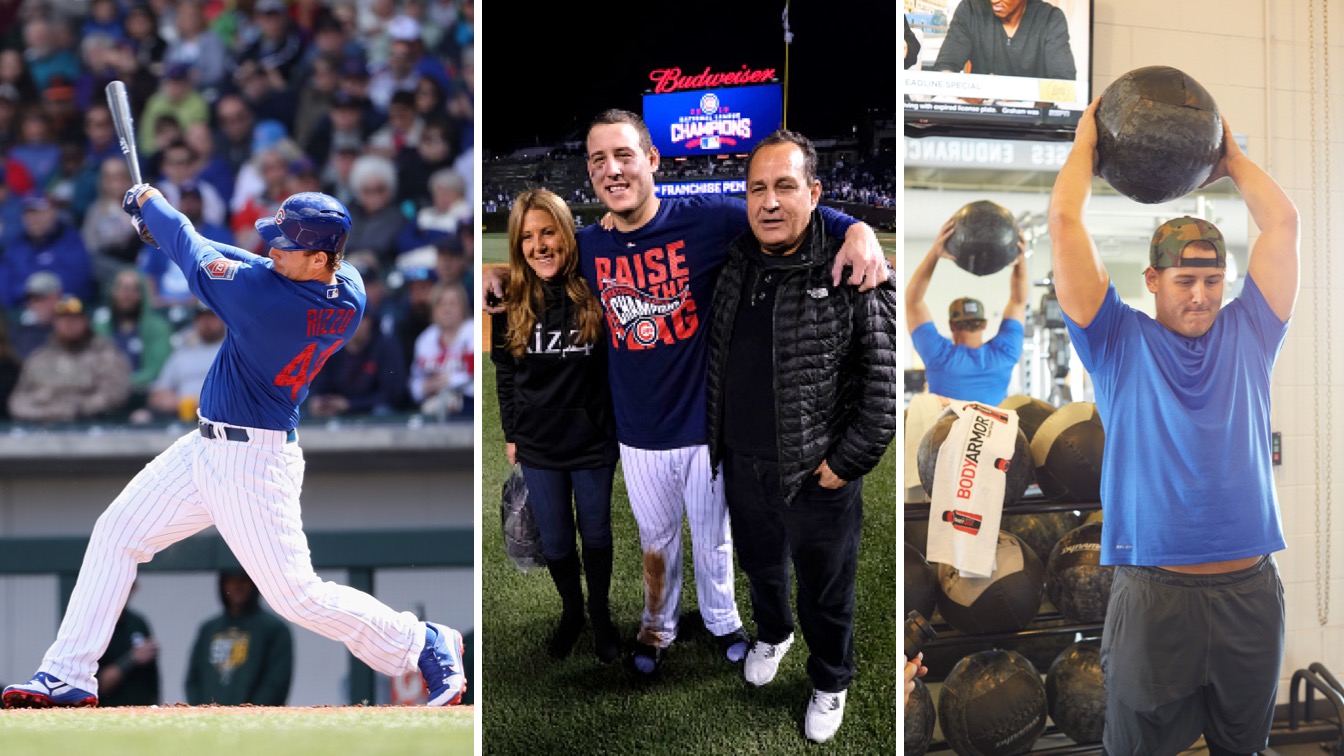 Credit: Getty/Christian Petersen, Getty/Icon Sportswire, BODYARMOR
World Series. Game 7. Bottom of the 9th. Bases loaded. Lots of kids have fantasized about such a scenario.
Now let's make some tweaks… It's still Game 7 of the World Series. But it's not bottom of the 9th; it's top of the 10th. You just came off an All Star season in which you were awarded the Gold Glove AND Silver Slugger. On top of all that, your team hasn't won the World Series in 108 years and your entire city is watching. Oh, and you're only 27 years old. Imagine that pressure. How would you perform? That was Anthony Rizzo in 2016.
RELATED: I Love My Husband, But Our Marriage Is Over – Scary Mommy
How does Anthony deal with big game pressure? I caught up with the Chicago Cubs first baseman to chat baseball, overcoming adversity, and important father figures in his life.
The love of the game
Whether you're an athlete or not, baseball's influence on American culture is undeniable. It means something to all of us. If we close our eyes and think baseball, most of us can imagine the sound of a ball cracking off a wooden bat, or the smell of beer and peanuts.
Before Anthony Rizzo was a professional baseball player, he was a fan. "Going to ballgames and watching the parades coming to town and rooting for your team, or heckling Chipper Jones… It's fun. Win or lose. You know, I can't ever tell you what team won or lost when I went to a game; I just know I enjoyed going."
https://www.instagram.com/p/BHvjtoJh13h/
A family commitment
Sports have an incredible ability to bond families together, and Anthony's parents have supported him since the beginning.
"My parents both love it. They love being able to watch me play and they're happy for me, whether I get four hits or don't get any hits. They're just happy to see their son out there."
Any sports parent knows, raising a young athlete takes sacrifice. "It's a huge commitment and, you know, I was lucky enough that my parents provided me that and were able to take me to the tournaments. They were able to take me to showcases and dish out the money that they didn't necessarily have…"
https://www.instagram.com/p/_ZXr-cqp6N/
Overcoming adversity
8 years before the 2016 World Series, at age 19, Rizzo was diagnosed with Hodgkin's lymphoma. At the same time, his grandma was battling breast cancer. Rizzo underwent 6 months of chemotherapy and beat it. Just 3 years later, on June 9, 2011, Rizzo hit a triple in his debut Major League Baseball game, helping the Padres to victory.
Just over a month later, Rizzo was sent back to the minors. Like always, Rizzo persevered.  "At the moment, when I was getting sent down, I never really doubted myself. I knew I could play. But also, in the moment, you gotta keep perspective in life. When you're beating yourself up over a baseball game, you tell yourself, Listen, you're beating yourself up over a baseball game. You know? I'm playing a sport for a living. We're all very lucky to be doing what we're doing and I will never take that for granted." He established the Anthony Rizzo Family Foundation, a non-profit organization devoted to assisting families dealing with pediatric cancer. He was later traded to the Cubs, where he's played ever since.
"When I was a kid I told my teachers I wanted to be a professional baseball player. I would yell at my dad because he would tell me I could be good enough to play and I would say, 'No, Dad, every parent tells their kid that. Don't tell me that.' But that sort of thing stays with you—when your dad believes in you. And that confidence in your abilities is what gets you through the tough times."
https://www.instagram.com/p/BJGpWhkBkC7/
Peak energy
Last year, Anthony played in 157 games with 572 at bats. That's a lot. How does he stay energized and in peak shape? "I listen to music pregame. I just make sure I'm hydrated, make sure I get a good meal in and just make sure I'm loose and have a good time. That's what life's all about, you know?"
To stay hydrated, Anthony drinks BODYARMOR (a premium sports drink with natural flavors and sweeteners, no colors from artificial sources, and made with coconut water) as part of his daily routine. "I drink it religiously. It has no artificial flavors or sweeteners.  There's a bunch of vitamins. It's low sodium. It's high in potassium. I'm very conscious of what I put in my body, especially when I'm playing, and I do drink it during the game and it just keeps me at a peak level of energy throughout the entire game, which is not easy to do."
I can relate, I just got winded taking out the trash.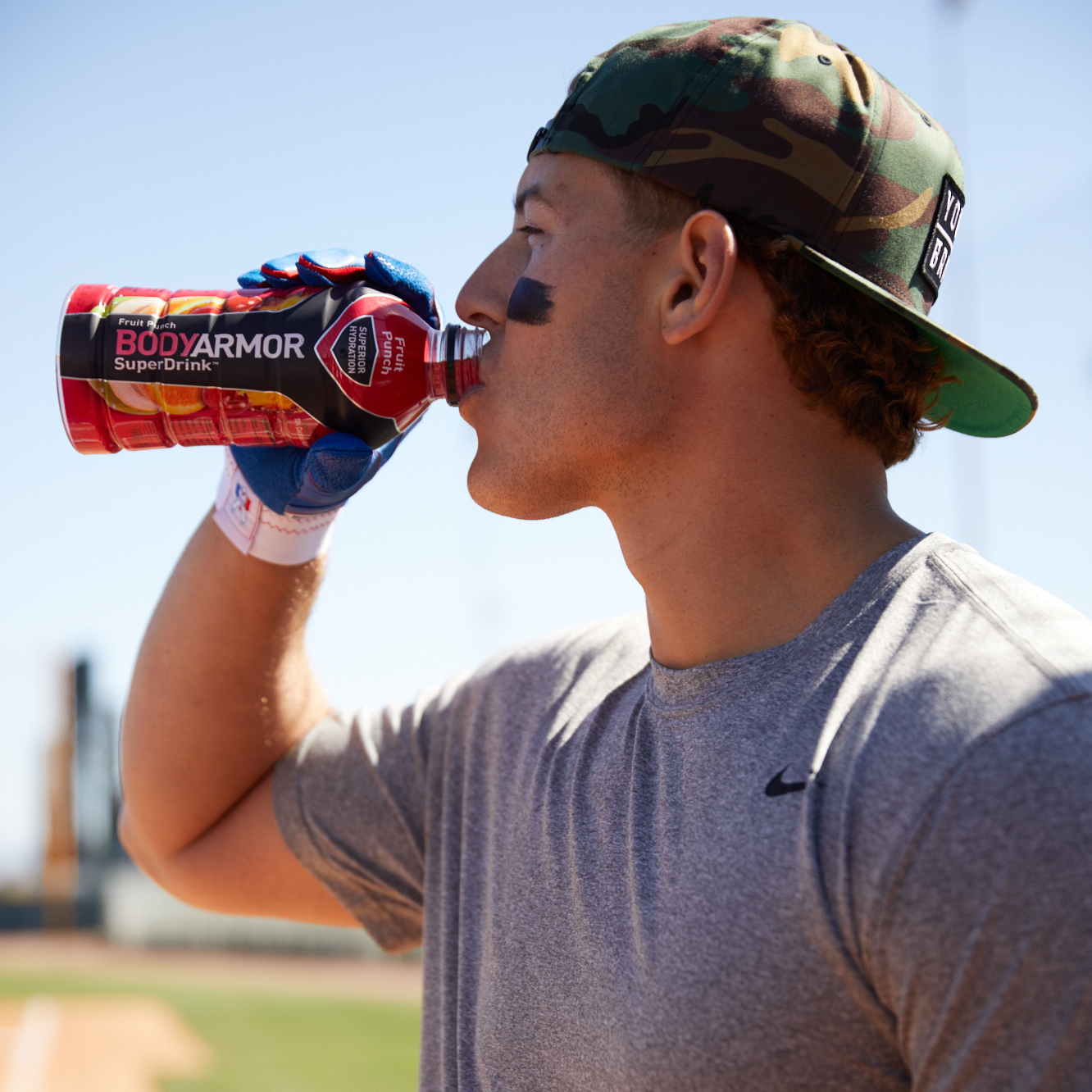 World Series, Game 7, extra innings…
So in Anthony Rizzo's moment, with the Series on the line in Game 7 in 2016, what happened? Instead of facing the hot hitter, Cleveland pitcher Bryan Shaw intentionally walked Rizzo. His teammate Miguel Montero drove him in for the Cubs' last run in an 8-7 victory, Chicago's first World Series win since 1908. With a supportive family behind him and the drive to never let anything stop him, Rizzo was able to live every kid's baseball dream.
https://www.instagram.com/p/BMYu03gjc5x/
Rizzo became a partner and investor in BODYARMOR, a premium sports drink made with potassium-packed electrolytes, coconut water, and natural sweeteners and flavors, several years ago when he discovered it during spring training. Rizzo joined a team of other superstar athletes who also partnered with BODYARMOR, including Mike Trout, James Harden, Andrew Luck, and Dustin Johnson. To learn more about BODYARMOR Sports Drink, visit www.drinkbodyarmor.com.