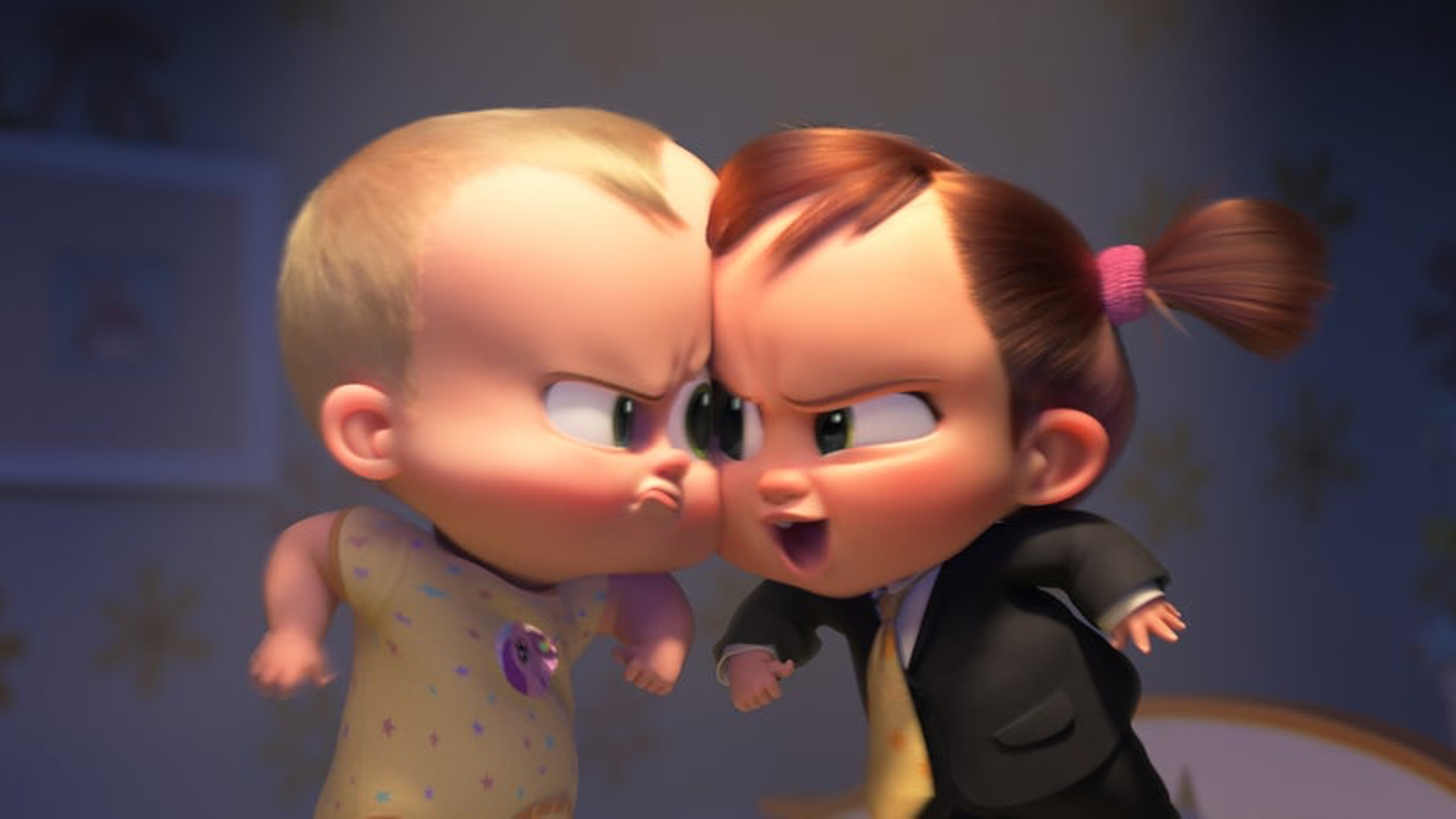 Credit: Dreamworks Animation
Tom McGrath, director of the Boss Baby movies, is a very friendly, soft-spoken guy who likes cheap horror movies and told me his dream was to "bring families together" now that the pandemic is over. And I lied straight to his face.
See, while The Dad is usually a pretty blue-collar media brand, we do have a celebrity interview series, Gittin' Grilled With Jordan Stratton, which landed us a ticket to the red carpet premiere of Boss Baby: Family Business. This is a sequel to the 2017 movie which I have not seen.  But as the only writer for The Dad in NYC, it was my job to go and cover this event.  A few larger dominos later, I was face-to-face with Tom McGrath saying that what I really enjoyed about the first film was the "imagination in world-building." Just words coming out of my face. Why did I lie? Oh, a mix of social anxiety and a desire to keep the conversation moving, for sure. But also, what am I gonna do, be a wet blanket asshole at this fancy event? No. Plus, the "red carpet" was actually blue, so whatever, the whole world is built on lies.
Tom seemed like a great guy. He spoke candidly about how his relationship with his brother inspired the franchise and set me straight about which old horror movies featured creepy babies. He also told me that the new film would explore the complicated mythology of the Boss Baby universe further than ever, "taking us all the way to the top of the BabyCorp." Now, I watched that whole movie and I couldn't begin to tell you what that freaking means.
So I'm not going to review Boss Baby: Family Business, per se. It's a kid's movie, I think you get it. There's a Looney Tunes sense of pace, on-the-nose referential jokes and only two musical numbers. But! One of them is a Cat Stevens song, and neither are an obnoxious dance-off between penguins and trolls copying TikTok trends. So as far as movies to watch with kids go, freaking A+.
Instead, I think a better service for dads watching this movie who have not seen – or just not remember – details from the first one would be to pinpoint my biggest WTF moments and try and answer them as best I could. So here are my Seven Biggest Questions About The New Boss Baby Having Not Seen The Original Boss Baby. 
Are there spoilers ahead? Uh, sure? Hard to say what a spoiler is in this context, TBH. But don't continue reading if you would prefer to experience the Boss Baby mythology on your own. 
Question One: Why Are the Babies Bosses?
This question is not answered in Boss Baby: Family Business.
Question Two: The Boss Baby Isn't A Baby Anymore?
Correct, the characters from the first movie have grown up, and the two brothers have drifted apart. There's Tim, the Not Boss Baby, now a stay-at-home dad, and Ted, the grown-up Boss Baby who is still a boss, but not of babies. Neither remembers their childhood adventure, helpfully allowing me to come into this movie with exactly the same amount of information as the main characters.
There is also a new Boss Baby, Tina. She has a formula that turns adults back into the age they were during previous installments of a franchise. This allows us to see multiple generations of Boss Babies working together. Why were the adult characters forced to turn back into children to complete the mission? Because it's a baby mission, but also that's just the kind of solution you get at big corporations like BabyCorp, where everything is probably decided by committee.
Question Three What's Up With The Wizard?
Early in the movie, Tim finds his old alarm clock/Gandalf action figure. The wizard toy can talk and move, but I don't know if he's really alive, or just a figment of Tim's imagination. Most of the hijinks in this movie seems rooted in the scientific advancement of the babies, but the talking alarm clock seems more like a magic thing.  There are no answers here but later, the wizard gets a He-Man arm, complete with Power Sword. To dwell on the wizard character will lead only to madness.
Question Four: What Is BabyCorp, The Baby Corporation In The Sky?
Remember when I deceived director/my new friend Tom about my knowledge of Boss Baby lore, and he told me this movie would show the very top of BabyCorp's inner workings? Well, everybody does visit BabyCorp HQ, which is a giant office building in the clouds, and it is maybe heaven? Tim and Ted go as ghosts, or possibly just holograms – again, the tech/magic boundary here is unclear. But this does seem like the place babies come from and also invent various serums.
However, the new Boss Baby also occasionally takes orders from someone on her cell phone, suggesting an even higher tier of baby bosses. This shadowy cabal is never revealed, despite Tom's promise that we would see the highest level of the organization. So clearly I was not the only duplicitous person in attendance that evening.
Question Five: Jeff Goldblum
Jeff Goldblum is like if the concept of a question became a person. But in regards to this movie, he plays the head of some sort of amped-up Montessori-like school where education is treated as a cross between a game show and the Hunger Games.
He's also a baby himself, with a huge head that can be mistaken for an adult's head IF he wears a wig and mutton chops while operating a grown-up disguise robot. It is terrifying. But not as terrifying as anytime the character is not wearing a robo-suit, he constantly shovels piles and piles of sweets into his humongous mouth. He's never without a lollipop or cupcake vanishing into his gaping maw. Sometimes he's just palming pounds of sugar.  His mouth is an abyss, and watching it is to stare into the void and wonder if the void stares back. I'm here to tell you that Tom McGrath is a filmmaker working at the nexus of David Cronenberg and Chuck Jones.
Question Six: Is It Weird To Center "If You Want To Sing Out," A Song From Harold & Maude, As An Emotional Touchstone Between Father & Daughter Characters When The Father Is Disguised As Another Child So The Relationship Kinda Plays More Like A Romance Subplot Than A Father/Daughter Bonding Thing?
A little, yeah. A little bit.
Question Seven: Did They Kill All Dogs in The First One?
I can't say for sure. But I do know from the trailers that the goal of the first movie was to keep parents from loving dogs more than babies…and there are no dogs in this one.  There is a pony, who has a little mini house outside, not unlike a dog house. It's certainly a question worth considering.
Finally, one last question that isn't mine, so it doesn't count. I found this question, I swear to the Lord, on the Boss Baby Wiki, when I was looking for other answers.
Bonus Question: What's The Deal With People Enjoying The Boss Baby?
You know, at the end of the day, it was a pretty funny movie. I didn't understand the backstory, but it turns out the movie doesn't really care that much about its own backstory either. These Dreamworks cartoons are just full steam ahead, at all times. Sure, each gag is basically the embodiment of when a seven-year-old says "RANDOM" and laughs at their own meta-commentary. But Alec Baldwin and Amy Sedaris have great chemistry together as the Bosses Baby, and some of the jokes really are solid. For example, there's a terrifying little girl who stalks baby ninjas at one point.  She genuinely cracked me up, especially remembering how Tom was so quick to gush over horror flicks. (Oh, Tom. I'm sorry for my betrayal.)
Plus, to get on my own soapbox – I think it's admirable to make cartoons that aren't afraid to be weird and zany. Pixar's got their thing, it's smart for Dreamworks to go for an entirely different vibe.
Anyway, watch me have no idea what I was talking about at the premiere below.
You can see Boss Baby: Family Business, now in theaters or on Peacock Premium.