Boston's David Price in Control of Pitches but No Control of Toddler [WATCH]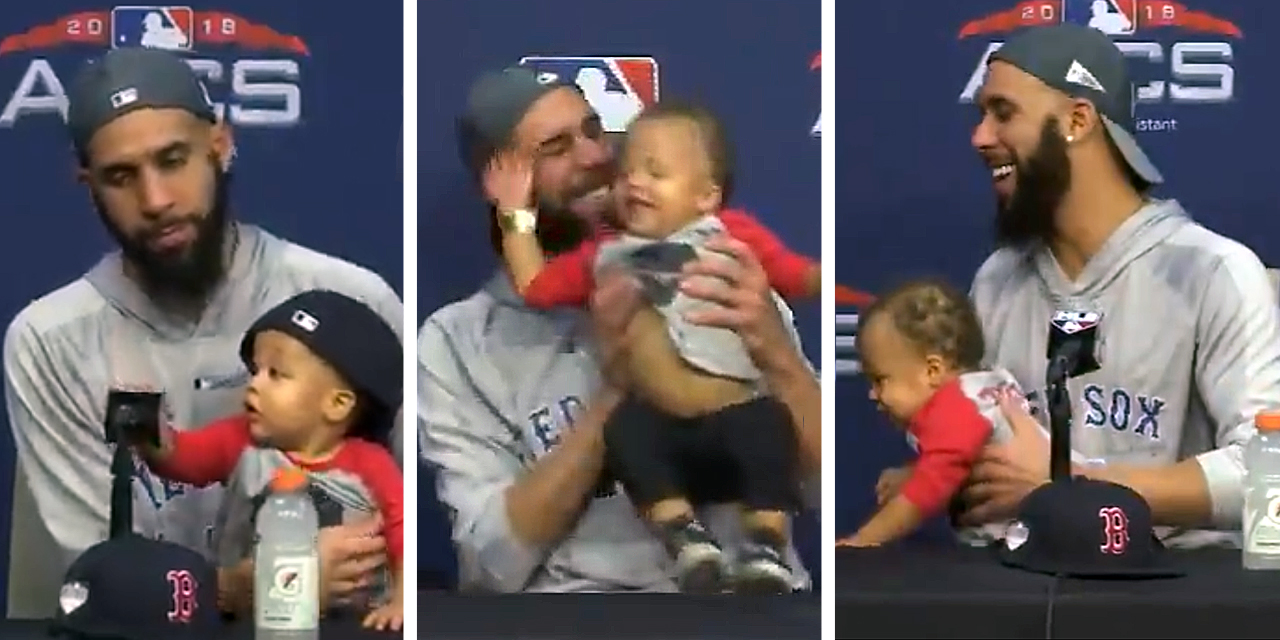 Remember that time Golden State was in the playoffs every year for like a decade, and Steph Curry brought his adorable daughter to the post-game media session? She acted all cute and precocious and stole everyone's hearts. Every time I saw her in action with her dad, I tried to imagine what my toddler would be like in that situation. Well, now I don't need to imagine because I saw it the other night, after the Red Sox 4-2 win in Game 2 of the World Series.
David Price, the Sox much-beleaguered pitcher, has rescued his post-season reputation with a few solid starts in a row, including Wednesday night. After the game he took to the podium to answer questions and he brought his 17-month-old son, Xavier. The toddler proceeded to dominate his dad the same way his dad had dominated the Astros in the ALCS.
During the session David tried to answer questions – pleasant questions given he finally pitched well after years of post-season struggles. His son didn't seem to acknowledge the importance of moment – he fidgeted, reached for the microphone, babbled and even screamed.
.@DavidPrice24 had complete control on the mound tonight.

Control of his adorable son? Not so much. ???? pic.twitter.com/eSwpnbjIvv

— Cut4 (@Cut4) October 19, 2018
It made the press conference rather tricky for his dad, who tried to corral the toddler but ultimately decided he should probably get off stage and go sit with his mother, who was (apparently) in the wings off-screen.
Once again, @DAVIDprice24 had complete control on the mound tonight.

Controlling his adorable son? Not as easy.???? pic.twitter.com/7XNd9PafEm

— Cut4 (@Cut4) October 25, 2018
It makes sense that the little boy complicated the press conference, since his existence is going to complicate the next 18-plus years of his dad's life!
All in all, it just proves that not even star athletes are a match for a disgruntled toddler!