Boy Behind "I've Pet That Dog" Twitter Account Loses His Own Pup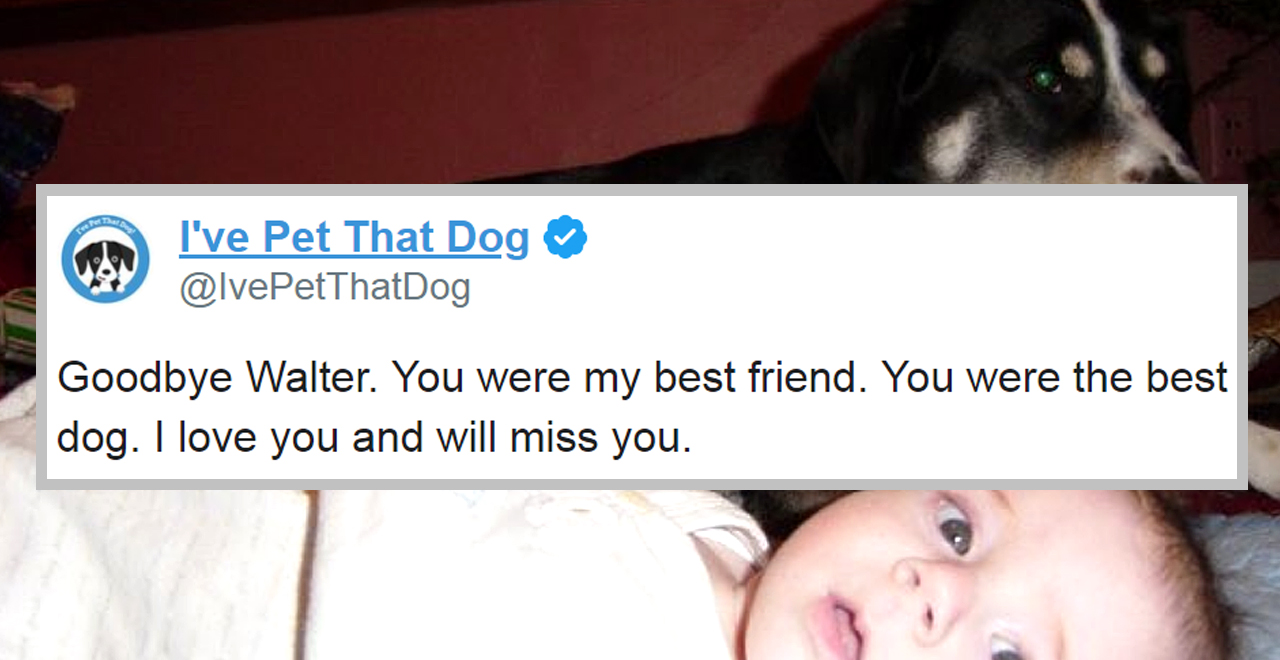 Twitter gets a lot of guff for a lot of reasons, many of them justified. It has the power to incite anger and cruelty, it has the influence to alter opinions and elections, and it has the ability to actually make you respect Richard Marx.
But Twitter has the ability to spread laughter and joy as well, and perhaps nothing is better evidence of that than the countless adorable dog and cat photos and videos that are circulated on the site every day. One such account, @IvePetThatDog, is responsible for a fair amount of that joy.
I pet Dani. She is a 4 year old Poodle mix. Dani was a stray who was found near a dumpster. She had dirty, matted fur and fleas. Now Dani has a caring family and she loves them. She likes her daily routine. Every night at 9:59 she gets up and heads to bed. pic.twitter.com/zchfTHN1hT

— I've Pet That Dog (@IvePetThatDog) July 17, 2019
Sometimes our love for animals, and especially our pets, leads to heartbreak, even online. And that's what happened to Gideon Kidd, the 10-year-old boy who ran the @IvePetThatDog account. Gideon's dog Walter inspired him to start the account, which tracks via photo all the dogs he encounters and pets and has nearly 300,000 followers. And last week, Walter passed away.
Gideon announced his beloved dog's passing on the account and followed it up by saying he'd be taking a break for a few days.
Goodbye Walter. You were my best friend. You were the best dog. I love you and will miss you. pic.twitter.com/vosfhPHlmO

— I've Pet That Dog (@IvePetThatDog) July 22, 2019
As you might expect, Gideon received a lot of condolences from fellow animal lovers who understand his pain:
Just went through this last month. The pain weighs so heavy on the heart. Please take time to mourn and know that he is still watching over you. Even though my dog passed, I still leave her toys out and water in her bowl in case her spirit pops in when I'm asleep.

— Vera Carr (@raquelrousseau) July 22, 2019
Some sent love from their own furry friends:
Niblet and Myrtle send you their love! We're all so sorry about Walter. He was the best boy. ???????????? pic.twitter.com/c3vQUGrPMa

— Katie Snow (@lumpy_speedbump) July 22, 2019
Goodbye Walter. ???? pic.twitter.com/ffnYH59i8t

— ConnectFour (@stoolth) July 22, 2019
One user even suggested the Gideon share a charity his followers could donate to in Walter's memory:
So sorry. If there's a particular rescue or adoption organization that is meaningful to you, let us know if we can support them in Walter's honor. Every pup deserves to be pet ????

— Elizabeth Rioux (@ElizabethRioux1) July 22, 2019
Finally, one user summed it all up:
We all ❤️ Walter.

— John Wellington Ennis (@johnennis) July 22, 2019
Thankfully, Gideon is now back to petting and making Twitter a better place:
I pet Luna. She is a 3 month old Lab. She is just learning how to behave when she is out and around people. Luna loves to dig holes in the yard, and she loves her Ellie the Elephant toy. She really likes chewing. Her favorite chew toys are the other dogs in the house. pic.twitter.com/phskBlobCv

— I've Pet That Dog (@IvePetThatDog) August 28, 2019
RIP Walter.