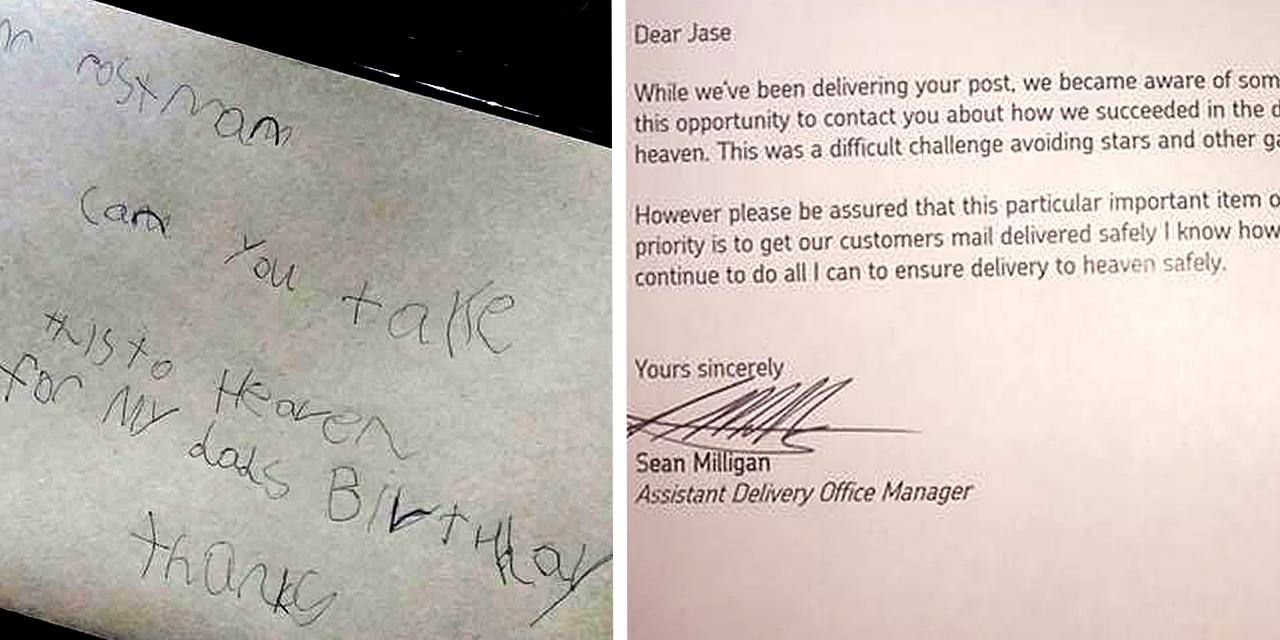 Credit: Facebook/Teri Copland
They often say parenting a child takes a village, and one mom is grateful for the support her village has given her in the aftermath of her husband's death. Especially after the extraordinary act of kindness one of those villagers showed to her son.
Losing a parent is never easy, and it's particularly hard for a young kid. Thankfully, a little boy who lost his dad got a boost from his local mailman.
Teri Copeland's seven-year-old son Jase wanted to send a letter to his dad for the man's birthday. Unfortunately, dad isn't around anymore, so the little boy had to address the card to heaven. He put it in the mailbox and waited. In most cases, he'd be waiting a while, but this time the Copeland's mailman took it upon himself to handle things and reassure the boy that his dad received his card.
The boy's envelope reads: "Mr Postman, can you take this to heaven for my dad's birthday. Thanks."
A few weeks later, he received a letter back:
"While we've been delivering your post, we became aware of some concerns. So I just wanted to take this opportunity to contact you about how we succeeded in the delivery of your letter, to your dad in heaven. This was a difficult challenge avoiding stars and other galactic objects on route to heaven.
However please be assured that this particular important piece of mail has been delivered. Royal Mail's priority is to get our customer's mail delivered safely. I know how important your mail is to you. I will continue to do all I can to ensure delivery to heaven safely."
Teri shared photos of her son's envelope and the postman's response on Facebook, where it's received over 450,000 likes and over 250,000 shares. Her caption thanks the Royal Mail for going above and beyond for her son, stressing how meaningful it was to him.
"I actually cannot state how emotional he is knowing his dad got his card… you didn't have to make the effort to do this you could have just ignored it but the fact that yous have made the effort for a little boy you've never met is such a lovely thing to do…"