Boy With Cerebral Palsy Gets to Play Ball With Dad Thanks to Harness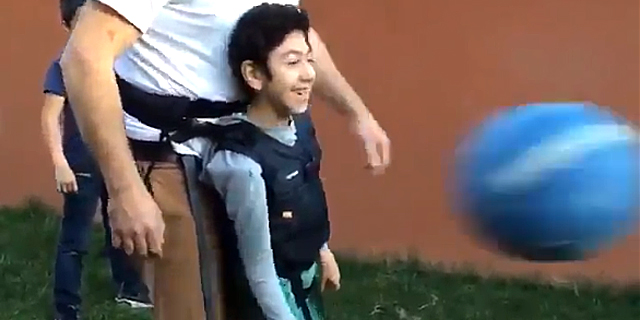 Sometimes, having special needs can rob children and adults alike of some of the simple pleasures of life. Cerebral palsy, which, according to Kids Health, affects the body's muscle tone, movement and motor skills, can make something as innocent as playing ball difficult.
Thanks to a caring father and an ingenious device, one little boy was able to get past the limitations CP puts on his body and enjoy a game of soccer,
Jerry Dunleavy shared a video on Twitter of a little boy strapped into a harness on his father's body that allowed him the freedom of movement to experience kicking a ball and playing a game millions of children enjoy every day.
The video has over 17,000 retweets and nearly 100,000 likes.
Just a dad playing a little ball with his son with cerebral palsy.pic.twitter.com/c56qa7fZXQ

— Scary Dunleavy ???????? (@JerryDunleavy) August 30, 2018
The harness the dad is wearing is called an "Upsee" and it allows children with cerebral palsy and other neuromuscular disorders to stand and use their body in ways their disabilities often prevent. The harness allows the boy to be strapped around the torso and connected to his caregiver's feet with "double sandals" so they move in tandem.
The Upsee is manufactured by Firefly, which makes a variety of devices designed to allow children to take part in special family moments.
Based on the laughter and joy evident in the boy's face, it's safe to say that they've succeeded.