Boy's Petition to Move the Super Bowl to Saturday Is Gaining Steam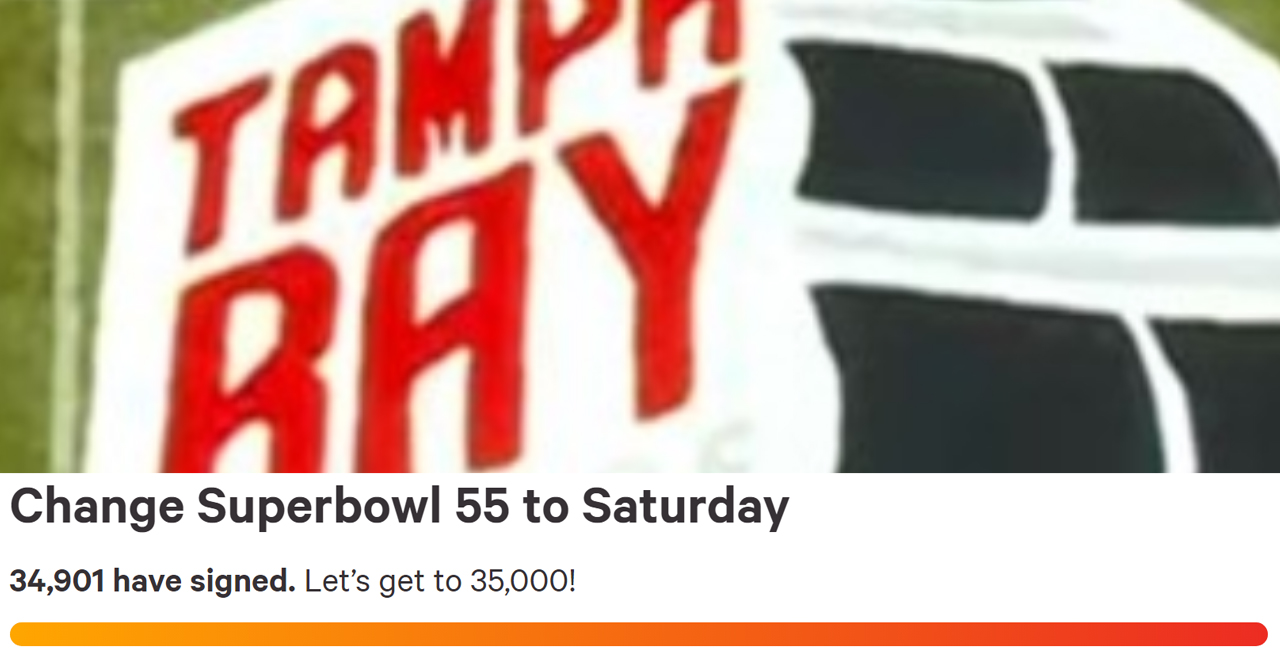 Super Bowl Sunday is the closest thing America has to an unofficial holiday. People gather with loved ones, make elaborate meals, and generally drink more than they should. The biggest downside every year? Going to work (or school) the next morning. One boy in New York is trying to change that.
Frankie Ruggeri, a 16-year-old from New York, was talking with his family about the Super Bowl earlier this month when he said it should be on Saturday instead. OK, great kid, that's the same conversation thousands of sports fans have had. But Ruggeri didn't just complain and let it stay there, he is trying to enact real change, and he started a petition on Change.org to get the ball rolling. Cute, right? Well, football fans are joining the cause, as he already has nearly 35,000 signatures.
He makes an argument that the NFL would make more money if the game was on Saturday. He also said it would increase TV views. A valiant effort, although if it was true, the NFL would've probably moved it by now (there's nothing they won't do for an extra few dimes).
This teen thinks having the Super Bowl on Sundays is impractical because fans have to get up for school and work the next day, so he's started a petition to change next year's game to a Saturday. More than 10,000 people have already signed it. https://t.co/ENZYLCeNLi

— CNN (@CNN) January 23, 2020
Here's what we need to focus on: this is objectively a great idea. It's the top sporting event of the year, and no one wants the buzzkill of going to work (or school) the next day. Move it to Saturday, where it rightfully belongs.
Yes, it is a petition, which is a form of change that doesn't work past the third grade, but this may be our best chance to unite and make our voices heard. This may be the time to rally and get the NFL to see the groundswell of support for a switch to Saturday.
This kid could be the Greta Thunberg of Super Bowl parties. Heck, he even got a #SuperBowlSaturday trend going on twitter.
You can sign the petition here.
And if the NFL won't oblige, fine. Then it's time to move to Plan B, which is trying to change a weaker organization: the Federal Government. If we can't move the game, then it's imperative that the Monday after the Super Bowl becomes an official holiday.