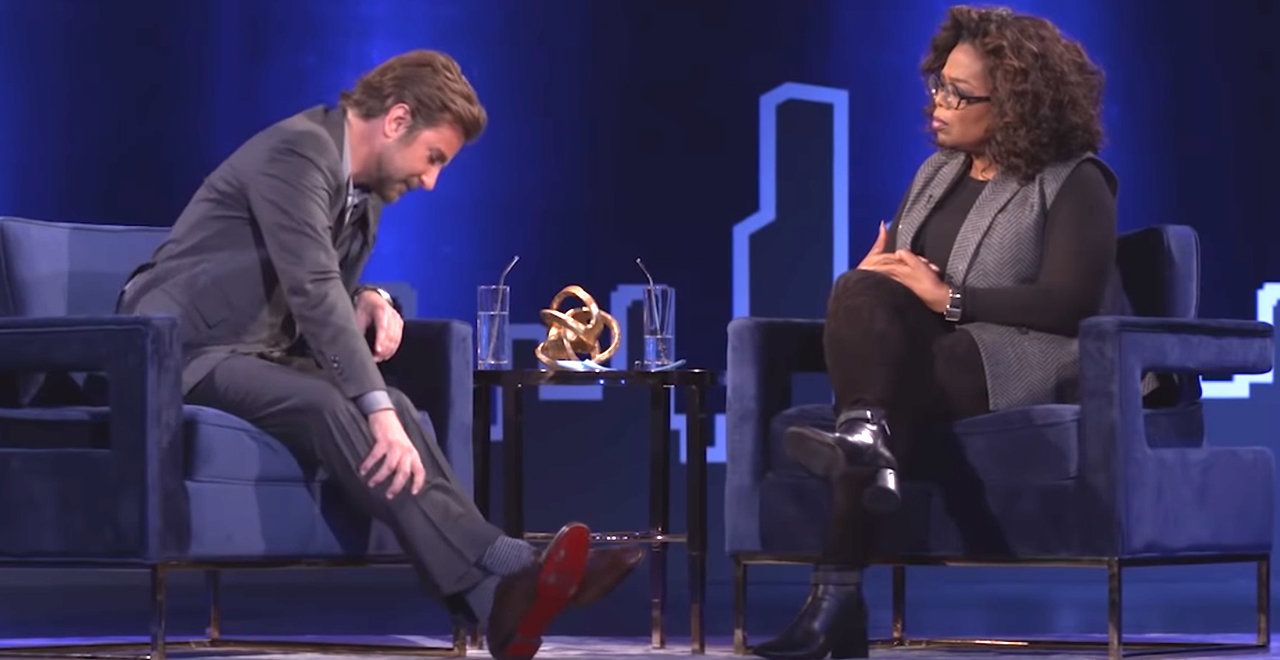 Credit: YouTube/OWN
Bradley Cooper is at the top of the world. He not only starred in one of last year's biggest movies, and biggest memes ("I just wanted to take another look at ya"), but he wrote and directed it as well. "A Star is Born" was nominated for multiple Oscars, including Best Actress for Lady Gaga, Best Original Song for the showstopping, and rivaling "Baby Shark" in its earworminess, "Shallow," and Best Director for Cooper himself. Quite an auspicious debut for the first-time director.
As he makes the Oscar season rounds – which included joining his costar onstage in Las Vegas, for a performance of their nominated song at one of Gaga's concerts – Cooper found himself talking with Oprah on Super Bowl Sunday. And she asked him about his father's death, back in 2011. It's been nearly 8 years since his dad died, but Cooper opened up to Oprah about the impact his dad, and his dad's passing, have had on him.
The interview aired last Sunday, as part of Oprah's "Super Conversations" TV special. Cooper's father passed away from lung cancer nearly 10 years ago and took his last breaths in his son's arms. The host asked him about it.
"It was everything," Cooper told her. "It was the biggest gift he gave me – the second biggest gift. [The first was] having me and bringing me into this life and [then] him allowing me to be witness to his passing was equally as huge. It really honestly felt like – he was cradled, his head was right here – and when he took the last breath I honestly felt like it went into me, and I've never seen anything the same since," Cooper said.
Cooper credits that moment with granting him a new perspective on life.
"I stopped sweating stuff that I was sweating before that," he explained. "It changed the way I was as an actor by, like, the next day, and I just started to live my life in a different way… I remember that moment and I looked up and I thought everything was different," he said. "[I became] stronger, more open, more willing to fail because of him. … The reality of mortality hits you like a ton of bricks."
The star went on to say that his father occasionally appears in his dreams " In the beginning, he was very sick in my dreams, and now in my dreams he's healthy."
It sounds like their relationship was father was healthy as well, both during his father's life and after it.