Fatherhood and Fandom: Chatting With The Man Behind The New Robotech RPG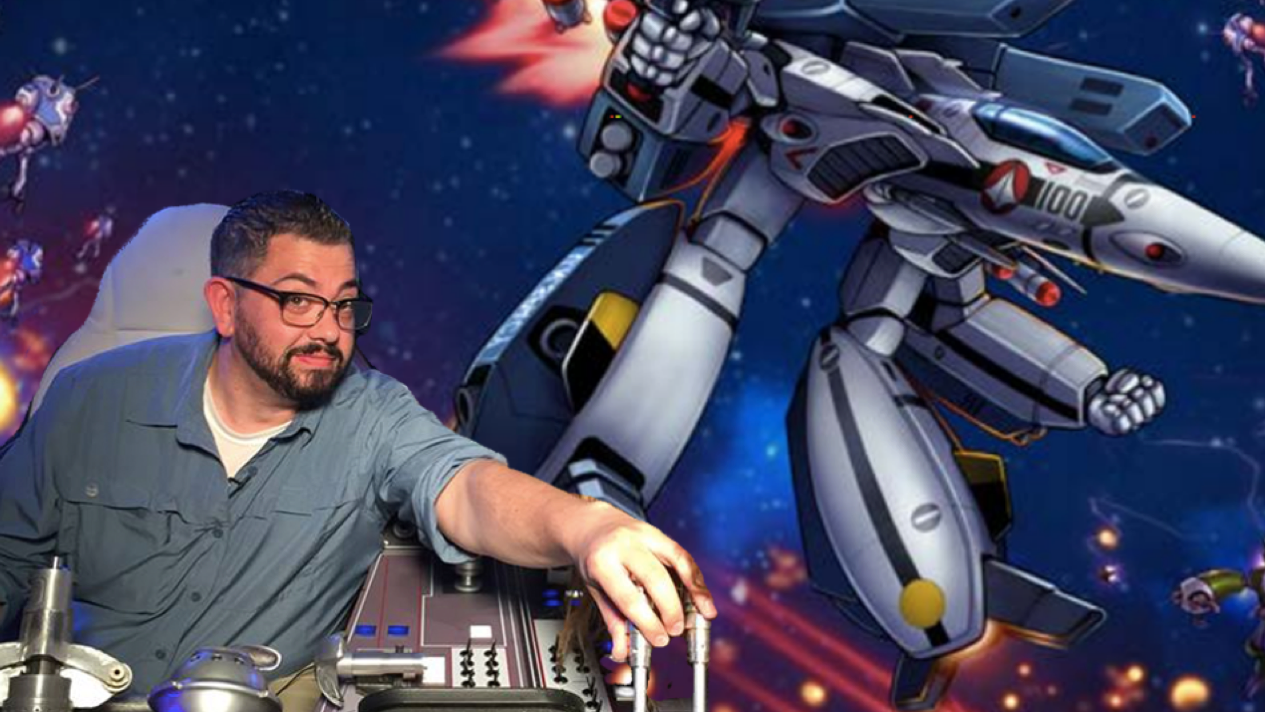 In the 80s, kids had it pretty good when it came to after-school and Saturday morning shows. That's not to say there isn't a wealth of quality entertainment for kids to enjoy these days, but I'm just not convinced Paw Patrol and Peppa Pig will have the staying power of GI Joe or She-Ra. Among the giants of the era was an odd little number that went against the grain, and changed America's relationship to cartoons, storytelling, and giant robots forever.
"I think Robotech has such a cool science fiction story that anyone could still latch on to it. And since it's available on every platform to stream, more and more people are finding it. It's still capturing people and still a juggernaut in the fandom."
I'm talking to Bryan Young, the writer of Robotech: The Macross Saga Roleplaying Game from Strange Machine Games, which is available this week for preorder. Co-created with Jeff Mechlinski, the game is designed to give players the feeling they are in Robotech, clocking in at 264 pages of reference material, play scenarios and original in-universe stories by Young.
Before the Power Rangers made repurposed footage a standard practice, Robotech was famous for splicing together three entirely different Japanese cartoons with new scripts to become one cohesive story. While some purists scoffed at the creative license, there is no arguing that Robotech is largely responsible for introducing young American audiences to long format storytelling, complicated relationships, and giant machines that could turn into different giant machines.
"There was more complex storytelling going on than most fare from that era, especially in how it worked in a long-form story. It was the only show I didn't feel like I could miss an episode because things would just change too quickly. With He-Man or GI Joe, the episodes were just sort of catch-as-catch-can; there was no continuity to them."
They say you should never meet your heroes, but Young has spent his adult life staunchly defying that old idiom. As a writer, podcaster, filmmaker, and journalist, he has made a career out of his interests and passion, particularly for genre storytelling. In layman's terms, "genre" in this case means, you know, nerdy shit.
But more than Robotech, more than the Star Wars analysis that made him "twitter famous" (my words, not his) and more than earning camaraderie with the filmmakers and writers that he idolizes, Young is invested in his family.
"Being a father affects my creativity in ways I could never have even imagined. For one, they're inspiring. My kids are all incredibly inquisitive and curious and I'm able to tap into that a lot easier because it's something they continually teach me how to do better."
We all hope our kids will love the same things we do, but Young knows that it's better not to push it. "Bringing my kids into my fandoms is less important to me than letting them find their own. I'll share my passions with them and if they happen to latch on like I did, then that's great, but I want them to find their own. I love when they get to share those passions with me. This should be a two-way street and they should have the freedom to find what works for them."
Of course, as many dads know, trusting your kids to find their own interests, even in the shared nerdsphere, can be…challenging.
"I spent like a weekend trying to survive in the harsh Minecraftian wilderness. By the end, I'd carved out a nice cave-dwelling, built fire, and was wearing a wolf-pelt. It was pretty primitive. At the end of the same weekend, Scout, my middle child, brought me over to their encampment and they were like, "Dad! Check out this roller coaster I built!"
Some dads think they have to choose between a creative career and a family, but the truth is, being a dad can teach you how to succeed in any area. After all, no matter how hard things can be, parents make it happen.
"As far as balancing the family and work, I try to work on my creative endeavors when they're sleeping. I get up in the mornings before they're typically awake and get my work done then so that when I get home, we can spend our time together as a family."
While keeping his schedule tight, and family time special, Young makes sure to include his kids in the personal and professional enthusiasm he has for his work much as possible. Sometimes, it even leads to new ideas and projects that wouldn't have happened without involving his kids. "In all honesty, the thing I love is that if my kids have a project they want to work on, we will. When Scout was about 8, they got really interested in learning about presidential assassinations and we went out and sought out a book for them on the topic that would be age-appropriate. When we didn't find one, we worked on one together and that's how my book "A Children's Illustrated History of Presidential Assassination" was born. Scout even did illustrations at the back of every chapter in addition to the work of the professional illustrator who did the rest of the book."
Truth be told though, sometimes dads just like to show off, and Bryan's hard work has paid off in major dad bragging rights. "The standout moment for me has to be taking my eldest, Anakin, to the red carpet premiere of Solo: A Star Wars Story. It was an incredible experience and I think I definitely won dad of the year last year for it."
Part of what makes Robotech so enduring is the stories were designed for kids, but continue to resonate with adults, which makes for an ideal cultural touchstone for dads and their children to share. "The thing that changed viewing Robotech from an adult perspective for me is that there's a deeper understanding. There's a lot more honesty in the storytelling than I realized. Granted, there are more rough things in the storytelling than I realized, too, but it's still so charming that it makes up for any of those hard edges."
Follow Bryan on twitter for insightful film analysis and inside scoops on all things nerdy and cool, or at www.swankmotron.com for original stories. Robotech: The Macross Saga Roleplaying Game is available now for digital download from Strange Machine Games, and preorders are now open for physical copies that will be released this December.
And speaking of inside scoops, I don't know if this will actually help in your game, but here's a little tidbit about the writer's favorite Mecha:  "Has to be Skull One. Roy Fokker's paint job on that thing is iconic and it's just a great fighter, full of history and tragedy." Good luck, pilot.