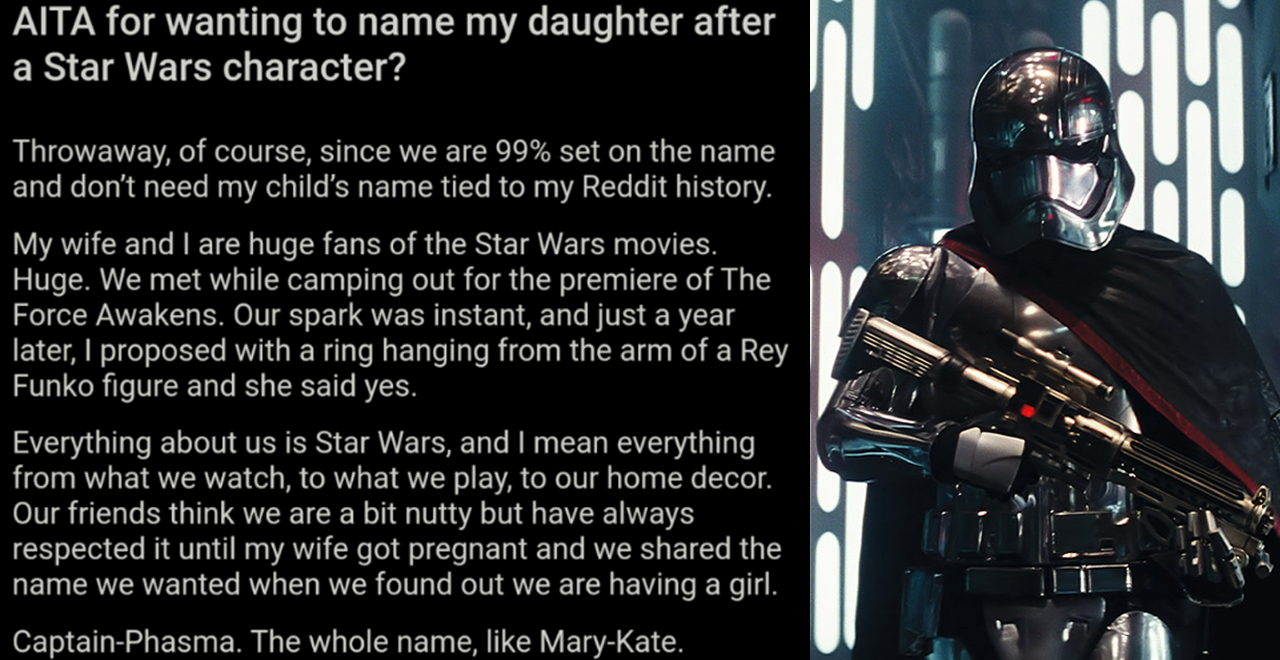 Credit: Twitter/AITA_reddit Disney
Choosing the name of your child is not an easy task. Not only do you have to find a name you like, but your spouse also has to like it too. It can't have any weird or negative associations, maybe you want there to be a good shortened version, maybe you want to pay tribute to a family member or friend. Or maybe you just really love Star Wars.
One dad definitely does, and so does his wife. In fact, they met while camping out for the premiere of The Force Awakens. They are all about a galaxy far, far away – he even proposed using a Rey doll. Star Wars is a huge part of their lives, and they want to incorporate it into their parenthood by naming their daughter after one of the characters. Unfortunately, that character is Captain Phasma.
After the couple's friends and family balked at this idea, the dad-to-be took to Reddit's insanely entertaining "Am I The Asshole" section to gauge the public's reaction.
AITA for wanting to name my daughter after a Star Wars character? https://t.co/9VInUEMXCk pic.twitter.com/eYnluiUYi1

— Am I the Asshole? (@AITA_reddit) August 13, 2020
Not only do they want to name their daughter after the chromed up minor character who died an ignominious death and seemed like a blatant attempt at manufacturing a Boba-Fett-esque fan favorite, but they also want her first name to be Captain-Phasma, like Mary-Kate. People have all sorts of unusual names these days, and unusual spellings of usual names, but this one seems to be a bridge too far for the Reddit community, who reacted… poorly.
The original poster ruled some popular suggestions out from the start, explaining that his family already suggested Gwendolyn, the name of the actress who portrayed Phasma, and Brienne, the name of another character the actress played, on Game of Thrones. Unfortunately, Game of Thrones is not as beloved in their home as Star Wars, due to the fact that mom-to-be watched it behind dad-to-be's back.
Obviously, there are layers to this story and a lot of raw emotion. Thanks to having been bullied for his own name, the OP knows how impactful a kid's name can be, and he admits that the overwhelmingly negative reaction to Captain-Phasma has forced him to search his feelings. The couple is now reconsidering.
May the force be with them.