Teen Girl Guilts Dad Into Buying Her A Cat With 'Wall Of Sorrow'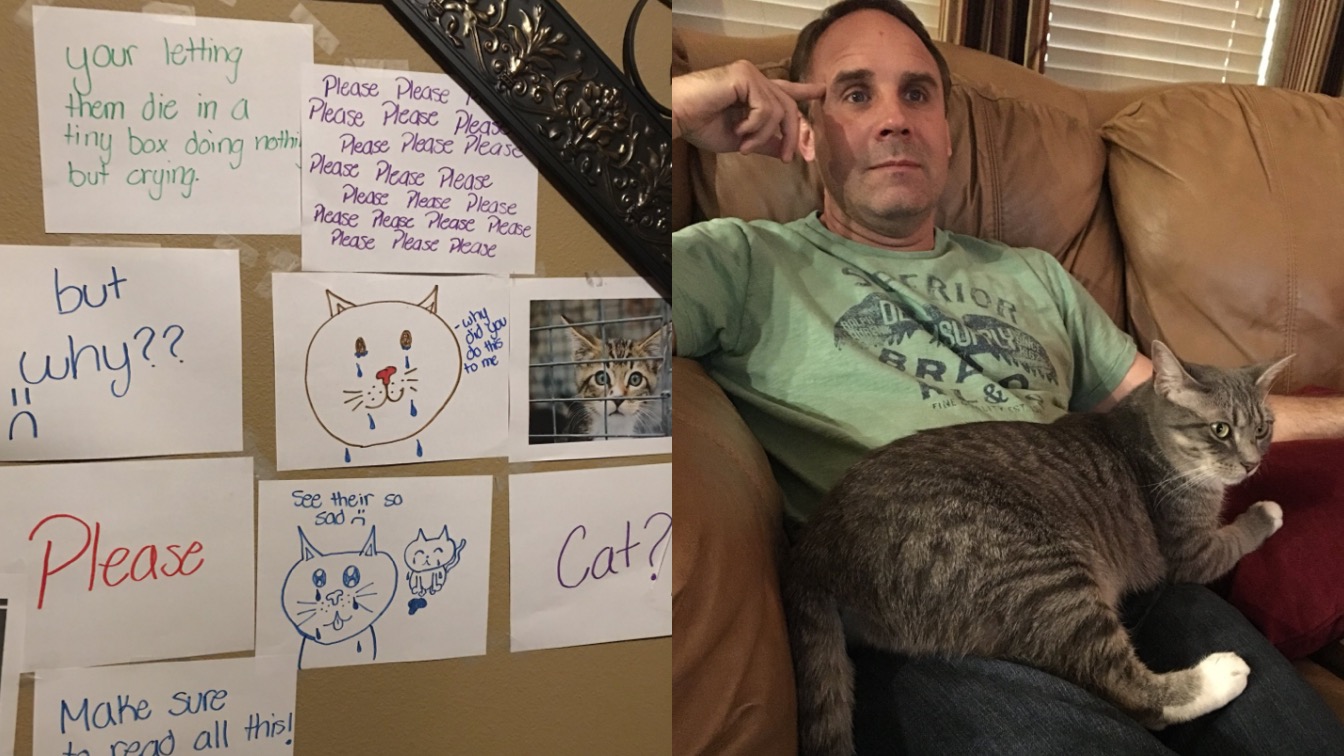 The resulting picture is priceless
We parents like to pretend we're in control. We like to pretend we're the boss of our kids, and that it's not the other way around. In reality, most of the time, our kids have us wrapped around their little fingers, especially around the holidays.
This young girl's brilliant ploy, and her father's subsequent capitulation to her request, proves the point perfectly. Or should I say "purrfectly." Nope. I should not. My bad.
Danielle Grubisic's 13-year-old little sister desperately wanted a cat, and, apparently, her father was not budging. Until she unleashed her dramatic, OMG-I'm-terrified-to-have-teenagers "wall of sorrow."
My little sister made a "wall of sorrow" to make my dad feel bad so she could get a cat.. well it worked pic.twitter.com/TMiGVmQzSF

— Danielle Grubisic (@Itsssdanielle) December 10, 2017
The wall is nothing more than a collection of drawings of cats, pictures of cats, and index cards with emotional pleas for a feline companion. She appealed to his sense of guilt over what happens to cats that don't have families ("Please, your (sic) letting cats die alone, and never get to have a family or feel loved" and "Your (sic) killing innocent lives."), got downright literal ("Cat?") and even filled one piece of paper with the word "please" over and over.
— Danielle Grubisic (@Itsssdanielle) December 13, 2017
The amazing thing is, it worked. And her dad's defeated expression in the final pic, while the new family cat sits contentedly, triumphantly!, on his lap, is the stuff Internet dreams are made of. The tweet, complete with the photos, has been like more than 140,000 times and retweeted over 53,000 times.
Of course, this being the internet, it didn't take long for people's claws (get it?) to come out. especially in regards to this little girl's grammar.
[tweet 940406339343446018 hide_thread='true']
[tweet 939698488094404608 hide_thread='true']
The comments somehow devolved into political arguments because 2017. But it's the holidays, and no one needs that kind of negativity this time of year, so I'll spare you the details.
The important thing here is that the little girl got her cat, the dad got totally screwed, and the cat? Well, everything seems to be going according to his diabolical plan…
The cat looks like she has finally got one step closer to world domination

— El Baal drogo (@BaalDrogo) December 12, 2017